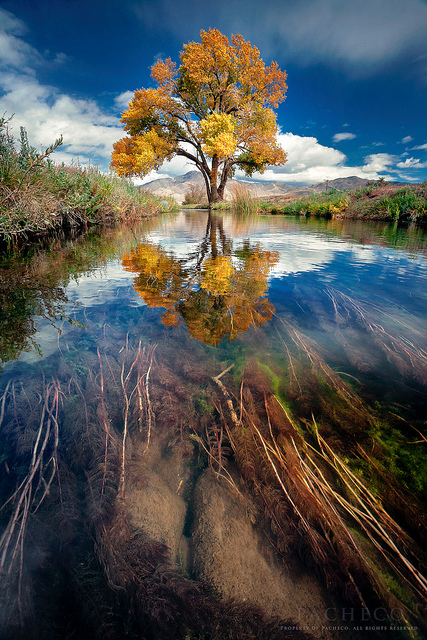 "There are some who can live without wild things and some who can not." ~ Aldo Leopold, A Sand County Almanac
Today, especially, I awoke feeling the change in weather and a slight chill in the air.
The equinox just occurred, and this date is a clear marker in our environmental cycle of the time of year that is dark, cold, lonely and literally dying.
I dread the winter, and eventually feel depressed when this season arrives—and endures.
I left the house this morning to do errands and found myself driving through a beautiful, scenery-filled highway instead. The recently-turned yellow aspen leaves contrasted with the white and black bark of their lower halves, and the hundreds of green pine trees captured my eyes more than they should have as I drove.
I felt drawn to slow down and pull over—to be with and witness the trees.
I drove only a few more miles before I saw a quiet place to park. I sat in my car quietly observing the trees, and quickly realized that I wanted to be where I was looking.
I found a narrow secluded path and began walking.
I felt the soft ground beneath my feet and could hear the leaves and sticks crunching. I walked among the trees, and I felt at home once again. Even just a week or two is too long for me to stay away from the natural world— surrounded by the free and calming spirit of the trees.
A quote I read this morning by Aldo Leopold echoed through me:
"There are some who can live without wild things, and some who can not."
I am definitely one of the ones who "can not."
I found a quiet spot to sit on a log and began to meditate. Surrounded by the aspens, I felt the changing, crisp air kiss my face.
As I sat there, I felt sad to say goodbye to Colorado summer, and to Colorado in general, as I am moving back to Maui in a month.
More deeply, and closer to my heart, I have been grieving a recent ending of a relationship.
I realized it had been quite a while since I had sought nature for solace, support or guidance. I had only been spending time in nature when I was happy, or stimulated by the sun's bright rays. I tend to avoid the woods—and being outdoors in general—as the weather turns cold, and then avoid it almost completely for the entire winter season.
I felt inner stillness when I let go of what I was thinking and feeling and just trusted and allowed the resonance of the outer energies of nature to reverberate through my cells. Such natural and quiet spaciousness calmed my spirit and brought me mental and emotional (heart) clarity.
I felt how much I had been resisting change in the recent relationship I was in. I had known that once things had reached a certain point we would never be able to go back to the way things were.
In an instant, a floodgate of truths can flow, and a heart can break open.
Some words and actions are irrevocable, and can create lasting waves, and ripple effects.
I remember when we met he had shared with me wisdom that his late father had given him: "Relationships are precious, and ultimately all we have. Who we are and how we are creates our life, and can foster or destroy connections with others."
With an audible exhale I felt myself let go.
I came back to present awareness, and could feel myself breathing—the air on my skin—and could hear the silence of the woods, and the moment. Nature was transforming, and so was I. Just like a good movie, nature is cathartic, and can catalyze other emotions in us besides joy.
I opened my eyes feeling renewed and in awe of the moment. I arose and found a large tree, wrapping my arms around it (for at least 20 seconds to get the oxytocin that is supposedly released after hugging a human for said time).
I squeezed the tree the way I would hold a lover or best friend after a long separation—or before a final goodbye.
I swear it hugged me back.
As I walked away, I turned around and watched the ever-flowing, changing environment around me continue to go about its business of being—becoming fall.
I received solace today from the trees.
Spacious and nurturing nature allowed me the freedom to just be who and what I am. I felt grateful, humbled and expanded.
A heart breaks into a thousand tiny pieces. If it had known, would there be any way to prepare? Some day it will heal in all the right ways, and all the right places.

When the time comes the heart will just mend, and there will be no more waiting, and the scars will heal like stars.
~
Relephant Read:
~
Author: Jessica Oshier
Editor: Toby Israel
Photo: ™ Pacheco/Flickr
~