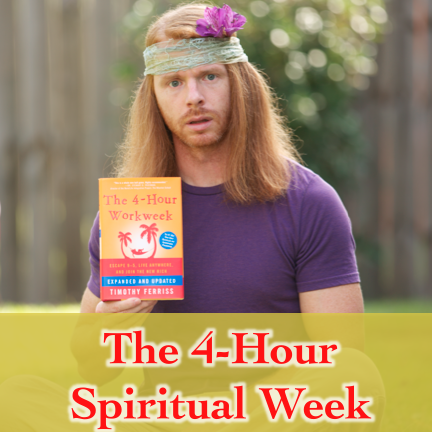 All the spirituality with none of the effort!
Tim Ferriss blessed the working world with his best selling book The 4-Hour Work Week.
However, spiritualists remain cursed with time-consuming spiritual efforts trying to keep up on the spiritual treadmill. Meditation, yoga, talking softly, and being compassionate dominated around the clock, pushing the joy right out of life.
Personally, I was spending over 90 hours per week on my spiritual practice and I was getting burnt out.
Something had to change or I was going to have to quit spirituality completely.
That's when I figured out how to take Tim Ferriss' principles and apply them to my spiritual life, thus The 4-Hour Spiritual Week was created. Now, not only am I able to still be spiritual with less than 4 hours of effort each week, but these principles helped me become Ultra Spiritual.
They can work for you to, here's how…
More From JP Sears:
Author: JP Sears
Editor: Renée Picard
Photo: via the author