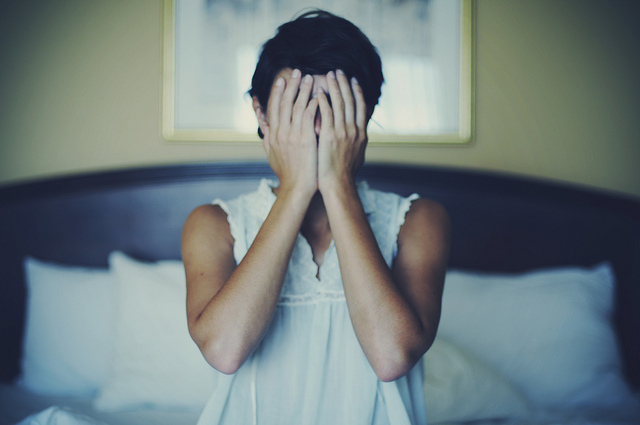 ~
~
Warning: naughty language ahead!
I am so exhausted.
Tears threaten to seep out of my puffy eyes and splash onto the scary-looking pile of paperwork on my desk.
Bills, e-mails and all kinds of stupid banking forms are stacked high, threatening to drown me. My to-do list has grown legs and is currently chasing after me.
I can't do this.
I just want to take a long bath, with lavender oil and lavender bubbles and slip away into a luscious lavender fantasy.
Ugh.
I don't want to deal with life.
I want to hide in a fort of thick blankets, cuddle with my sweet kitten, and read and dream and play in the silvery puddles of my imagination.
Suddenly, I realize I'm shaking.
I exhale.
As much as I want to skip out on getting all this paperwork and practical shit done, I've gotta do it. Today.
I've been putting it off for weeks and months. And in that time, I've learned a couple of things:
Bills won't pay themselves. Really! I was pretty damn disappointed. A foamy bubble bath won't get my work done for me. My cat can't respond to my e-mails—although I'd sincerely love to see her try.
I need to do it.
Yep.
I've gotta grit my teeth, support my shaky soul, and get shit done.
Times like these are when saccharine-sweet self care ideas just don't cut it—they fall short and feel hollow. Advice like: Take a long walk. Get your nails done. Have a piece of dark chocolate. Take time for yourself. Dream.
Okay, honestly, that all sounds lovely—I only ever want to do those things. But right now, I don't need to get my nails done, I need to take control of my life. I need to face the procrastination and disorganization that have been fucking me up for a long time.
Sometimes, a piece of dark chocolate or a long walk ain't gonna cut it.
Sometimes, a gentle kick in the butt is better than a bubble bath.
Sometimes, we gotta get in gear and face ourselves with beautiful honesty.
Because self care isn't only about slipping away into luscious lavender scented fantasies—it's also about learning to be with ourselves in the tough moments. The brutal moments. The uncomfortable moments.
It's about being in real life. And being real enough to know what we truly need.
And sometimes, that means calling ourselves out on our bullshit. Or asking for help. Two of my (not so) favorite things. But both are so necessary.
True, raw self care isn't always pretty. Or fun. Or comfortable. It's about diving headfirst into life's frothy seas, and knowing we will catch ourselves when we fall, with tender arms.
It's about being present when things are wonderful—and when things are overwhelming, busy, messy, complicated and terrible.
Sometimes, it's about getting shit done.
Then, taking a deep, delicious breath and getting more shit done.
A true self care practice includes both hour-long soaks in the bathtub, and courageous fire hot enough to inspire us to show up for our lives and take on some delicious challenges.
Because there will always be those not-so-fun moments where we have to face shit-storms, head-on.
We can't bail or hide. We've gotta get a little sweaty, show up for ourselves, set our hearts on fire, and gut it out.
I'm beginning to love those moments. They make us courageous. And courage, just like love, seeps into every crevice of our beings, of our lives. One tiny moment of pure courage is profound.
Support yourself today—whatever you need, be brave enough to give it to yourself, generously.
Summon your strength.
Face yourself.
Believe in yourself.
And get shit done.
Then, later tonight, sink into an extra-delicious, extra-magnficient bubble bath and praise yourself for kicking ass.
You got this.
Relephant Read:
Relephant bonus:
~
Author: Sarah Harvey
Editor: Catherine Monkman
Photo: Tiffany Krumpack/Flickr