~
~
Emma Watson would not have been my first choice to play Hermione Granger.
To play the greatest underrated female character ever written is no small feat, and I felt extremely sensitive considerations should have been taken in order to ensure that the actress was as perfect and true to the character as possible.
My first choice was, of course, myself.
And yet, with each passing year I've found myself increasingly impressed, inspired, and in awe of Ms. Watson both on screen and off. I now firmly believe that the choice to cast Emma Watson as Hermione Granger was the most perfect casting choice of this generation. More importantly, I believe that it was the best thing ever to happen to females, fictional or real.
Hermione's character in J.K. Rowling's Harry Potter series exemplifies the true essence of an admirable female. Oftentimes, girls' characters, all characters really, exemplify the most extreme gender stereotypes. Females are either the sweet, innocent damsel in distress, or the extreme bad-ass heroine who is completely independent and doesn't need a man (but gets one anyway).
But Hermione is in an entirely different league, and so is Emma Watson.
Emma Watson's speech to the United Nations last year stimulated controversy and conversation from every corner of the media, but the force of her words in favor of equality for people everywhere, despite their gender, was undeniable.
Watson advocated for a shift in perspective, to stop people from focusing on women's rights, and start thinking about the rights of all humans. She explained, "If we stop defining each other by what we are not and start defining ourselves by what we are—we can all be freer and this is what HeForShe is about. It's about freedom." The power and eloquence of her words established Watson as a formidable ambassador for goodwill and fairness.
Recently, Watson again demonstrated her poise and passion for her cause. A fan asked if she is a "white feminist" during a Q&A session on Twitter. Watson responded from an educated offensive perspective, explaining that she understood where such a question might stem from, acknowledging her own privilege and the advantages of her background. She then went on to describe how she plans on using such advantages in order to better aid those without, to give voice to people who so often go unheard, or who have never even had the chance to speak, heard or not.
The endearment of Watson's campaign stems from her conviction and commitment to the truth, to the reality of what she is dealing with and what she is attempting. She understands the monumentality of gender equality, and the innumerable issues she faces in working towards it, and yet is willing to continue fighting until it is achieved.
Read Watson's full response to the question below: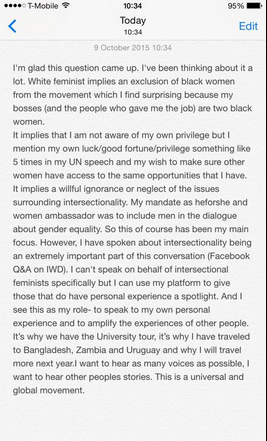 In my mind Emma Watson is Hermione, and I mean that not as a typecast, but as the highest compliment I can imagine. She is strong and independent without hubris, willing to play the role of the sidekick despite being the brains behind every idea. She is brilliant, yet always seeking more knowledge, and is inspired to fight for what is right, always striving to make the world a better place.
HeForShe can be easily paralleled to SPEW, though I hope for all of our sakes that it is more successful. In a world where "feminist" has connotations far more negative than not, and where being smart is less desirable than being desirable, Hermione represents the very best version of ourselves.
She is the kind of woman I want my students to look up to, the kind of woman that I will wish my someday daughter to be, the kind of woman that I wish to be.
The kind of human we should all strive to be.
Relephant:
~
Author: Gabriella Sweezey
Editor: Travis May
Photo: Flickr/Marco Bond