~
~
My wanderlust is a kitten, soft and warm.
It sleeps with me at night, curled under my chin, its long tail tickling my neck. Its tiny paws resting on my cheek.
I feel it beside me, its soft purrs vibrating through my body, bringing me dreams of hot desert sands and steaming mugs of spicy tea.
When I wake, it is there still, circling round my feet, mewing gently, persistently, waiting to be acknowledged. So I stop for a moment. Stop brushing little ones' hair or sweeping breadcrumbs from the floor or filling out page after page of paperwork. I stop and kneel down beside it and feel the softness of its head against the coolness of my hand. My wanderlust is gentle, comforting.
My wanderlust is a cat. Anxious and prowling. I toss and turn as it paces back and forth across my pillow, its sharp claws brushing against my skin, its wiry whiskers poking at my ears, my mouth, my eyes. Forcing me to sit up and shoo it away, time and time again, until finally I fall into a restless sleep.
It climbs into the open window and leaps out into the treetops as I sleep. I can hear its restless howls shattering the night. They become the soundtrack of my dreams, a primal scream of longing and escape that twists my dreams into something far more sinister than nightmares. For nightmares are unwanted. And this, this restless wanderlusting feline is seductive, enticing.
Before the sun even rises, I wake to its claws digging into my breast. It kneads and kneads and needs and needs.
So I feed it. Before myself, before my husband, even before my children. I throw it chunks of my heart and pieces of my sinew and it screams for more, more, more.
I give and give until all that's left of me are the quiet bits. The bits that can go about my day of errands and mothering and keeping things together. My wanderlust is restless, hungry.
My wanderlust is a tiger. It wrestles me from my bed at night, pulling me to the floor, bloodied and bruised.
We prowl through the streets, climb up through the treetops, leap over streams and lakes and oceans until we're far far away from my bed where my husband sleeps alone.
In the morning, I return. My eyes are bloodshot and my feet are torn to bits and there's a wound on my chest that I can't quite remember where I got.
I scramble eggs and pour coffee and braid hair and pack snacks and give hugs and smile, smile, smile. Because my wanderlust is gone and I am safe and home and present.
I kiss them goodbye, my loved ones as they hurry off to school and work and routines. When they're gone, I sit for a moment, tea in hand, warm September sun on my back, my soul finally at peace.
I hear it before I see it, high in the willow tree above me, it watches. My wanderlust is patient, waiting.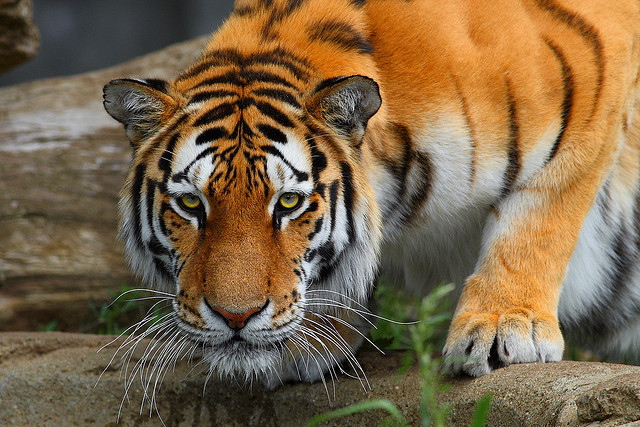 Relephant Read:
Author: Lela Casey
Editor: Catherine Monkman
Photos: Tambako/Flickr, Shane Gorski/Flickr