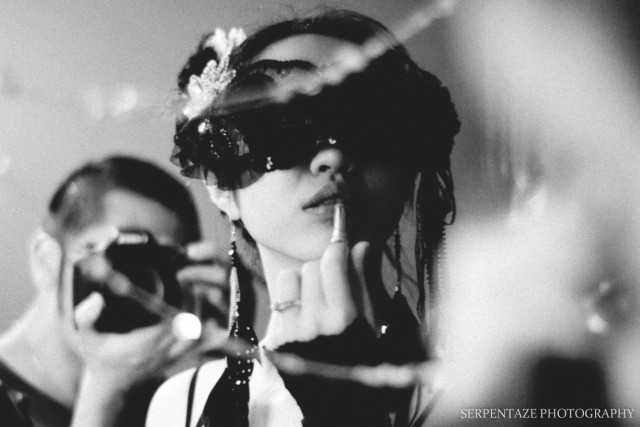 "We are what we pretend to be, so we must be careful about what we pretend to be." ~ Kurt Vonnegut
While the rules and conduct of courtship will ebb and flow with the times, our fundamental need for love and companionship remains untethered by the waves of change.
Ultimately, one's life-path, however messy, however simple, can be distilled into one guiding motivation: the desire to love and be loved. But love is more than keeping up with appearances—appearances that are carefully curated, constructed, studied and filtered.
I'm of the belief that loving someone is perhaps our best art, and Seth Godin once said, "all artists are impresarios."
We are what we promote, the star of the show we pretend ourselves to be, but when the curtains fall, are we always what we appear to be? Our promoted appearances are often high-maintenance, because they are neither an earnest nor accurate log of our life. They are the result of calculus and FX.
In the "technosexual" world, we are encouraged to "pose" ourselves a certain way—to construct a "complete" bio and cherry-pick the "right" pictures—so as to bump up the odds of our dating app success rate by 30 percent.
But the digital dating success rate does not always truthfully correlate with the physical dating success rate. Analytics can reveal and inform us of many things, but true chemistry cannot be predicted nor calculated this way. Something happens when we bring our "matches" into real life. When we hold hands instead of our phones, there is nothing to hide behind. Nothing to shield us.
This is the litmus test: Are we who we pretend to be?
By amplifying what we seem to be, we are amplifying our imagined selves—creating our own fantasies and publicly painting our ideals—giving life to our ego, branding that ego and then living that brand. It can be empowering, if and only if we can live up to what we pretend to be. But it can also be incredibly deceptive. False advertisement, as appealing as it appears to be, makes us real frauds.
Digital dating leaves much to be desired, because instant gratification doesn't fill the void of any long-term need. "You get what you put in." When dating becomes too easy, something else is lacking. The afterthought is often a failure of true connection. Carefully constructed online dating profiles encourage our romantic imaginations and fantasies, instead of truthfulness. Relationships fail because of this lack of truthfulness.
Digital dating, at its best, serves as a screening process for those in quest of a meaningful relationship, because the numerical benefits are there, and the math makes sense. "Having easy access to lots of different dates actually increases your odds of eventually finding a match." Yet, digital dating alone isn't enough. Life is more than sexcapades, and most of us crave more than our biology; we desire something rare, valuable and protected. None of which happens—or is given to us—online.
"We desire intimacy – to know and be fully known without fear. Intimacy is fragile. Intimacy is powerful. And intimacy is fueled by exclusivity." ~ Andy Stanley, author of The New Rules of Love, Sex and Dating.
Intimacy is not a numbers game; intimacy is a nation of two. Intimacy requires privacy.
There have always been rules of courtship. Plenty written by Jane Austen, who groomed generations of hopeless romantics by giving them "unrealistic expectations of love." Such romantics do not fare well in the technosexual monsoon, but when the digital waves wash our bodies to the shore, we have but our raw selves as identification.
Love will never die, and for as long as it lives, we will forever be in its quest. "So we must be careful about what we pretend to be," and where to take that pursuit. Moreover, when we are creating our online profiles, we must have the courage to ask ourselves:
Can we live up to what we pretend to be?
Can we keep up with what we pretend to be?
These answers could open us up to new possibilities and lead us to more truthful connections. Otherwise, we will end up exhausted in our own inventions and fatigued of our own lies. And as we continue to look for love in all the wrong places, with too lofty a look, we will find it harder to remember our true selves, because Instagram photos don't fade like real ones do.
"Perhaps it's true. Perhaps we need our fantasies to feed our myths. Because "only in superstition is there hope." ~ Kurt Vonnegut
~
Relephant Read:
~
Author: Xiren Wang
Editor: Toby Israel
Photo: Courtesy of Author, via Jo Yu, Serpentaze.
~