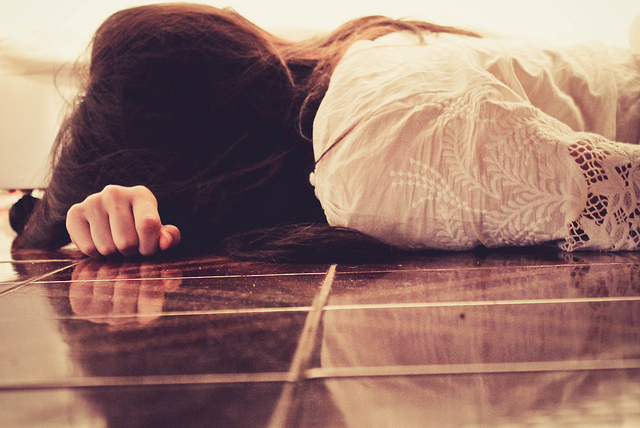 A few years after my first marriage ended, I was unpacking a box of something from somewhere and happened to find buried in it an old cake pan from that marriage.
I turned the pan over and looked at its bent and dented sides when it suddenly became alive in my hands. How many birthday cakes had I made in that pan? How many candles lit for my children? How many songs sung?
In 30 years, too many to count. But it didn't matter.
"I want it back," I cried out inside myself. "I want it all back. I want the birthdays back. The BBQs back. I want the Christmases back."
I had been sideswiped with grief and anger over the lost memories and sat there on the floor sobbing over a dull, stupid don't-you-know-aluminum-gives-you-Alzheimer's-Disease cake tin.
It has now been 25 years since that marriage of the birthday cakes ended and, in the way that it's true that time heals all wounds, I don't cry for my lost family or for that lost marriage anymore. These days my tears have dried and I find that the "grief school" I attended ended up stretching me to my limits—leaving in its wake a heart more open to recognizing grief in others.
Today, when I see my current, previously widowed husband raggedly suck in his breath in that way he has of crying/not crying when he has heard a certain symphony or seen a certain sunset or when, god forbid, he goes to a certain woman's funeral and snaps at nobody in particular about the traffic on the drive there, I know what it means.
Today, when a friend's daughter sends him angry emails for seemingly no reason following the death of his wife/her mother I know what that means.
And today, when grown children are testy with each other during the holidays that their long gone mother had celebrated so well, I see something I might not have seen before.
I see that everyone is grieving the loss of something, somewhere and that each and every person, when they dig deep into the box, will run into their own version of what I ran into that day when I was unpacking all those years ago.
Their own cake pan.
Relephant Read:
Bonus!

Author: Carmelene Siani
Editor: Catherine Monkman
Photo: Guilherme Yagui/Flickr