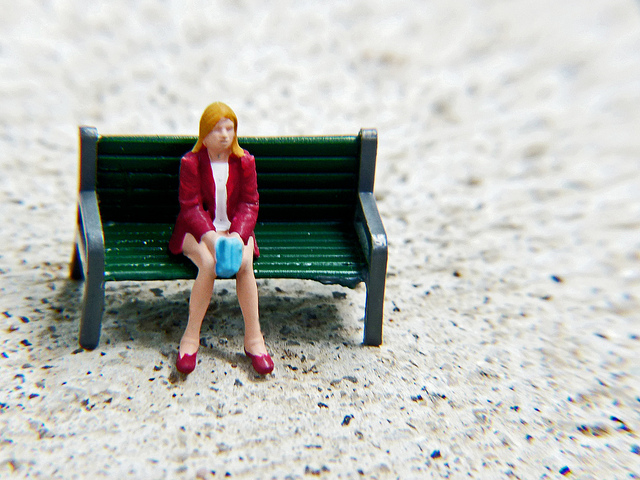 After my divorce was finalized, the first major holiday I faced was Thanksgiving.
This would be the first, but certainly not the last, time this 35-page brontosaurus of notarized legalese would dictate my life. And I was terrified.
I ran my fingers frantically across the pages, searching for "Thanksgiving." Heart in throat, I prayed I could start this single-mom thing off on the right foot. No such luck. There it was in black and white: "During odd numbered years, the child will be in legal custody of the father." I felt devastated. Hollowed out.
After 14 years of marriage, moving out of state and leaving my family and support system behind, I was going to be in utter solitude on a holiday centered on togetherness. The most paralyzing part wasn't that I didn't have anyone to spend the day with, but that I had to hand over the only thing that I loved, gave me purpose and brought any semblance of joy in my life: my child.
That first Thanksgiving makes me shudder in retrospect. I was numb through most of it, but I remember tears, withdrawing from the world and willing time to pass so I didn't have to keep envisioning all the merriment and bread-breaking taking place at every table in the country, when the only thing breaking at my table was my heart.
It's been almost six years since that day and I've since grown in ways I didn't know were possible. When I look back at that sobbing, withering, shell of a person that November day in 2009, I don't recognize her. I do, however, remember her pain and wish I could go back, wipe her tears and tell her this:
1. You're not alone.
If you're on the brink of your first holiday on your own or without your children, you may hate what I'm about to say because I hated it too. Every time some well-meaning do-gooder said "I know you feel alone, but you're never really alone, sweetie," I wanted to punch him or her in the baby-maker. What the hell did they know? I WAS alone!
What I've learned over time is that I always had me, but until ME became all I had, it had never dawned on me to think of myself as an actual "person."
A person whose wants, needs and desires deserve to be taken into account. I'd been too busy taking care of everyone else. I realize this sounds cliché and is of little consolation in the wake of what may feel like the biggest blow of your life, but you start to realize that your best friend and the only one who can make you whole (and get you out of bed) is the same one pulling the covers up over your head right now. Take care of her. She matters.
2. You're setting an example.
When I was in the throes of DD (Divorce Depression), I started seeing a therapist. During one particularly ugly session, I broke down and wailed, "Why is this happening? What was all this for?" She was silent for a minute and then said, "Perhaps there are people that will need you one day. Maybe you're going through this to eventually help someone else. Perhaps you're setting an example."
I'm sorry, what? Help someone? I can't even brush my own teeth without crying. And what, pray tell, might my great example be? How to screw up your life in 35 years or less? I kind of hated her.
Lo and behold, six months later I began getting messages from other people going through divorce. One at first, then ten, then more. People who said they had seen me go through my divorce and wondered how I had handled it so gracefully. Gracefully? I'd been eating grape jelly sandwiches and watching Snapped for literal months on end. The point is, these people had been observing me without my knowing it and called upon me in their time of need. They shared their separation stories and pain and looked to me for guidance. To be trusted and offer solace in this way not only helped me come to terms with my own grief, but has been one of the greatest honors of my life—jelly-stained bras notwithstanding.
3. You get to start your own family traditions.
After sob-and-snot-fest 2009, I started realizing that for better or for worse, this was my life now. For years, I'd always heard that you cannot serve others and feel depressed at the same time. So by the time the following Thanksgiving rolled around, my internal monologue was pretty strong: get out of your selfish head and do something, woman. And just like that, my son and I started our first "new family" tradition.
Every year, we cook and deliver food to the homeless, elderly and disabled. We talk to every person. We hear their stories. Through this experience I realized that the year I spent crying in bed, there were hundreds of people around me doing the same. It was both humbling and heartbreaking. My son and I have since never missed volunteering on Thanksgiving. I suppose I have my divorce to thank for that.
4. Your family is who you choose.
Family may not look the way you expected, but this is your reality now. It's time to shake the Etch-a-Sketch and create a new one.
This year, I blocked off Thanksgiving to spend with my best single-mom friend in the world. We're got massages, ate a dinner we couldn't afford, froze our butts off watching the Christmas lighting ceremony and laughed like fools because that's what we do best.
Life may not have given me what I thought I always wanted, but it's always given me everything I need. Through this darkness, I've cultivated the greatest friendships and experiences of my life and I feel joy and hope again. I remember the days when I never thought I would. That, without question, is something that I can be truly thankful for.
If you're feeling the initial pain this holiday season, I am hugging you with all my heart. Remember: you are never alone.
Love,
Your kindred, single-hearted spirit
Relephant read:
Author: Jacqueline Friedhof
Editor: Nicole Cameron
Image: Jnyemb/Flickr