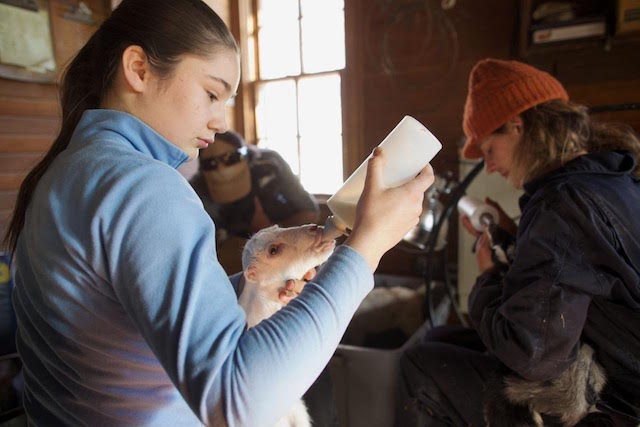 Long's Gardens is a 25-acre plot of land along one of Boulder, Colorado's busiest streets and for nearly a century, farmers have been growing crops and raising livestock on the property.
A portion of the land is leased to two nonprofit organizations: Growing Gardens and Mountain Flower Dairy.
In 2012, Taber Ward founded Mountain Flower Dairy and now works with chef-turned-goat-farmer Michael Montgomery to run the business. Recently, I sat down with Michael at a shaded picnic table at the dairy to learn more about the operation and the inspiration behind it. I also wanted to get cheese-making tips for do-it-yourself fromagères.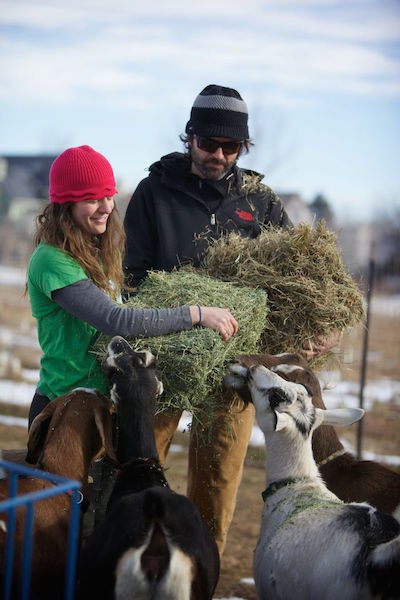 Almost 100 local families receive raw goat milk from Mountain Flower Dairy. Michael would love to provide milk to more customers, but demand outstrips supply, and the production and inventory levels vary throughout the year. Michael explains:
"A lot of it has to do with the length of the day, so on the longest days of the year, we have more milk, which means we can give more milk to humans. We also give a lot of our milk to the young goats. The kids get milk for up to three months, which is a lot of milk."
There's currently a lengthy waitlist for the dairy's limited product.
But Mountain Flower does more than provide milk to customers.
"[We were] founded as a demonstration micro dairy. Taber founded it with this idea of providing the community with a transparent model of farming, animal husbandry, and land stewardship,"
Every summer, Mountain Flower offers camps for children where they learn how to feed, milk, and clean up after the goats.
"The youngsters"get over the whole getting dirty thing. At first, they're scared to walk in the pens because there's goat poop on the ground. But, by the end of five days here, they're generally into it—getting dirty and not washing their hands every five minutes."
Michael and Taber also take the goats to schools to teach children about the feisty, friendly ruminants, and they use them as therapy animals for people with special needs. Cheese-making and fiber-arts workshops for adults are also available. Michael says, "We basically try to provide as much education surrounding goats as we possibly can."
The diary co-directors are even training a few of the goats to become pack animals for hiking and backpacking.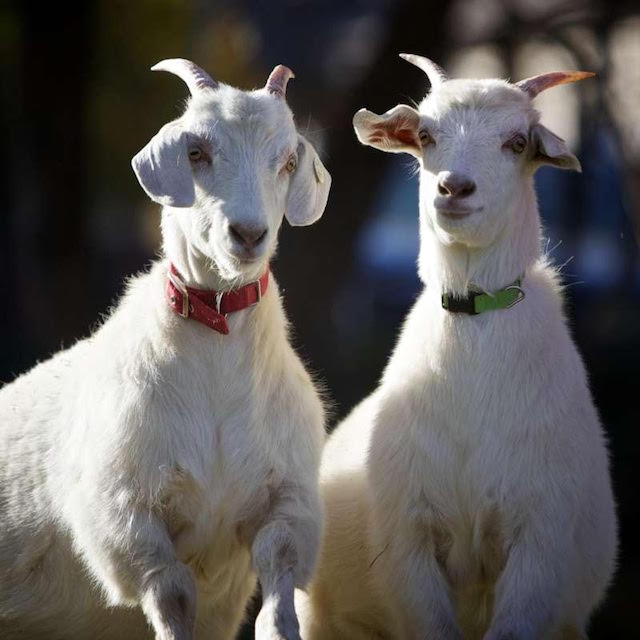 After several years as a cook in Chicago restaurants, Michael moved to Boulder to teach at the Culinary School of the Rockies (now the Escoffier School of Culinary Arts). Goat farming is a new adventure for Michael, but cheese making is a longtime love. Learning the skill in culinary school, Michael practiced cheese making in the busy Chicago restaurants where he worked. Making fresh cheeses like ricotta and chèvre for his restaurant patrons, he became quickly skilled in the discipline but it was his work with the Culinary School of the Rockies, which had a strong farm-to-table program, that really sparked his interest in farming.
"I met some really cool farmers and decided then that I wanted to learn how to grow vegetables,"
Michael interned at Growing Gardens, where he farmed and taught cooking classes before moving on to Mountain Flower.
Working on a dairy farm has changed Michael's perspective on the basic ingredient in cheese—milk.
Previously, he took for granted that the resource was so readily available in the restaurants where he created his cheeses. Now he values every drop.
"I just have so much appreciation for what it takes to produce milk. Of course, a lot of that is animal appreciation, but a lot of it has to do with the humans surrounding the animals. It's a really hard job!"  
"I used to make a lot of mistakes early on in cheese making and I'd think, 'Oh, it's just milk,' but now it's devastating to me to waste a single bit, and I try to figure out anything I can possibly do with it. Now, I would never just throw it away."
When I ask Michael what inspires him about working at Mountain Flower Dairy, he responds:
"First of all, coming to this farm to work every day is just magical. It's my favorite place to be. I love being here because it's right in the city, and there's something about the cars buzzing by."  
"This whole idea of being responsible stewards of the land. It makes me feel good that we're all using this 25 acres as much possible, but we're treating it with the utmost respect."  
"The whole notion of animal husbandry and treating the animals with respect and teaching people how to treat the animals correctly is huge."
For Michael and Taber, building a more robust local food system is a passion.
"I still think we're far from having a strong local food system. I feel really proud on the days I see people come and pick up their milk; they value the product and value where it comes from. It's a really clean product that could otherwise be sketchy. Raw milk is a liability, and we often think, 'Do we want to continue to do raw milk, since this is a lot of work?' We wonder if we should just hook up a machine and pasteurize it all and call it a day, but regardless of how we expand and what we do, we'll always offer it."
Tips for Aspiring Cheese Makers:
Below, Michael suggests several tips for adventurous cheese makers.

1. Start with fresh cheeses.
Michael recommends beginning your learning process with a fresh cheese like ricotta. Ricotta, which he claims takes only 15 minutes to make, allows you to clearly see the separation of curds and whey—what's known as a "clean break"—and you don't need a lot of ingredients—just milk, lemon, and salt. You'll also want a good thermometer (more on that below). For some ricotta inspiration, see Michael's recipe below.
2. Start with the moo.
Michael suggests using cow's milk in your first foray into making cheese.
"Goat milk is probably trickier to start with than cow milk because it's a little more sensitive to heat; it doesn't like to get as hot if you're cooking it. Goat milk is naturally homogenized, so it's a little more difficult to get all the fat out of the milk, because it doesn't naturally separate."
The good news for novice cheese makers is that cow milk is easier to work with and less expensive to buy.
3. Your milk needn't be raw, but it shouldn't be ultrapasteurized.
Michael says he likes to use raw milk for raw cheese, but "if you're cooking it, you're going to be pasteurizing it anyway." He advises against making cheese with ultrapasteurized milk, however, because that process "damages basically every single living bacteria, stripping out every enzyme that's beneficial." Instead, he suggests buying organic milk that has been simply pasteurized, a process that happens at a lower temperature than ultrapasteurization does.
4. Give chèvre a try.
Once you're comfortable with ricotta and you understand the curd/whey separation process, Michael suggests giving chèvre a try.
"Chèvre is a really simple cheese [that] requires the addition of rennet and cultures, and you have to buy some butter muslin [tip 5], but that's all you really need."
When you're using goat milk instead of cow milk, you always lower the temperature by about 3° F because it's more sensitive to heat.
5. Get the right supplies.
As you start making more-complex cheeses, you'll want more-specialized tools. For example, you'll need butter muslin, which is a finer weave than regular muslin and can hold back more of the curd ("Because you never want to lose any of the curd!" like Michael emphasizes). I asked him for some sourcing tips:
"For home cheese makers, I like New England Cheesemaking Supply Company, in Massachusetts. They're really good because they have tons of recipes and they offer help. If you're having an issue, you can usually chat with someone online or by phone. Cultures for Health is another one. They do a lot of general fermentation supplies, though they're a little bit more expensive. You can also go to Hoegger Supply; they sell everything related to goats."
6. Calibrate your thermometer.
It's important to have an accurate thermometer on hand. Michael recommends using the Tel-Tru 12-inch thermometer and offers advice for calibrating it:
"The first thing I do is I swirl my thermometer in ice water until it reads 32° F. If it doesn't read 32, there's always a way to manually either turn the needle so it's at 32, or digitally change it. I suggest doing this once a month with all your thermometers."
Michael sticks with an analog one, rather than digital.
7. Use the right pot.
Use a high-quality, nonreactive, heavy-bottomed pot. Stainless steel All-Clad pots are Michael's choice. A coated ceramic Dutch oven, like a Le Creuset pot, also works well.
"If you're doing something like heating milk to 75° F for chèvre, and then letting it sit on your counter for a day, it's going to hold that temperature a little longer, which is really, really helpful for cheese."
Now that you've got the skinny on cheese making, we hope you give the following recipe a try:
~
Lemon Ricotta Recipe
Ingredients:
1 gallon organic milk
3 tablespoons fresh-squeezed lemon juice (zest lemons before juicing and reserve)
Salt (to taste)
Method:
1. Place milk in large pot and heat to 185° F to 190° F (do not boil), stirring often.
2. Add lemon juice and stir.
3. Keep at temperature, turning off heat when curds and whey separate.
4. Let sit undisturbed for 10 minutes.
5. Line a colander with butter muslin (or use a fine-mesh metal strainer).
6. Carefully ladle the curds into the colander or strainer.
7. Drain until the desired consistency has been reached. Curds should be fluffy and light, while still retaining some moisture.
8. Season to taste with salt and lemon zest.
To make herbed ricotta, add 2 tablespoons chopped herbs of your choice (such as basil, thyme, or oregano) and mix into finished ricotta. Use anywhere you'd use your plain ricotta, such as pizzas or flatbread.
To make honey ricotta, add 2 to 3 tablespoons honey to finished ricotta and stir gently. Use as a sweet base for fruit galettes or tarts.
~
Author: Mara Rose
Editor: Katarina Tavčar
Photos: Used with permission from Kirsten Boyer