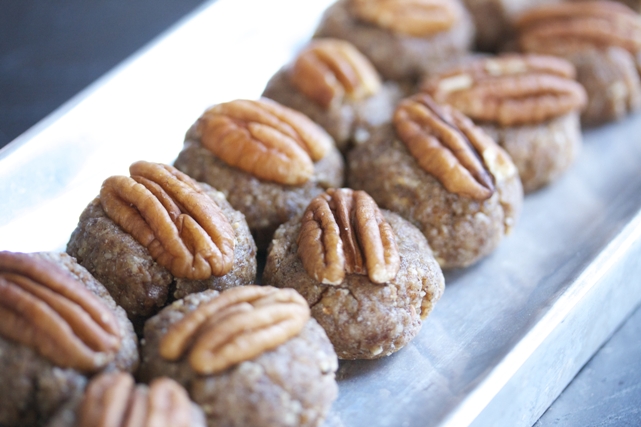 I come from deep southern roots and with those roots comes a heartfelt connection to pecan pie.
Unfortunately, too much sugar makes my body freak out. I am more of a salty crunchy sort of binger—but that is a topic for another day. Yikes!
With the holiday season around the corner, pecan pie has been on my mind. I started dreaming about it, and decided to pack that yummy flavor into one of my favorite afternoon snack foods.
These little energy bites are not too sweet and are a great way to get you through the afternoon or boost your energy after a workout. This recipe is simple and raw and will make about 16 one-inch round bites. All you need is a food processor and a few staple ingredients.
For the pitted dates, just be sure the pits are out, sometimes there are a few still stuck in the center of the dates and they will not be kind to the blade of your food processor.
Add all of the ingredients together and pulse until combined into an even course meal.
Next grab about one tablespoon of the mixture and squeeze it until it clumps together and lightly roll it into a ball about one inch in diameter. For decoration and a little extra protein, you can take a pecan and press it into the top. Refrigerate the bites for about one hour and serve.
To keep them for a longer period of time, you can freeze them and just grab them as you want them. They taste great frozen too! Enjoy!
Ingredients:
1 cup pitted dates
1/4 cup almond meal
1 1/2 tablespoons almond butter
3/4 teaspoon cinnamon
1/4 cup pecans (more for garnish)
2 teaspoons chia seeds
1/4 teaspoon vanilla extract
Instructions:
Add all of the ingredients into your food processor and blend until a coarse meal forms and all of the ingredients have evenly distributed. Scoop about 1 tablespoon of the mixture into your hand and squeeze until it clumps together and then gently roll the mixture into a ball. At this point you can add one pecan to the top of each bite as a garnish but pressing it into the ball. Refrigerate for one hour. Enjoy immediately or freeze them and enjoy them for longer!
Relephant: 
Author: Liza Curtis
Editor: Catherine Monkman
Photos: Author's Own