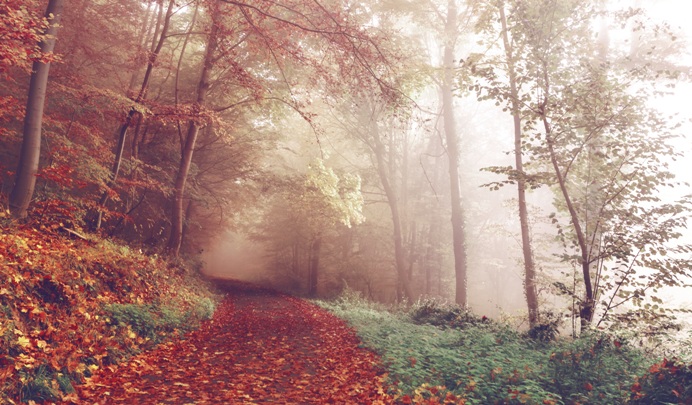 When I come home, I take off my shoes and go inside. I never thought to do it the other way around, until now.
Aside from the beach or your backyard, how often do you take off your shoes and walk around outside? If you are like me, you can't remember when—it may have been sometime in childhood.
Every morning for the past 15 years, I've walked my dog in the woods next to my cottage. A couple of days ago I finally slipped off my shoes and walked barefoot. This is what I learned.
1. I still worry about what people think.
As soon as I took off my shoes I had a minute worrying that passerby's might think I had either taken LSD or was stuck in the '70s. I also realized how weird it was to have shoes on all of the time. We are animals after all. The only animals that wear lace up, padded shoes.
2. The earth is soft.
So soft in fact that it deeply moved me. Like touching a beloved's cheek. The temperature of the dirt changed step after step depending on the tree cover over me, and the leaf litter under me. The moisture, the rocks, the shade, the direction of the wind. It all mattered.
3. Walking barefoot is best done slowly and gently.
This way of moving alters your mind and mood. The sharp rocks and prickly oak leaves are there, but it is no big deal. The animal in us knows how to shift our weight, slide a little to the left, step on a rock, or not.
4. Walking barefoot creates presence.
Mind chatter dissipates. The birds are less suspicious. We are quieter and the animals tend to stick around more. We notice sounds, smells and see more detail as we slowly pass by.
5. Sensing connection.
I could really sense the "mother" in mother earth as I stood on her warm skin. I felt the biosphere. The connection of us all. Roots nested under the soles of my feet, cool spikes of growth poking through the earth all around me, and leafing out above me. Feeling the rumble of the creek rise up through my small bones. The delicate nature of our world. I also realized why my dog walks where she walks.
Last month, my mentor, Martha Beck first encouraged me to remove my socks and shoes and venture out on the earth barefoot. We were at a retreat surrounded by horse pastures. I have been lucky enough to have spent much of my life in the company of wonderful horses but this was the very first time I was shoeless. It was a whole new, almost unexplainable experience. When the horses noticed me, they stopped eating and trotted up to the fence. I silently moved towards them. They seemed very curious and very calm. We stood together on the warm earth for a long while, and then noiselessly, we separated as one.
It is amazing to me how wearing shoes on my feet has separated me from so much of who I am, and what I am a part of.
I am completely aware that much of this may sound hokey but I encourage you to try this simple yet slightly radical act of slipping off your shoes and walking in the dirt. Please leave a comment and let me know what you discover.
Relephant: 
Author: Mary Ann Johnstone
Editor: Catherine Monkman
Photo: Author's Own