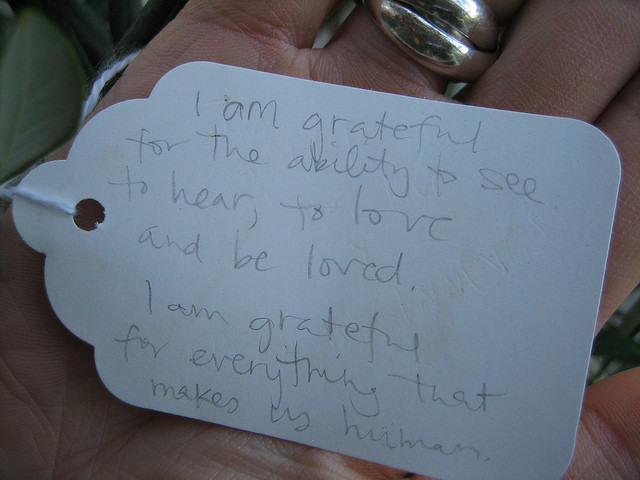 "If the only prayer you said in your whole life was, 'thank you,' that would suffice."
~ Meister Eckhart
Buddhism teaches that gratitude is the antidote for greed as when we are grateful for something we are also accepting that we have enough.
It also teaches that we should be grateful for difficulties as well as the good times as it is through obstacles that we often receive our greatest lessons.
It is believed that the Buddha always started his teachings by paying tribute to those who were kind and giving and also to those who showed gratitude and gave thanks:
"There are two persons who are rare in the world. Which two? First the person who volunteers to help others selflessly, and second, the one who is grateful and helps in return." ~ the Buddha in the Anguttara-Nikaya Sutta
The Buddha explained that kindness and gratitude were virtues that were interconnected, and therefore should be expressed together. Gratitude should be shown as a response to kindness, and when we are kind we become more appreciative of those who are kind to us as we know that it sometimes takes effort to show kindness or to give to others.
Gratitude also teaches us to focus on what we have in this very moment and to be grateful for it, rather than grasping at, or desiring, things we don't have.
So much of what is around us can be easily taken for granted. Even the sacrifices our parents, our partners, family members or friends make often go unnoticed. Sometimes misunderstandings can arise if we have taken time out of our busy schedules and the person who we have given to is not aware of how much time, love and energy has gone into our actions. As difficult as it sometimes is, that is why we should give in abundance and without conditions. When we give on expectation of receiving in return it could lead to bitterness and resentment if there is no reciprocation.
There are some people who we may feel that they have done so much for us that we will never be able to repay them in time or money as their effort has been priceless; the only way we can repay them is by expressing gratitude.
Therefore, gratitude becomes one of the most valuable virtues we can have. It supersedes financial or material wealth as with just one meaningful heart-felt word we can repay someone for all that they have done.
Gratitude does not need to be given just for things that directly relate to us. We can show gratitude for anything and anyone anywhere in the world.
As a writer, I often receive messages thanking me for my words. This is where gratitude versus gratitude meets. I am equally grateful for the people who read and write to me to express their gratitude as they are to me for writing it. When I receive these messages it lifts me up and makes me realize that my writing meant something to someone, somewhere in the world.
Whoever it was that messaged did not have to take that time out to tell me. They don't know me personally, they had no personal gain in spending a few moments messaging me to let me know what they thought about my writing, yet they have reached out and their words have then altered my day. Sometimes it is simply a "thank you," and those two words sincerely hold so much meaning. Other times it is a longer message and I read it thinking about the fact that someone, possibly on the other side of the world, is showing gratitude selflessly and there is something exquisitely beautiful in that.
"Gratitude is when memory is stored in the heart and not in the mind." ~ Lionel Hampton
When I am grateful to someone, even though I say, "Thank you," often the person may not realise that the gratitude I feel lives on in me. I remember each deed and every time someone has gone out of their way to do something for me. Kindness and gratitude do not dissipate after the acts have taken place, the appreciation stays with us and we then go on to show this through acts of kindness and expressions of gratitude we will pass on to others.
A wonderful example is the "pay it forward" concept. So many times people have been in receipt of someone "paying it forward." They are then compelled to continue to show kindness as they then deliver loving and caring acts of their own. They soon gather momentum and these tokens of kindness can spread to all corners of the earth.
A small act of kindness in one corner of the world quickly becomes contagious and touches and transforms lives everywhere. That is all because the person who received the gift of loving-kindness has gratitude.
Every day there are a limitless amount of things we can show gratitude for and we possibly won't even acknowledge many of them. We can give thanks to Mother Earth for providing all that we need to exist, for shelter, for food, for family and friends, for the seasons, for challenges, for blessings, for love,
We sometimes feel as though we can never repay the kindness of others. However, we can, just by being grateful.
Each night before we sleep we can start a little practice by counting on each of our fingers all of the things we are truly grateful for in that moment, spending a few moments thinking carefully about what is important about each one. We can even share these moments with our children, our partner, or our friends. We will wake up energized and happier realizing we have more than enough, far more than we realized. Then we can start a new day showing our gratitude by voicing or expressing it at every opportunity. We will not only see everything through new eyes but we will also appreciate everything.
You might be surprised how much this simple but powerful ritual could alter and enhance every aspect of life.
"You simply will not be the same person two months from now after consciously giving thanks each day for the abundance that exists in your life. And you will have set in motion an ancient spiritual law: the more you have and are grateful for, the more will be given you."
 ~ Sarah Ban Breathnach
~
Relephant Favorite:
~
Author: Alex Myles
Editor: Travis May
Photo: Flickr/Eugene Kim