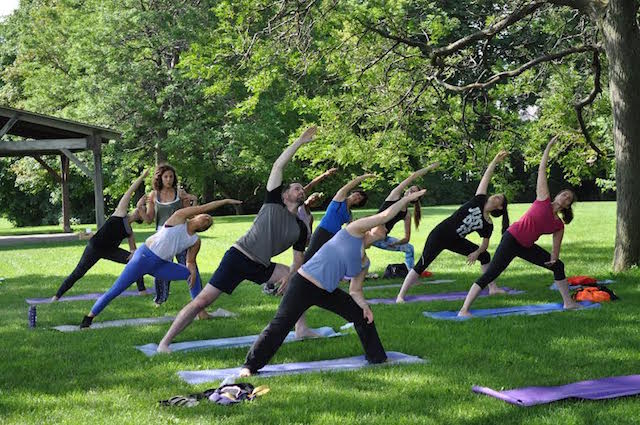 I had no idea what would be waiting for me in yoga teacher training.
As a student of yoga since the age of 16, I knew the power of the practice, yet, here are a few of the lessons I unexpectedly learned:
1) It's okay to be the weirdo, if that's who you are.
There is this thing about sitting or standing for too long that just kills me and I need to stretch or balance on a limb. So, yeah, sometimes I get weird looks when I talk about sweat lodges or unknowingly take tree pose in the middle of a social gathering.
I don't mind if people think I eat strange food.
It's okay that I'm not seeking marriage and children or whatever other conventions might not be for me.
I am not sorry that I didn't know who Kim Kardashian was (or any other references to pop culture).
I spent my life feeling like an outsider in a world driven by consumerism, television, and working oneself into the ground for 50 years to be able to enjoy life at age 70.
I don't get it.
I do what I love and what feels right. Teacher training has shown me that there are other weirdos like me that care about weird (albeit cool) things.
2) It's vital to make time for our own practice.
Some people start teacher training for the purpose of "deepening their personal practice." Well, your personal practice will deepen off the mat in your behavior, food choices, thought processes and so forth.
Still, the largest challenge for me was (and still is) taking time to deepen my practice on the mat. Course requirements and life become convenient excuses for skipping personal practice.
While I know the practice of yoga really does exist off the mat, the consistent physical practice is a frame of reference to check in with ourselves.
Our bodies crave yoga, and we create ways to ignore that craving.
Listen when it calls.
3) It is possible to love winter.
I spent two years living in Ecuador and Mexico. Upon returning to Chicago, I had no intention of staying long enough to endure another horrendous Midwestern winter.
When I chose to start teacher training, I wondered how I would manage.
Soon, I found winter to be the perfect time for introspection. As I heard others complain about the weather, I even found myself saying, "I kind of like it," as I spent my time studying and cooking sattvic comfort food.
When surrounded by a community of creators, learners, and teachers, it doesn't matter where we are.
4) Our teachers become our greatest friends; friends our greatest teachers.
In years past, I thought I needed to live in a bohemian expat community across the globe to find people who "get me."
All the while, there was an incredible community of individuals doing deep soul work right in my hometown of Chicago. And, well, Midwesterners are generally grounded, so yoga in Chicago is filled with authentic folks.
When we open our minds and hearts, meaningful connections find us.
I try to make a point to embrace teachers that drive me nuts. We have something to learn from them. When we take time to notice how those around us reflect what exists in us, they become great teachers as well.
5) Dogma comes in many forms.
I used to be heavily into politics. Bolstering up my ego while arguing with my dad about matters of foreign policy, poverty, you name it.
When I began practicing Ashtanga Yoga, I let go some of the attachment I had to political convictions; however, the dogmatic part of me took a new form.
I began to think of Ashtanga as the best form of yoga.
The wide array of teachers and philosophies in my training program opened my heart to other practices, knowledge and ways of seeing things. I truly embrace what I learn from other teachers and practices. Ashtanga has actually become that much more meaningful to me.
We can always bolster the ego, even in yoga. Let's bolster our sits bones instead.
6) Trusting our own intuition can be the toughest challenge.
Yoga Sutra 1.2 states: "yogash chitta vritti nirodhah," which can translate to "yoga suspends thought activity."
Yoga calms the mind, right?
The irony is that the more you practice, the more chitta vrittis (mind stuff) you must learn to suspend.
Teacher training will disrupt any thought management system you believed you had nailed.
I have an entire cabinet of voices in my head at any given time during my practice telling me how to breathe and arrange my body on the mat. These voices become a turbulent tornado as we wonder who and what is right. The real work is learning about our own bodies and breath.
7) We have more to offer than we think.
A year of developing knowledge and teaching skills was not enough to build my confidence in stepping into the role of teacher.
I was terrified of freezing up in my first class. I went through this period of feeling like my cuing would never flow smoothly. I wondered where I would fit in a world of so many phenomenal teachers. I felt like an impostor.
I experience anxiety before many of the workshops and classes I teach. I feel like, who am I to teach this powerful practice? But, what I find is that there is, usually, some seemingly unimportant but authentic part of me that speaks to others.
Perhaps the biggest breakthrough as a new yoga teacher is being able to tap into our own experience and who we are that becomes part of our teaching voice.
Many different types of vehicles are needed to transmit the practice. I am one of them.
8) Just when we think we are taking responsibility for our choices, there is more.
As yoga teachers, we are compelled to look in the mirror and accept responsibility for what we create. I strive to be self-aware and take responsibility for my own stuff.
But, I realized I made certain choices (namely career changes) during my training journey that wrought havoc on my routine. Who made those choices? Why? Whose responsibility is it when I don't show up to my mat?
Yoga forces us to see ourselves, to examine why we might not be showing up 100 percent in certain areas of life.
9) I still have so much to learn.
It's called practice for a reason.
Yoga is a journey of discovering union within ourselves. The more I experience and learn; the more, I realize, there is to learn.
Study with many teachers. Study with yourself.
Namaste, peace seekers.
~
Relephant Read:
~
Author: Melissa Renzi
Assistant Editor: Elizabeth Brumfield/ Editor: Toby Israel
Photo: Dave Rosenblum/Flickr // Jennifer Czech
~