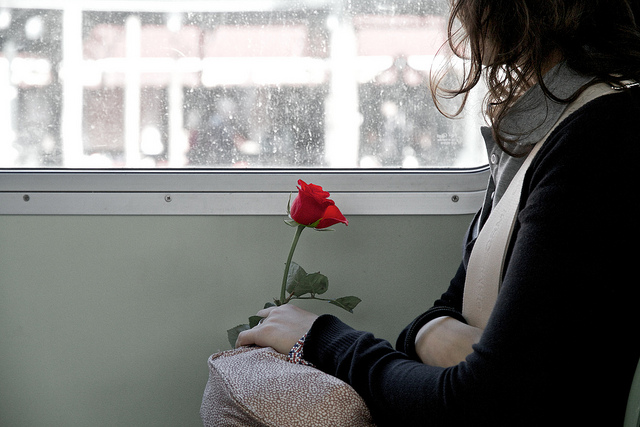 On the morning of my 74th birthday, when I awoke, even with my husband singing Happy Birthday in my ear, I was filled with sadness.
Birthdays can be a time of reflection, regrets and thoughts of times gone by and as sadness can do, that morning in bed, sadness ran deep in me like the roots of a leafless tree that had been pulled up, exposing first one scene then another to the light of day.
As I laid there half awake, floating to the surface from the back of my mind I saw all those birthday cards I used to get that were signed in the new, unsure/proud handwriting of three little girls just learning to write.
"Happy Birthday Mommy."
There wasn't anyone giving me home made cards with crooked crayon houses and suns on them anymore not to mention the fact that there wasn't even anybody calling me mommy any more.
"I (heart) my Mommy."
I looked around the corner with my mind's eye and next to the cards standing on the dining room table I saw bouquets of flowers waiting there.
"Happy Birthday to My Wife."
The florist would have written on the cards on behalf of the father of those three girls who I used to be married to, the man who never failed to have the florist deliver flowers to me on all my birthdays. There the roses were still sitting on the table in the back of my mind waiting to be appreciated by the 74 year old me—who, for the entire 30 years I had been married to that man—didn't recognize them for the gifts of love they were.
I heard again a voicemail I had saved of my dad singing Happy Birthday to me on my 60th birthday.
"Happy Birthday dear daughter."
I listened to that recording over and over, and when I changed phones I thought, "Oh, don't be silly, you don't need that anymore" and deleted it.
I was wrong. I did need it.
I was sad because being a 74-year-old woman who had recently married a 74-year-old widower reminded me that my next birthday was really close to 80 and that 80 was close to you-know-what and that I didn't want you-know-what to be just around the bend with my new husband. I wanted the feeling I used to have when I was 20 or 30 or 50—that there was no around-the-bend to worry about.
I lay in my husband's arms, telling him I was feeling sad, and he laid there listening to me and cuddling me even as I wept and I looked out the window and saw that the sun had come up.
"Look," I said to my husband, "Look at the trees. Their leaves look like gold."
A friend of mine had said once that it was too bad we counted years for birthdays. There was so much else to count, so much beauty to count, so much love to count instead of years to mark the distance we had traveled in life.
"What are you thinking?"my husband asked.
"I'm thinking I may be 74 years old today, but what if I measured my life in birthday cards with crooked crayon houses drawn on them instead of years, or in the countless bouquets of roses that had been delivered to my door or, in the sound of my 80-year-old father singing Happy Birthday to my voicemail?"
"Or, most important," I said, turning toward him, "what if, instead of years, I measured my life in waking up to my new husband singing Happy Birthday to me first thing in the morning?"
He pulled me to him tightly in response.
I wasn't feeling sad anymore and turned to look out the window again.
Yes. We have memories that are deep in us, like the roots of a tree. But the tree of our life isn't only its roots and outside the window, I saw my life standing with the sun shining on it.
All of its leaves turned to gold.
Relephant:
~
Author: Carmelene Siani
Editor: Catherine Monkman
Photo: Takumi Yoshida/Flickr