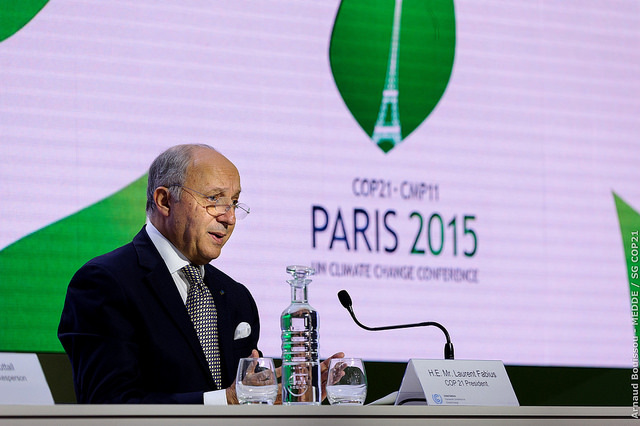 A historic agreement was ratified in Paris this evening.
Originally scheduled to come to a close yesterday, negotiations at COP21 continued into today to negotiate an agreement that would begin to bring about the end of the fossil fuel era.
The final draft text was released this morning, but was only ratified after a line-by-line debate was concluded this evening. 195 countries have agreed to keep global warming "well below 2ºC"—half a degree below—the target has been set for 1.5ºC.
In addition to limiting warming levels, the accord calls for measures to bring about a peak in green house gas emissions "as soon as possible," with the aim of achieving carbon neutral levels by the second half of the century.
While each country was permitted to create its own carbon emissions reductions targets and deadlines, there is a legal requirement for a five year review. This will require each country to report on progress to date, as well as to ramp up their emission-reduction plans even more over time.
While not legally binding, a clear onus has been placed on wealthier developed countries to provide financial and technological support to poorer countries—both in terms of helping them to adapt to the impacts of climate change and compensating for the damaging effects of warming already taking place.
While all of these are positive outcomes, the 1.5ºC target is considered ambitious by climate experts, given that we have already hit 1ºC. And while the goal reduction from 2ºC to 1.5ºC is welcome, there are concerns 1.5ºC will prove to be too little too late to preserve some regions from the devastating effects of warming.
The political rhetoric coming from Paris is hailing the agreement as historic and it is certainly welcome.
"This COP21 is a true turning point for a universal, legal agreement….In December 2015, we feel in Paris there is a certain momentum, in particular around mobilising civil society." ~ Laurent Fabuis, French Foreign Minister
But this agreement has been arrived at late in the day, and it is only the start. As a matter of urgency, we now need to see political will at Paris followed through into detailed long-term plans that will see the planet rapidly move from fossil fuel consumption towards renewable energy.
Author: Hilda Carroll
Editor: Yoli Ramazzina
Photo: Flickr/COP PARIS