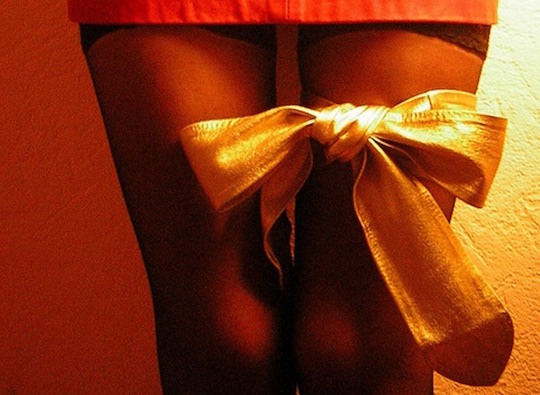 "Love does not need to be understood. It needs only to be shown." ~ Paolo Coelho
There isn't anything that I can give you that you don't already possess—other than myself.
I could spend time searching through glass cases heavy with men's watches and think about how each one would look on your strong wrist, as your fingertips pressed into the small of my back.
I could plan weekends away, to quiet out-of-the-way destinations where you have never been before—ones that speak to my soul. Where we would make memories better than your wildest dreams.
Or, I could whisk you away to the bright lights of an unnamed city, where we would be two lovers who disappeared within the anonymity of the hungry crowds.
But, none of that is new—and it's nothing that you need.
Because the truth of it is, I can't give you anything that you don't already have—except myself.
You may not be able to unwrap me, but that doesn't mean that I am not a gift.
The greatest offering that I can give you is my time and my attention—my loyalty and my trust.
I can look at you, not free from mistakes—but amazing because you are real.
And if you look deep enough into the cerulean of my eyes, then maybe you will fall to the soft depths and finally see yourself as I do.
Because at one point, you asked, "Why me?" When it seems that I could choose from many.
But the secret lies in what you give me, that no one else has ever has.
I can't give you presents of glitter and glitz worth a lot of money—but what I can give you is truly priceless.
It is the gift that I alone can give you.
I sometimes wish that I could package it all up in wrapping looking like everyone else's—I wish that could be bought on sale at the local retail store, taking its color and size into consideration.
But just because I don't—doesn't mean that my gift won't be a perfect fit.
I could plan an evening out, where money was no object—dining in luxury with gold and tantalizing exotic spices.
But that wouldn't satisfy your appetite anyway—and probably what I give you will be even more delicious.
Because you probably already have everything you want—and what would one more ordinary gift other really mean to you anyway?
While I think of all the amazing gifts I could give you, I don't really think any of them is truly what you need.
Maybe I am wrong, and this I'm offering is one that you'd rather just permanently keep on the shelf to admire occasionally.
Or maybe it's the one thing that you have been searching for—not realizing it was right in front of you the whole time.
I know that at times, I have offered this to you, only to rescind it when my way of existence felt threatened—but this time is different.
I don't care about the specifics or following the rules regarding what I should be doing or saying.
I offer my gift to you, whether you choose to accept it or not.
I'm not taking it back this time and I'm not burying it or running away from it.
And I am promising that I am not going to offer it to anyone else.
What I have to give to you isn't dependent upon you choosing to unwrap it or not.
I'm giving myself to you because you deserve it—and it's what I want to do.
Because I have spent too much time pretending you are not in my heart. I have tried to convince myself that it is crazy and would never work, only realizing my reasons were meaningless, shallow excuses that I eventually saw right through.
I could lie and tell you that I don't know why it is you, but the truth is, this time I do.
And, I could pretend and think of a million ways to save face without actually having to do the very thing my heart has been telling me to do for so long.
Because this precious gift I'm offering you has had your name written on it for some time anyway—even when I tried to erase it.
I realize now, that you were right all along—about everything.
I hear your exasperated sighs of, "What are you doing to me?" in my mind when the rest of the world is silent and while I don't know what answers you will find underneath my wrapping, I do know that I feel the same way.
And that is why I want to give you the most precious thing that I can think of—myself.
I want to give you meaningful and passionate words that are written for only you and I want to give you kisses that linger long after my lips leave yours.
I want to write my name in a hundred different scripts upon your delicious bare skin, so that no matter what language you feel like reading, you'll always find me there.
I want to give you sincerity and honesty, freedom and faithfulness.
I want to give you all that you deserve—and if at the end of the day you fall asleep with a smile on your face and your soul at ease then there is no greater gift that I need.
I don't want to give you something that will only collect dust—but rather something that you could watch bloom with pride.
Because this time, I know that there isn't anything I could give you other than myself—and I hope that it's the gift you've been wishing for all along.
~
Relephant:
Author: Kate Rose
Editor: Ashleigh Hitchcock
Photo: flickr/Serena