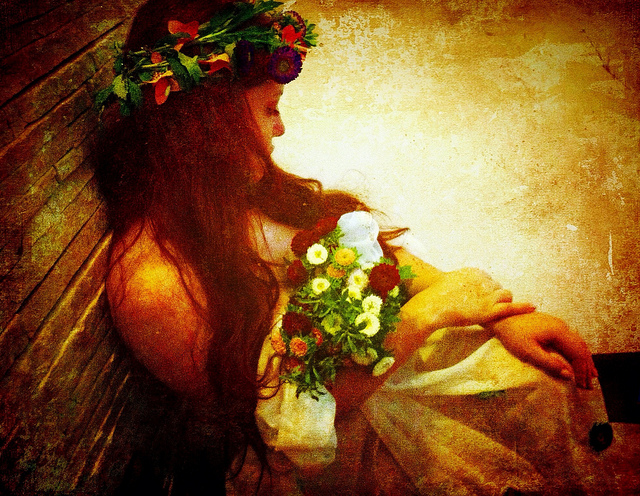 His love was patient and kind,
Steady and warm, like the glowing embers of a warm, apricot jam sunrise.
When he pressed his lips to hers, she cried out in shock—it was the gentlest whisper of a kiss she had ever known.
Slowly, softly, he shined his love down on her—all of her—every cell, every pore, every scar, every mistake.
He engulfed her entire being in amber-colored flames and encouraged her to dream—to believe in herself.
So she did.
One day, she came to trust his touch so deeply, that she gave herself over to him—completely.
His kiss melted her frozen heart—
And slowly, the icicles on her snowy skin transformed into pure golden sunlight.
It wasn't winter anymore.
Darkness lifted, spring flooded in.
He wrapped his arms around her, as tears spilled from her eyes like diamonds, landing on his chest with a soft splash.
She cried and cried, a waterfall of euphoric epiphanies flowing into a salty river where they swam—wearing nothing but moonlight and curiosity.
Even the trees were naked, as her smile stole the starlight, becoming ultraviolet—becoming unbreakable.
They looked into each other's eyes, with passion, with purpose, with pure golden understanding—
In that moment, their love was forged, iron-clad.
A sacred bond between two hearts,
A secret world between two souls.
Their love wasn't chemical—it was alchemical,
Thick and juicy under the skin, a dripping plum, ripe with budding magic.
Two hearts engulfed in flames, drawn together like magnets,
Destined to burn together, destined to be together.
Their tender kisses sent sparks into outer space
A lip-locked prayer to Pluto, forever daring them to dive deeper, to bare the truth—
To bare it all.
Their love wasn't just pretty—no—it was earth-shaking, core-shattering, soul-bursting love,
Destined to defy expectations and shatter limitations,
Destined to defy it all.
Their love was out of this world.
Together, everything was possible.
Together, life was rich—a dripping bouquet of vivid colors,
Together, life meant so much more.
.
Relephant:
.
Author: Sarah Harvey
Editor: Yoli Ramazzina
Photo: Flickr/jeronimo sanz