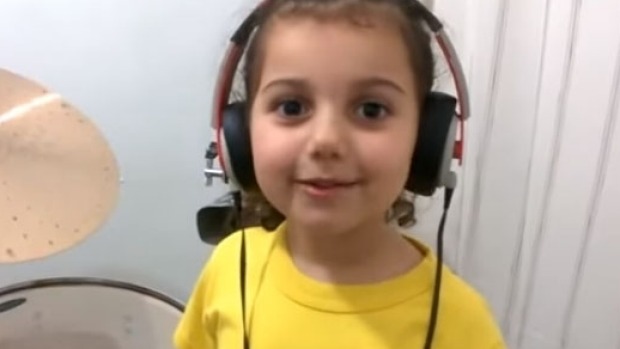 She's 5. And that wrap-up at 3:45. Also those drumsticks are the size of her arms:
I'm pretty sure every girl and/or father/mother should watch this first thing every morning!

Er, you know, right after meditating for a few minutes.
I never knew I liked Heavy Metal before. It took a 5-year-old to teach me the wonders of rarrrwwrrrrrrwah! 
Reviews are in:
"I…didn't even know it was like physically possible for 5 year olds to have that much bodily awareness."
"This video let me be proud of a little girl without all the hassle of being a parent!"
"You can see that she is actually enjoying playing the drums. That means so much more than a detached child whose parents kept drilling them to become skillful on an instrument.
You go girl! Keep it up and keep doing what you love!"
"It's called practice! Get to it!!"
"This video impressed me for a few reasons. First and foremost, it's the only video listed here where she's playing on a seriously expensive and high quality drumkit – obviously supplied by the TV Show. It helps show what incredible talent she has, because it sounds fucking awesome.
Secondly, she's playing a significantly challenging piece for most average drummers – but she's fucking FIVE YEARS OLD.
And finally – when she finishes and they go to interview her and stuff? OMG SO CUTE. She's just a FIVE YEAR OLD. She's still just a kid."