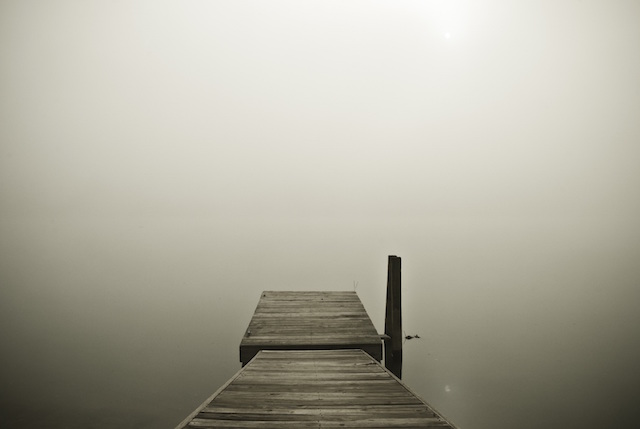 Doing nothing, standing still and waiting for something to happen, made me feel powerless and vulnerable.
It's an uncomfortable feeling. A feeling I learned to ward off with obsessive planning and an ironclad creed to always keep moving. Every aspect of my life chaotically categorized in fancy-lined day planners and goal-setting journals.
From the minuscule details of a given day to my long-term aspirations, all the way up until my assumed death at the age of 72, it was all there, every last detail. My own personal barricade preventing me from ever experiencing any extensive period of stillness.
The funny part? I've found out the hard way that life doesn't give a damn about my plans.
It doesn't care where I thought I was supposed to be by now. It doesn't follow my set of rules or bend to my commands. It's unpredictable and random; it can change any time. It has a unique way of forcing our fears upon us, leaving it up to us to decide whether to face them, turn tail and run or remain stuck.
And thus, my time with stagnation began.
In the blink of an eye, everything in my life shifted. The path I had been following for years was no longer an option, bringing my entire life plan crumbling down to the ground like rubble from a city in ruins. I found myself face-to-face with my soul's reflection, staring into the eyes of someone I was supposed to recognize, taking in the look of confusion painted on her face.
I didn't know this person anymore.
We place our entire identity into these plans we meticulously map out for our lives. We find ourselves at a place where we have no idea who we really are. We're stripped down.
I was alone, with nothing but the thoughts in my head, stuck in purgatory between the person I used to be and the person hiding between the deepest layers of my soul.
I wanted clarity, but instead of allowing the opportunity for stillness to peel back the layers of my being, I fought it, filling the majority of my time with idle tasks and meaningless movement. I was so scared of what would come from nothingness that I refused it at all costs. I felt like a snow globe, shaken up and terrified of what it would feel like to be settled.
Eventually, the little pieces of glitter and flakes started to come to rest, and with them came tiny bits of self-discovery. These flakes of my planning, in stillness, let me see portions of my soul, each one showing an insight into the person I really was.
Gradually, my fears started to ebb away as the stillness allowed repressed parts of my being to resurface. As these pieces fell into place, the whole of me started to make more sense. I began to realize that in doing nothing, I was actually doing the most important something I could possibly do.
I wasn't failing.
I wasn't falling behind.
I wasn't losing.
We don't need to run the rat-race of society in order to progress. In fact, sometimes we don't have to move at all. It's in settling into the spaces between who we used to be and where we are going that we start to find ourselves.
It's when we give in to the stillness that clarity can truly arise.
~
Relephant Read:
~
Author: Heather Lacy
Apprentice Editor: Anna Rogers // Editor: Toby Israel
Photo: Matt Benson/Unsplash // Va Sfak/Pixoto
~