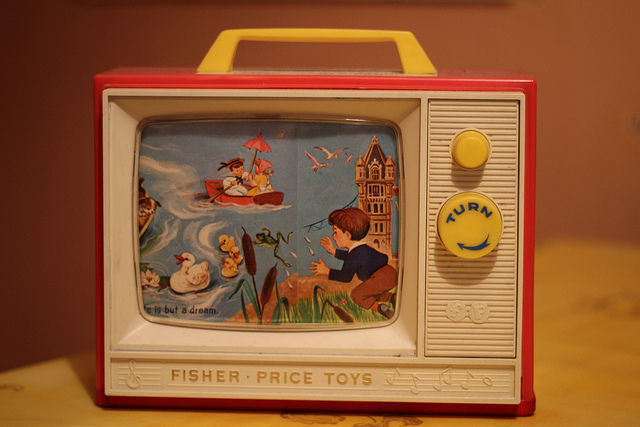 I'm one of those late 30s, early 40s kids fumbling through my radio dial or TV channels looking for something that makes me feel—anything.
Eager to hear or see something familiar, next to something new, next to something old school, next to something new wave. That place doesn't exist anymore. I'm pissed and sad.
I want my MTV back.
"Video Killed the Radio Star" was the first song ever played on what was once a glorious beacon for discovering new music. With those familiar first chords, a channel called MTV (Music Television), was born and shaped a generation's concept of music and artistry.
New songs were paired with an artist's vision, and we admired not only how our favorite musicians looked, but how their clever pairing of flashing lights and cross fades or storylines and plots, enhanced the songs they released. I miss those days.
Yes, music videos still exist, but our access to them has completely changed. Today, music videos rarely get seen unless they have some viral marketability. I'm glad that bands like OK GO are still raising the bar to get us interested in that marriage of music and innovative small-screen excitement. Videos were tiny sparks of inspiration and ignited conversations about how cool, choreographed zombies blew our minds or where a group like Duran Duran could dominate visually with "The Reflex."
For our generation, we were inspired to put songs into action. We were engaged. It was a multi-sensory experience and we all tuned in. MTV was a place where multiple genres hung out on the same channel. Where artists visually crafted mini movies and instant variety shows were created in the form of three to five minute rotations of musicianship and visual artistry.
It was fun. It was funny. It was sexy. It was accepting. It begged you to come to the party.
Even artists that weren't necessarily easy on the eyes, but were excellent musicians and singer-songwriters managed to delight us with that double sensory stimulation. It was a new dawn for a timeless medium of art. Music had a look and it was as varied as each one of us.
Innovation and variety are what I remember so clearly about music videos. It was the stunningly epic stories told by bands I didn't even care for, but admired their storytelling.
It was the choreography at times and the ability to teach us more than just how to Dougie.
It was a time when we promoted our musicians on a scale like no other, and it allowed us to see artists we may never have considered before, like Bjork.
It was when we cared about our musicians, and looked forward to the sage words of elder statesmen, like Kurt Loder, to deliver vital information about our crushes, our legends and where we united around causes like U.S.A. for Africa or Band-Aid—where we could be heroes, just for one day.
Innovation sadly resulted in the creation of reality shows, and the Real World changed MTV's trajectory. For that I am sad.
We started to care less about imagination and more about instigation. We traded our happy moments of bubble gum pop for day-to-day human drama. We became less happy, less fun and more stressed out. We tuned out of our own lives to tune into other's lives. We cared less about the art in front of us and more about the behind the scenes nonsense.
Perhaps that's where the shift happened. I sit here and am frustrated by the way I see the world now. Less effort, more want. We want more attention for less and our arts have suffered for it. Frankly, I think our world has suffered for it.
MTV created a space where I felt one with other cultures and ways of life. It's where I first bobbed my head to hip-hop and admired a shapely woman named Bonita Applebum. It was where Madonna writhed around on a floor and tempted me as a young girl to seek out my sexuality.  It was where Metallica made me scared, but intrigued, and where boy bands and girl groups sat next to legends like Paul McCartney and The Rolling Stones. It was a place where I felt open to anything and totally cool with allowing 120 Minutes to co-exist with Headbangers Ball and Yo! MTV Raps.
It was a time of tolerance and invitation and well, unity. We were the world and our senses were inspired and not mired down in anger, tension and all things that create division.
So yes, I will stand up and say I want my MTV back!
Better yet, each one of us should create our own broadcast, since we live in the age of social media. Each day, take the time to find and post a link to a music video on your Facebook or Twitter page. Use the eyes to stimulate the mind and warm the heart. Share a note with your friends about why a particular song resonates with you, inspires you or moves you to tears.
Make a song list and share it. Don't over think it, just share what makes you feel alive, and perhaps find those notes will resonate with someone else. Someone who may see your post and remember how music can heal us or make us feel connected.
Share the music that lives inside your heart and let it live outside your body. We may want MTV back, but this time let's take out the commercials and get right to the point.
Share the music and inspire one another to listen.
"Video Killed the Radio Star" ~ The Buggles

"Bonita Applebum" ~ A Tribe Called Quest

Relephant read:
Author: Anna "Moxie" Rogers
Editor: Nicole Cameron
Image: Sarah Joy/Flickr