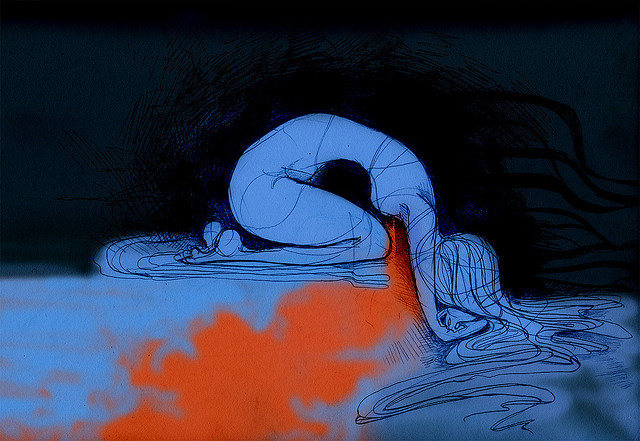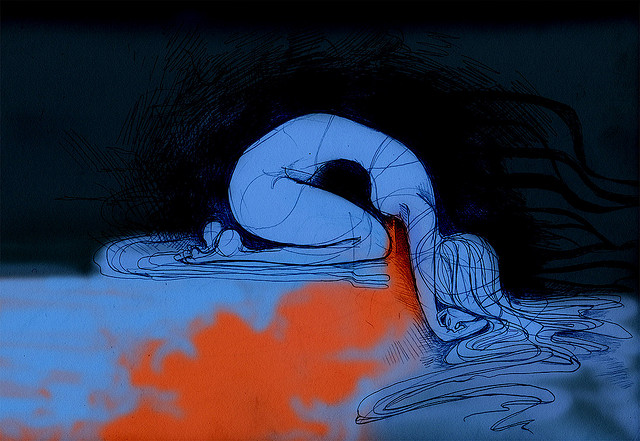 In the Fall of 2012, I was a new mom and antsy to make a film again, but not yet ready to return to full-time documentary work. I decided to make a short portrait about my midwife, who had helped me during a rather difficult pregnancy.
To show the world what a home birth midwife did, I planned to follow her and a client around during the three trimesters, expecting the video to culminate in the family's planned home birth.
Little did I know that the story I was going to share with the world was not only far more significant, but also profoundly impactful on my own existence, drastically changing my values and my presence in day-to-day life.
Rebecca Williams was chosen as the main subject, and it was quickly evident why. She was simply wonderful—smart, beautiful and happy to help. The first appointment I filmed went great; Rebecca was gearing up, excited and even giddy for her first ultrasound, where she decided to find out the sex of the baby.
Later that evening, I learned that there were concerns with Rebecca's ultrasound, but Rebecca told me that, regardless, she wanted me to keep filming, no matter what happened.
The situation gave way to a second level ultrasound and amniocentesis, which revealed that the baby had Down Syndrome, swelling of the brain and a number of major heart abnormalities. The baby was given a fatal diagnosis. Even if this baby beat the odds to make it to term, his heart would not work for much longer—likely only minutes.
They were told they had the weekend to determine if they wanted to continue with the pregnancy.
It was momentous and weighty and heartbreaking.
And yet, despite it all, or perhaps in spite of it all, Rebecca still insisted I film. She told me that if her son was not going to make it, at least she and her family would have this part of his life documented, which would still be a gift.
For me as a filmmaker witnessing all of this, these difficult decisions, made from Rebecca's heart and not her head, blew my mind and completely transformed the way I think about pregnancy, choice, motherhood and life in general. My own pregnancy had ended in a near-emergency C-section, a far cry from the peaceful home birth I'd been counting on, and the resulting emotional difficulty weighed heavy on me. Though my daughter was healthy, I played the jarring birth experience over and over again in my head, asking myself whether I had been the cause and questioning if something I'd not done could have prevented it.
I no longer think about my traumatic birth situation. I see it now as a gift. We are here, and I learned how we can never truly plan for anything.
And yet, it is all perfect.
As I was filming Rebecca during the most intense moments of discovering Joey's diagnosis, I was in constant awe of how she was able to just "let go" and "love."
I could not fathom being in that situation, and I still cannot say with certainty what I would have done in her shoes.
After a long Thanksgiving weekend, Rebecca and her husband decided to continue with the pregnancy. Though staunchly pro-choice, she described the decision as being natural, as her body did not feel right with the thought of not having him. They also felt that further testing might instill false hope, and were willing to give their son whatever life he was deciding to give them.
The following months were hard as the Williams prepared for both the birth and death of their second child. There were lots of tears on both sides of the camera. During shoots, I was hardly able to keep quiet, and I occasionally even shook the camera as I held in tears. I wanted to jump into the scene, hug Rebecca and make it all better. I'd go home to my own family, swallow the tears and then cry to myself in the shower.
I recalled my own pregnancy difficulties, but had a renewed sense of thankfulness that my child had made it with no issues, no NICU, no health problems. The thought of Rebecca not having what I came home to after film shoots hurt. But perhaps most profound was my realization of how important it was for me to follow her example, to honor this beautiful evolution through imitation in my own life.
And so, while still a work in progress, I actively try to embrace a truly heartful presence and awareness, whatever I face.
Four years and nearly 120 hours of footage later, we are just about to celebrate Joey's third birthday in March, and are wrapping up this now feature-length documentary film.
Surprise! 
During Joey's first doctor's appointment, we learned with overwhelming joy that Joey's heart was fixable. Afterward in the elevator, I put my arms around Rebecca and Chris and said, "I hope you guys get used to me, because I am sticking around for a while!"
I still don't know if I can make the transition from head to heart as gracefully as Rebecca did, but I do know now that it is possible under the right circumstances, and I am moved every time their story inspires others, parents or not, to consider the same affirmative living.
For this mother of a spirited four-year-old, working full-time and making this feature length movie, days get tough. The stress is overwhelming at times, but I always come back to the moment sitting in the Williams' living room with Rebecca and Michelle, discussing Joey's heart. Will he make it? What will he do when he is born, takes a few breaths and then passes?
I think about the moment, viewing it from behind my lens, as Michelle prepared the birth team for the distinct wail of a mother who has just lost her child, and I think now about how beautiful that would have been even in all of the sadness, but how incredibly beautiful it is that we never got a chance to hear that wail, and instead it was Joey's beautiful newborn cry, over and over again.
In a world where our heads are constantly connected to our devices, careers and day-to-day routines, it is so damn hard. But as Rebecca and Joey have taught me—in one moment of crisis and pain—we can fall out of our heads, into our hearts, and just be in love with what is.
~
Author: Victoria Kereszi
Editor: Toby Israel
Image: Jem Yoshioka/Flickr
~