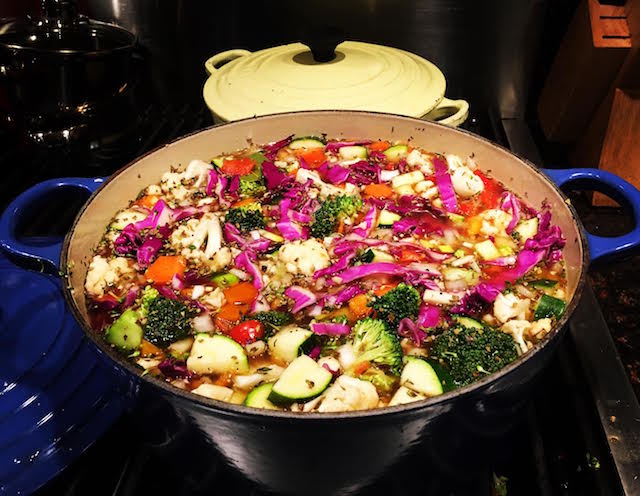 I first had something called 27 Vegetable Soup at Le Cirque in New York city, circa 1995.
I was on a first date with someone who was trying awfully hard to impress me—and the soup worked.
Years later, due to nostalgia rather than actually re-creating the same recipe, I often make the following fun and colorful dish. It is the easiest soup I have ever put together and it cannot be ruined by even the most inept of cooks. On top of that, it's filling, inexpensive, full of fiber, vitamins and micronutrients and a good way to clear out your crisper.
Don't let its name deceive you—there are not actually 27 vegetables involved—but it looks and tastes like it.
Here is my homage to first dates and fancy mid-nineties eateries:
27 Vegetable Soup
Serves a crowd
1 large white onion, diced
6 cloves garlic, minced
4 carrots, peeled and chopped
2 zucchini, chopped
1/2 head Savoy cabbage, sliced
2 cups cauliflower florets
2 cups broccoli florets
2 stalks celery, chopped
4 cups Swiss chard, chopped
1 red pepper, diced
8 cups vegetable broth, plus more as needed
Juice of one lemon
1 tbsp. fresh thyme
2 tsp. dried oregano
2 bay leaves
Sea salt and fresh cracked pepper to taste
Italian parsley
Directions:
1) Prepare vegetables.
2) Put all ingredients (except lemon and parsley) in a big pot.
3) Pour in broth, bring to boil, lower to simmer, let cook for 10 minutes.
4) Adjust seasoning if necessary.
5) Serve with a squeeze of fresh lemon, lemon wedges and a few sprigs of parsley.
~
Author: Erica Leibrandt
Editor: Caitlin Oriel
Image: Author's Own