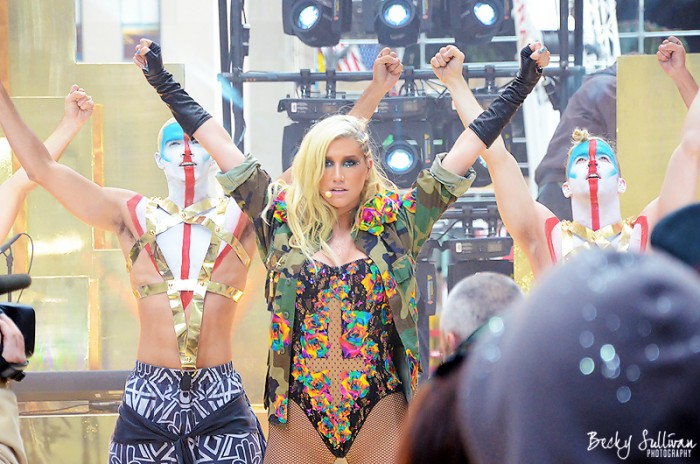 In 2014, Kesha began a legal battle to stop working with her producer at Sony, Dr. Luke (Lukasz Sebastian Gottwald). Kesha is attempting to end her contract because, she says, that over the course of the 10 years they worked together, Dr. Luke drugged, raped, threatened, and manipulated her, both emotionally and creatively.
As Lena Dunham said in her exceptionally well-written piece on the subject, "[Kesha] explained that her dealings with Gottwald ultimately exacerbated a life-threatening eating disorder, which required rehab. When she concluded that continuing to work with Gottwald would kill her, she came forward and asserted herself."
Or, in Kesha's own words: "I know I cannot work with Dr. Luke. I physically cannot. I don't feel safe in any way."
This past week, the judge denied her the right to get out of the contract.
Kesha broke down in the courtroom.
And the women of the entertainment industry rose up to support her.
On Twitter, Iggy Azalea said, "If two people don't want to be in business with one another it seems very cruel for one to hold the other in a contract. I'm not accusing anyone of anything, but I believe Kesha deserves the ability to move forward, create and earn a living."
More tweets of support:
standing with @KeshaRose through this traumatic, deeply unfair time. send good vibes her way everyone

— Lorde (@lorde) February 19, 2016
My heart is with @KeshaRose. 💜

— Ariana Grande (@ArianaGrande) February 19, 2016
There are people all over the world who love you @KeshaRose. And I can say truly I am in awe of your bravery.

— Lady Gaga (@ladygaga) February 19, 2016
Another from Lady Gaga:
Free Kesha pic.twitter.com/8BjZXq98Qf

— Lady Gaga (@ladygaga) February 24, 2016
Miley Cyrus on Instagram:
Others who reached out include Demi Lovato, Kelly Clarkson, Lily Allen, JoJo, Anne Hathaway, and Reese Witherspoon. Taylor Swift not only reached out with emotional support; she also gave Kesha $250,000 to help with her ongoing legal fees.
But there's something else at stake when it comes to these artists supporting Kesha: the fact that many are role models to young girls and young women the world over.
When the Ray Rice video leaked, the National Domestic Violence Hotline saw an 84% spike in calls. The CEO of the hotline reported "an outpouring of women saying, 'Oh my god, I didn't realize this happened to other people.' One woman called in who is married to a MMA fighter. She said, 'I just saw that video, and I know my husband could do worse, and I need help.'"
When social issues are brought front and center in the media, alongside the pain and trauma of the individual case, there is also an opportunity for education, healing, and support. This one, in particular, feels unique because the audience it's reaching is exactly the one that needs to hear it.
One in three girls is sexually abused before they reach the age of 18. And who is the primary audiences of people like Taylor Swift and Miley Cyrus? Girls and young women. Right now, those girls listen to the music of—and follow on places like Instagram, Twitter, and Snapchat—the exact celebrities that are showing up for Kesha.
My point is this: I applaud women like Taylor Swift, Lena Dunham, Iggy Azalea, and all those who've risen up to publicly support, encourage, and back Kesha. In addition to Kesha herself, you are reaching the exact demographic that needs to see this the most.
Because every time a girl or young woman sees another woman come out about her experience with sexual violence—especially a famous one—it makes her feel less alone.
And every time she sees someone she looks up to take action to support that woman, she sees that maybe there's hope.
That maybe if she came forward, she would make it through. That her terror that she would be shamed or ridiculed or blamed or attacked or ostracized or—often worst of all—not believed, isn't the only possibility. That while some people might come out against her, maybe, just maybe, others would stand behind her. Stand up for her.
A massive thank you to all those in the entertainment industry for standing up and speaking out.
The fans are listening.
If you have experienced sexual abuse of any kind, know you can get free, anonymous, and confidential support from RAINN. They run an online hotline where you can get emotional support, advice, and information (in a secure, private chat room). Wherever you are in your healing process, know you're not alone.
~
Author: Melanie Curtain
Editor: Travis May
Image: Flickr/Becky Sullivan