People in the US eat more meat on average than almost any other population on the planet.
If you eat meat, you may choose to eat good ol' meat and potatoes, or organic, grass-fed meat and local, pesticide-free, heirloom potatoes. You might only eat meat when you've hunted the animal yourself, or when you know the farmer who raised it. Knowing the name of the animal you're eating may even be your prerequisite for consumption.
While some poke fun at others' viand-eating criteria, the reality is that the topic of meat consumption touches on so many important issues: the environment, health, local economies, government regulation, the ethical treatment of animals, and more. How we consume our meat (if we do) and how much we consume is serious business. These important issues and the desire to bring the lost art of whole-animal butchery back into the forefront led Veronica Volny and Alberto Sabbadini to found the Boulder Butchery Guild in Boulder, Colorado.
The creation of the Boulder Butchery Guild reflects a rise in the tradition of whole-animal butchery in the US over the past decade. What interests me most about the topic is the emphasis on learning and empowerment. Through the process of engaging deeply with the sources of our food—be they fruits, veggies, or meat—we help to revive nearly lost skills, gain a better understanding of the food system, and feel more empowered to improve that system for our own health and the health of the planet.
The Genesis of the Boulder Butchery Guild
In early 2014, Alberto decided to offer a butchery class in the winter months on an organic farm. When he mentioned this to his longtime friend Veronica, she had a bigger vision. She suggested that instead of offering a class, he should start a butchery school with her help. That school took shape and became the Boulder Butchery Guild.
Alberto's Connection to Traditional Butchery 
The butchery tradition is alive and well where Alberto grew up—Friuli in Northeast Italy, close to the borders of Slovenia and Austria. When he was young, his family bought a whole or half pig from a neighbor each winter and invited family and friends to gather and slaughter, clean, and butcher the pig. There were usually five skilled butchers present and several other people to help prepare the animal's many cuts, which were then saved and eaten throughout the year. This ritual gave Alberto knowledge, skills, and a deep appreciation for the art of butchery—an appreciation he's eager to share with others.
Alberto came to the Boulder Butchery Guild by way of an illustrious career as a chef in Europe and Colorado. He attended culinary school in Italy and then spent 13 years cooking his way through Italy, Switzerland, and Turkey before landing in the United States in 1999. His career as a chef continued full force, first at L'Hostaria in Aspen, Colorado; then at the Boulder Country Club, in Boulder, Colorado; and finally at The Kitchen, also in Boulder, where he was the executive chef. But after many years working in restaurants, Alberto was ready for a change; his partnership with Veronica came at the perfect moment.
Driven by Her Love of Food, Veronica's Ph.D. Takes the Backseat
Peppered with memories of food, Veronica's childhood in Europe had her "cooking sardines over a fire on a beach in Portugal, getting squirted by live clams outside restaurants in Naples, eating duck liver in a tent in the Dordogne," and living in and visiting places such as Provence, Bavaria, and Prague, to name a few. She immersed herself in each region—sampling unique foods and learning to speak (a total of six) local languages. Before looping back to her love of food, Veronica received her Ph.D. in biology from Stanford University.
Veronica's distinct passion for finding and enjoying fresh, delicious food never wavered. In fact, after she moved to Colorado, Veronica sidelined her research and academic work to open Meadow Lark Farm Dinners in 2008. Meadow Lark continues to thrive; in the summer of 2015 Veronica and Alberto served up 32 uber-fresh dinners at 12 local farms to sold-out crowds.
What's in a Name?
Alberto and Veronica didn't name their new venture a "guild" because it's catchy. Rather, guilds were traditionally formed to help preserve a trade, protect the secrets of a craft, and ensure that age-old knowledge endures. Veronica explains, "One of the reasons it's called a guild is that over time we hope to create a community of individuals who've all been exposed to butchery skills." She imagines eventually moving beyond classes and demonstrations to a focus on bringing people together to work as apprentices, with Alberto available to answer questions and provide the necessary space and tools.
The initial guild-growing butchery classes are a hit. According to Alberto, "Students are stoked. They never expected to have the opportunity to really work with the meat. They cut their own steaks, maybe for the first time. It's empowering." Veronica adds, "Some of the feedback we've gotten from people is, 'It's the best-tasting pork chop I've ever had.' We know that's partly because they broke it down themselves."
Butchery Classes and the Students They Attract
The butchery classes to date have included pig, lamb, rabbit, chicken, and turkey, along with instruction on sausage making. To get an idea of what these classes are like, let's walk through a typical pork class. Usually the class is made up of four students and one pig, and everyone goes home with a quarter of a 180-pound pig as well as recipes and information about which parts to cure, braise, smoke, roast, or grill.
As far as students go? They're a diverse bunch. They've got students who are drawn to whole-animal butchery out of respect for animals and concerns about how the animals are treated in commercial operations. They've also got wild-game hunters seeking skills to process their deer and elk. There are first-generation farmers and homesteaders who are raising animals for the first time, unsure of what to do once the animals mature. Mixed in are students simply motivated by a desire to get the highest-quality meat and achieve the best flavor. As Veronica says, "For some it is a question of taste and getting the right cuts. In our classes they're able to break the animal down just the way they want it and they can get certain cuts that they can't buy in the store."
The "Why" for Veronica and Alberto
As mentioned earlier, several important environmental, social, and ethical issues are associated with the subject of meat, and this fact was not lost on Veronica and Alberto when they decided to found the guild. When asked why she chose this path, Veronica says, "For many different reasons. For environmental reasons, for keeping in check the treatment of the animals, for supporting people in our communities. For supporting a certain landscape that has lots of little farms and that looks really different from a mono-cultural farming landscape. For reviving lost arts. We want to contribute to shaping the community we live in."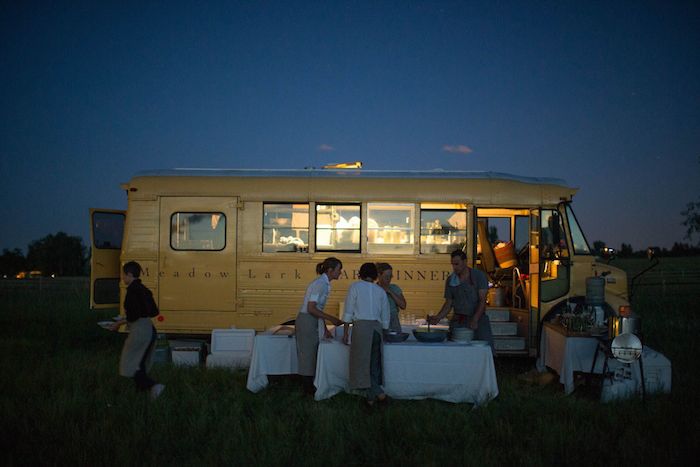 Here's a closer look at what motivates Alberto and Veronica:
1. The Environment
Veronica explains her point of view: "So many of us talk about sustainability, but we cannot talk about living more sustainably without talking about food. It's something we engage in personally, every day, and the food system accounts for such a huge proportion of energy consumption. As someone interested in sustainable food, I try to make food choices that are environmentally, socially, and economically sustainable—or, at least, more sustainable than available alternatives."
Eating meat responsibly requires us to ask tough questions about what the animals are fed, where their feed comes from, and how the animal is treated. Veronica compares the inputs necessary for "industrial beef" production (corn, synthetic fertilizers, preservatives, and so forth) to grass-fed beef production (grass, sun, water, and similar natural sources) for a snapshot of the environmental impact of each approach.
Beyond comparing the inputs necessary to produce meat, Veronica notes that more sustainable farming methods enable animals to bring additional benefits to the farms on which they live. For example, animals help fertilize and turn the soil, eat weeds and food scraps, and raise public awareness.
No matter what, growing animals for meat is resource intensive, but Veronica and Alberto believe it can be done more sustainably than it is today.
2. Ethics
Veronica and Alberto believe it's important for those who choose to eat meat to understand the process that brings that meat to their tables, no matter how uncomfortable it makes them. Veronica has witnessed this discomfort firsthand. She explains, "At Meadow Lark Farm Dinners we did a lamb braise recently and I talked about where the animal came from. As soon as I started to talk about the lamb, rather than just the cuts, the guests began to shift in their seats. Chops, no problem. Belly, problem. Bacon, no problem. The euphemisms make it okay, but if we get too direct about it, people get really squeamish because most people are more comfortable thinking about parts than whole animals. But I think some people want to look that in the eye and see a whole pig. It is definitely jarring, but it's just so easy for us to divorce ourselves from that reality."
3. Local Economies
Alberto and Veronica are committed to supporting the local food economy. All of the meat used for both the Boulder Butchery Guild and Meadow Lark is sourced within a 20-mile radius. They aim to bolster the local food economy and strengthen the local supply chain by sourcing from local farms with sustainable practices and encouraging others to do the same.
4. Cost
When it comes to organic, local, artisanal foods, it's easy to assume only the economically privileged can afford to enjoy them. But, in the case of whole-animal butchery, that's not necessarily true. Veronica and Alberto insist that it's ultimately more affordable to buy certain whole animals and butcher them yourself. It may surprise you to learn that organic, boneless, skinless chicken breasts can cost as much as $5 more per pound than a whole chicken.
Here's Alberto's informed perspective: "With the whole chicken, you can pick out the breasts, two full legs, the bones to make the stock, and if you're lucky you have a little bag inside with the liver."
5. The Lost Arts
Alberto and Veronica value the tradition of whole-animal butchery, and they hope to help people who haven't been exposed to such a tradition understand and respect the process. Alberto explains, "I'm sharing my tradition. It's too easy to go to a butcher and order a pork chop without even knowing where the different cuts come from. We're helping people learn a different process." Veronica adds, "When you buy a quarter cow at the farmers market, you get all these frozen bundles of meat and you need to have a chest freezer at home to store it. In Alberto's tradition, none of the meat was frozen. Instead it was cured and eaten later."
There are a growing number of opportunities throughout the United States to take whole-animal butchery classes like those offered by the Boulder Butchery Guild. What do you think? Inspired to give it a try? At Hatch Lab, we'd love to hear your thoughts and how you go about consuming meat, or why you choose not to.
If you can't take a Boulder Butchery Guild class, Veronica recommends books from the Fatted Calf in San Francisco. Depending on where you live, other in-person class options include:
Fatted Calf in Napa, California
Fleishers in New York and Connecticut
Lindy & Grundy in Los Angeles, California
The Local Butcher Shop in Berkeley, California
Portland Meat Collective in Portland, Oregon
Smoking Goose in Indianapolis, Indiana
*An earlier version of this article was posted at Hatch Lab (Eds: Joy Herbers & Maggie Wells)
Author: Mara Rose
Editor: Renée Picard
Images: George Lange & Veronica Volny