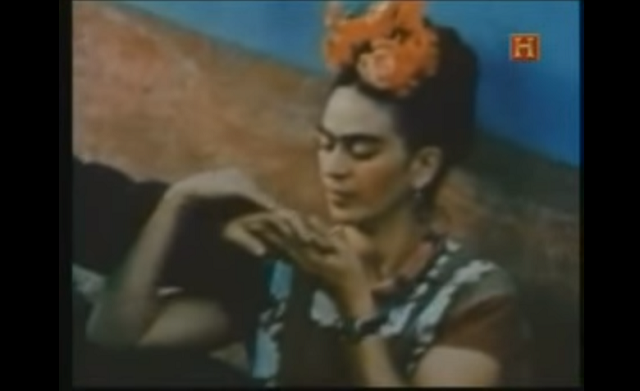 Five years ago I saw this video of the real Frida Kahlo for the first time. It gave me goosebumps and I burst into tears.
While there are two scenes with actors portraying Kahlo, from what I've learned, the rest of the video is actual footage of her filmed by Nicholas Murray at La Casa Azul.
I'm a devoted Frida Kahlo fan, but I see this as a pivotal video for everyone. It is a bridge to the past that allows us to connect with an icon who endured both physical and emotional pain; and it teaches us life lessons that are much needed these days.
Frida teaches us about love and forgiveness. She redefined love in an astonishing way that has altered my perception on partnerships. Although Diego hurt her badly, she still treats him with sensitivity—kissing his hand, holding his face and kissing him passionately. The light in her eyes when she looks at him shows us that she has forgiven him.
We learn that it's okay to do the things that soothe our pain. At the end of the video, we see that Frida had an affair with another woman. Sharing her bed with others became the escape she needed from Diego's infidelity and neglect.
While the pain in Frida's life was deep, she learned to enjoy her suffering. I was struck by the intensity in the scene where she is looking at the page of her diary where she has written "Mi Diego" and hugging it close to her chest.
The greatest lesson I learned though was to stay with our passion no matter how bad our physical or emotional state is. Despite suffering on all levels, Frida continued to hold that paint brush and create.
This rare footage has always been of great importance to me because other than photographs and paintings, I had never been able to see the real her. By looking at her facial expressions, movements and ways of loving, I learned much more about Frida.
I learned that she is a book of love and creativity—this video is simply our only chance to see them in motion.
~

~
~
Author: Elyane Youssef
Editor: Nicole Cameron
Image: Youtube screenshot