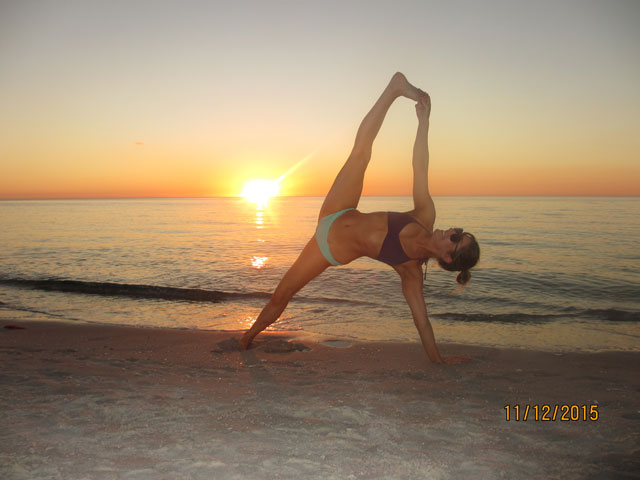 First of all, I don't live near a beach. I don't live near, well, sun. I live in a place where my kids are often late to school because the sheep won't move off the road and we're stuck behind a slow tractor. I don't live in a place where bikinis are sold, and I have never done yoga on a beach in my life. Until this picture.
Just before Christmas, my husband and I went—without children—to Florida for my friend's wedding. The spray tan fresh, the neglected bikinis packed, and we were off.  After 12 hours of travel, we checked into our hotel, threw on our swimsuits and headed out to the most gorgeous white sandy beach I had ever seen.
Just half an hour after we had settled into our sun chairs, the sun started to set. This was the first time I'd seen the ocean since becoming a yoga teacher, and do you know what I said? "James, we should try to get some yoga shots of me." Cringe. So we walked a hundred feet or so away from the beach chairs, and over the next 20 minutes, I proceeded to pose, click, pose, check, pose, click, click, click.
If yoga is about being present, I might as well have been grocery shopping online while texting while shouting at my kids while skyping with my sister while shoving cake in my mouth. (Not that I've ever done that, of course).
I could've sat in the white sand and watched that burning orange ball melt into the salty water, spreading out, and let it bathe my toes. I could've inhaled the salt. I could've heard the seagulls squawk as the wind tossed my hair. I could've held the hand of my husband, the husband I rarely see. But, instead, I lifted a leg and sucked in my stomach to try to get some likes.
And when I finally put my leg down and turned to the sea, the sun had set.
Author: Emily Scott
Editor: Travis May
Photo: Author's Own