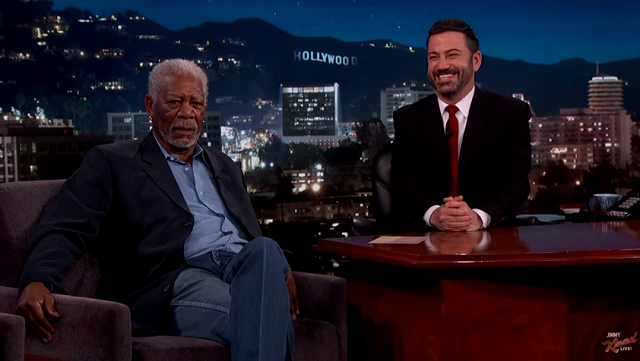 Morgan Freeman is the voice of God.
No, really.
He's also been the voice of the President of the United States, Nelson Mandela, Robin Hood's sidekick, Batman's right-hand man and a bunch of dudes named Charlie.
Two nights ago Freeman kindly guided my friend and I to a lovely Italian restaurant as the newest voice of Waze, the GPS navigation app. It was the most pleasant and surreal ride I've ever taken.
And sometimes—usually when I've had a bit too much to drink—he's the voice that narrates my dreams.
Dreams became reality the other night when Freeman visited Jimmy Kimmel Live and effortlessly narrated the lives of unsuspecting strangers on Hollywood Boulevard. Only Freeman could turn the mundane moments of random tourists into the tantalizing tale of "Perfect Selfie Paul" and "Selfie Stick Sam."
I've watched it eight times already and it just gets funnier.
Check it out:
Relephant reads: 
Relephant Bonus:
Author: Nicole Cameron
Image: Screenshot