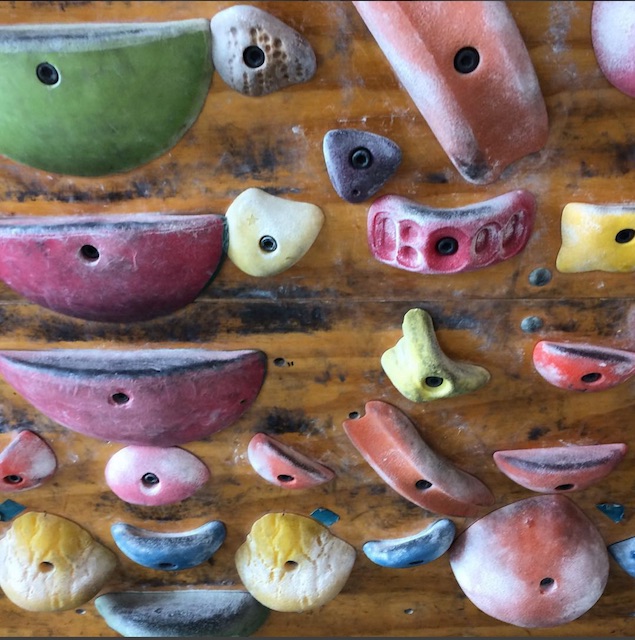 If on any give day I'm not replying to your text, you'll probably find me among the rocks.
In the past three months, I've learned about beta, hangdogging, sending, problems and projects.
I took up climbing in a moment of desperation for pure sanity (or insanity as my grandfather has told me) last December, when I needed a rescue to keep my mind and body happy and a cure for the winter blahs.
The climbing gym was initially intimidating—think blaring rap music, chalky air and human strength like you couldn't even imagine. I live in Boulder, Colorado after all—one of the original climbing meccas—so I should have anticipated the territory I was walking into.
My initiation into learning the ropes (quite literally) was a blur of fear. I'm grateful to have had a patient climbing partner who put up with my "I-can't-do-its" and petrification.
But I learned the trust that comes with the territory. I learned to literally leap into my fear—and trust my partner and my own inner strength.
Rocking climbing is my daily ritual that keeps me sane, flexes my muscles and gives me the alone time on the wall that I crave. Imagine the mental challenge of a crossword puzzle combined with the physical challenge of your most favorite workout.
Even if I have only fifteen minutes or it's longer, I make it a priority to get to the climbing gym. The act of chalking up my hands and working through a problem revitalizes me, and this renewed sense of inspiration carries over into other parts of my life where I often feel like I'm lacking creativity.
See you on the wall!
~
Bonus inspiration from my favorite climbing phenom:
~
Author: Caitlin Oriel
Photo: Author's Own