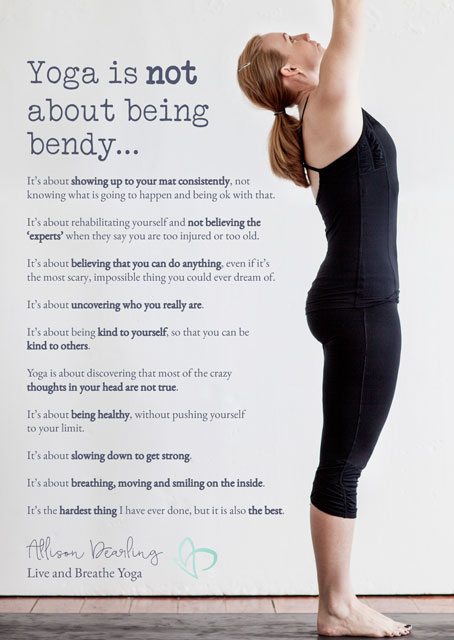 One afternoon in 2012, I sat down on the floor with my laptop and felt compelled to write. Earlier that day, yet again someone had said to me, when they heard I taught yoga, that they weren't flexible enough to give it a go for themselves.
It frustrated me so much that someone would give up on something so potentially life changing before they had even tried. So I felt compelled to write that afternoon what yoga was (and still is) for me, and how much it had changed my life, in order to sway the kind of thinking that stops people from (at least) trying.
The words just flowed. I barely even checked the grammar and punctuation before posting it to Facebook as I didn't think anyone would read it. I just needed to write it. I was completely shocked when I saw that these simple words seemed to resonate with so many around the world, as it got shared over and over again:
Yoga is not about being bendy.
It's about showing up to your mat consistently, not knowing what is going to happen and being okay with that.
It's about rehabilitating yourself and not believing the "experts" when they say you are too injured or too old.
It's about believing that you can do anything, even if it's the most scary, impossible thing you could ever dream of.
It's about uncovering who you really are.
It's about being kind to yourself, so that you can be kind to others.
Yoga is about discovering that most of the crazy thoughts in your head are not true.
It's about being healthy, without pushing yourself to the limit.
It's about slowing down to get strong.
It's about breathing, moving and smiling on the inside.
It's the hardest thing I have ever done, but it is also the best.
Since then, I've become a mom and these words still help me as I try to navigate with patience and grace, the toughest road I have ever travelled—the one of motherhood.
Now more than ever do I know that yoga is so much more than the stuff we do on our yoga mats. My yoga practice has been the only constant when everything I knew was turned upside down. Like an old friend, it's there, welcoming me back every day with open, non-judgemental arms.
And I know if yoga can help me it sure can help you too.
So don't give up before you even get started or when it gets tough. Don't stop trying to find your teacher when you yearn for one. Don't listen to anyone when they say you are too old to try something new. Don't think it's about doing fancy postures and keeping up with everyone else.
It's about you and feeling really, really, really good.
~
Author: Allison Dearling
Editor: Katarina Tavčar
Photo: Author's own