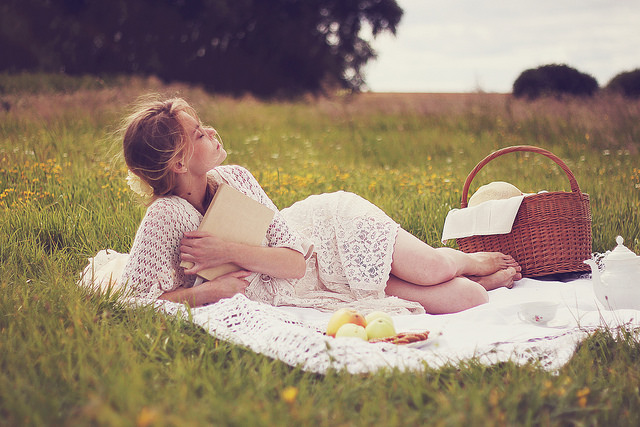 We must all do the things that serve our highly individual souls. For the incurably romantic that belongs to a single person, this can be a challenge. I blame the Hallmark Channel.
During this past Christmas, I found myself single for the first time in over a decade. While I enjoy so many aspects of my single status, the holidays can be a particularly difficult time to be uncoupled. For the first time in my adult life, I found myself watching a Hallmark movie marathon. I enjoyed the simple plots filled with flawed, well-meaning people and happy endings. I had to apologize to my baby sister for years of deriding what I referred to as "television for weepy women." I grabbed my tissues and settled in for light, sweet, fulfilling love stories.
When the holiday season was over, I seemed to come out of the Hallmark movie haze, but as the new year dawned, I started thinking about ways to feed my particular incurably romantic soul. I am not the type of woman to sit around and wait for what I want. I'm a doer, a person who goes out and makes my wonderful life happen. So I began to consider how I could give myself experiences that would appeal to this particular need in me.
Here are a few ways I've found to feed my incurably romantic soul while in an uncoupled state. (This also works well for incurable romantics whose partners aren't quite up to snuff on serving up the romance.)
*As a side-note, I refuse to use the term "hopeless romantic." I don't feel that there's anything hopeless about this state. An incurable romantic is someone who enjoys great beauty and romance and looks for it in everything, and everyone. Incurable romantics enjoy moonlit strolls, walks on the beach, picnics, and slow dancing. Because we all have individual differences, what makes one incurably romantic heart go pitty-pat may not change the general heartbeat of another.*
1. Pack a picnic lunch and eat outside. I actually own a picnic blanket and picnic basket, and they do get used. My incurably romantic soul craves the occasional picnic on a beautiful spring day, and I enjoy packing fruits and cheeses, vegetables, pieces of dark chocolate and cold slices of chicken. Regardless of what we pack for our picnics, we can enjoy a lovely picnic for one any day that the weather allows. We don't even need a weekend to put this in practice. I often pack my lunch for work in a picnic basket and enjoy it accordingly.
2. Take long mindful walks in a scenic setting. Luckily, I live in a lovely historic town and don't have to go far to find a beautiful place to walk, but regardless of where we live, we can find parks, trails, or other places to go for a soul-nourishing walk in nature. This website offers several ideas for trips in each state. I plan to take the waterfalls road trip at some point in the near future. I've also found myself exploring scenic historic cemeteries—picnic lunch in tow. Wherever we choose, we can enjoy the beauty of the setting and soak it in.
3. We can buy ourselves flowers or pick wildflowers. Instead of waiting for someone to bring us flowers, we can go out and get our own. Personally, I prefer happy flowers like sunflowers, daffodils and daisies. Whatever flower we love, we can give to ourselves. Or, we can take it a step further and plant our favorite flowers because we love them so! (This always works with chocolate. Let's not wait for someone else to buy us a box of chocolate. We can choose our favorites and enjoy them at any time.)
4. Go fly a kite! While considering a picnic or long walk, perhaps pack a kite. There's something lovely about flying a kite on a beautiful day. I love the nylon kites and the lovely designs you can select. If we're not the kite flying types, there are always Chinese paper lanterns, which are lovely, or we can even choose to hang up a string of lights in our own outdoor paradise to enjoy a touch of romance.
5. Go for a hot air balloon ride! Many events offer tethered hot air balloon rides for free or at an affordable price. Or go big and enjoy a full hot air balloon ride from a company in your area. What incurably romantic heart doesn't love hot air balloons?
6. Go to an observatory. Enjoy the stars and perhaps learn about a constellation or two. If there's no observatory near you, simply lie down under the stars on a warm evening and enjoy.
7. Take the time to dress up and enjoy a dinner out. We can try a restaurant we've always wanted to check out or one that we love best, and enjoy a meal. We don't need to be coupled to enjoy the pleasure of fine dining.
8. Enjoy an outdoor concert, live theater or a unique festival that appeals to our souls. While we often may look for someone to keep us company, we can find our souls nourished and happy just to be in attendance at an event that offers us the beauty and artistry we crave. We can find festivals in our area here.
9. Read a book that makes our hearts happy. Whatever literature we enjoy, we must make the time to read the things that make our hearts sigh in true happiness.
10. We can also find time to pamper ourselves. Whether we indulge in a massage or facial or relax in a hot tub at the end of a long day, we must take the time to spoil and pamper ourselves with the treatment of our choice. As a single mother on a budget, I will regularly take long, hot bubble baths. I make my own facials from honey and yogurt, and I often make my own exfoliating skin treatments using a combination of Epsom salts and essential oils. By taking the time to care for myself, I feel relaxed and pampered without the need for a luxurious (or expensive) treatment outside the home.
Since our souls are highly individual, this list includes some activities that cater to my particular incurably romantic heart. Regardless of the activities we choose, it's important to remember that we must find ways of giving ourselves what we need. For the incurably romantic heart, what we often need is moments of intense beauty and possibility. As a single woman, I'm not waiting around for anyone to provide me with what I am capable of giving to myself. I will bring myself flowers, enjoy extravagant picnic lunches, and sign up for a moonlit kayak tour. I will do all the things that make my soul happy because my soul's happiness is my own responsibility.
I feel that when we love and care for ourselves in the ways that we need most, the right souls will find us. And every day we'll have lived well in the meantime.
~
Author: Crystal Jackson
Editor: Travis May
Image: Flickr/Izabela Pawlicka