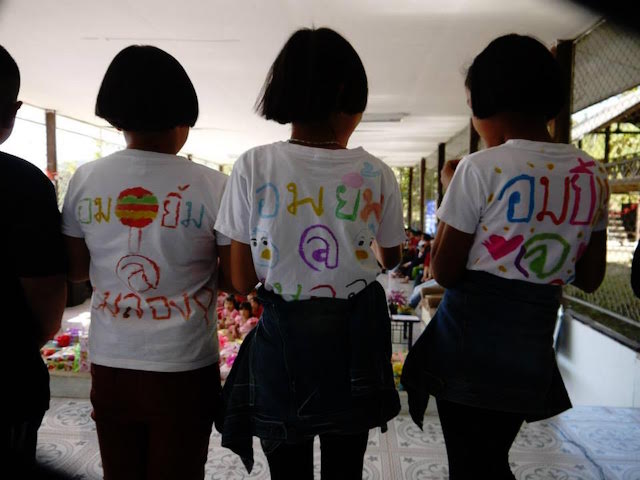 "The children have prepared some songs and dances for you to say thank you for the gifts. I hope that's alright," one of the caregivers at Ban Dek Dee Orphanage told us.
It stirred something inside of me, how the smallest gesture could light up each orphan's precious face, how they found sheer happiness in the simplest things despite a rough life where they have often been overlooked or forgotten.
My heart left my body the day I visited the 30 children of Ban Dek Dee. It came right out of my chest and went out to them as they proudly put on a show for my comrades and I, their foreign guests.
I learned about Ban Dek Dee by accident, as if fate had purposely led me to their doorstep. A leisurely day trip exploring the mountains ended with me missing the bus back to town. After reaching out for help, I was taken to the orphans home and received a lift from the warm-hearted staff. After the kindness they showed me, a stranger, I knew there was something special about this quaint home tucked within the green wilderness of North Thailand's picturesque mountains, and I had to return.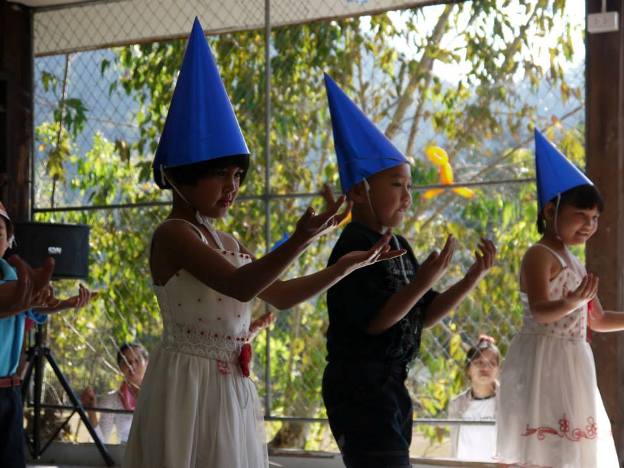 Some friends and I decided to throw a small New Year's party for the children and brought along some small toys and snacks to distribute. It soon became apparent it was something they cherished. It's rare for these children to receive guests, let alone gifts or a party.
Various hill tribe villages stretch across the mostly unpopulated mountainous land of Thailand, many of them made up of the Hmong people, a Chinese minority that can be found scattered throughout Southeast Asia. The Hmong migrated to escape persecution after a communist regime was implemented in China in the 1970s, crossing the Mekong River by foot into Thailand and spending their lives in refugee camps. With little monetary support and the threats of human trafficking and slave labor lurking, hill tribe children born in poverty or to parents who struggle with drug addiction and other hardships is not uncommon, and unfortunately, they are given up to orphanages out of desperation.
Though there is darkness interwoven into the pasts of these orphans, they seek to continue forward, following a small, golden light of hope held high by Manop and his wife Dta—founders of Baan Dek Dee. Manop is a local hill tribe man who was once an orphan himself. As a child, his impoverished parents sent him and his siblings to a North Thailand orphanage so they could study. Manop has come a long way since his days in an orphanage, and never forgot how having access to education changed his life. It's the same blessing he and Dta have dedicated their lives to giving orphans—an academic door to an optimistic future.
And it's something the children take seriously and appreciate. While other children may detest homework, they sit quietly after school and work diligently. When you grow up in some of the poorest villages in North Thailand and your family can't afford schooling or perhaps, you don't have a family at all, then the opportunity to study is a most coveted privilege.
The home is small, consisting of two sleeping rooms filled with dorm style beds; one for boys and one for girls. Because there is not enough space, some of the beds sleep three to four children. The three meals the children have each day aren't fancy; just rice, strips of chicken and some vegetables. Sometimes, if a donation is made, they can enjoy biscuits for snacks. The toys are far and few between as are the clothes, which the children must wash and organize themselves each day after school.
You see, Baan Dek Dee lacks corporate sponsorship, a lengthy donor list, celebrity endorsements or a public relations arm. This financial factor is what sets them apart from the numerous orphanages in the North Thailand region. It's not really an orphanage with volunteers—everyone involved is part of an incredible family, all working diligently to give these children not just nourishment and shelter, but an opportunity for an education. Because many of the kids are behind in school for their age already, they will have to work hard playing catch up, but it's something they take seriously and strive to do with eager hearts.
"Direct your children onto the right path, and when they are older, they will not leave it." ~ Proverb 22:6
These words are the inspiration behind Baan Dek Dee orphanage. The focus isn't on material living, although three meals a day, clothes and a bed to rest one's head isn't much to ask for. The focus is on the potential all of the orphans have to make their future successful and happy. Manop and Dta believe in the abilities of these children and want more than just to care for their well being, but to nurture their unique, individual passions and talents.
An outpouring of requests for a spot at the home brings the need for more land, staff and new buildings. Well, with 30 children, these are already dire needs. The minimum requirement for a Thai orphanage is a 6400 square meter facility, which is what Manop hopes to achieve. At a meager 200 square meter facility, the Baan Dek Dee family just manages—and did I mention that the land their current home sits upon is for sale? Yes, as soon as a buyer steps forth, then they will no longer have a home.
With Thai orphanage requirements not met, Baan Dek Dee is not eligible for any sort of corporate financial backing. With a generous influx of private donations, they can acquire the land, buildings and staff necessary to not only get the proper paperwork and support they desperately need to survive, but to continue the fight for these beautiful children and the education they deserve.
Personal donations are depended upon to keep Baan Dek Dee alive. The obstacles are massive, but at this magical orphanage up in the pristine mountains of Thailand, it is believed that there is no obstacle that can't be conquered, and these children know that more than anyone. They know this, because when they were faced with destitution, someone saw them and gave them light.
They have already overcome so much in their short lives, and with your help, they can continue to flourish and grow to achieve so much more than ever thought possible.
Author: Wassana Lampech
Editor: Catherine Monkman
Photo: Author's Own