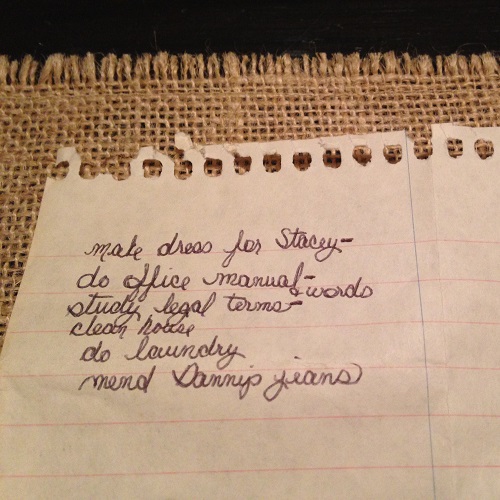 I grew up in a home where Mom shouldered a lot of the housework.
In his defense, Dad is a wonderfully considerate man who offers his help often, doing dishes and folding laundry when he's inside to do so.
My parents simply have an unspoken—and very traditional—agreement that Mom takes care of most of the chores inside while Dad does most of the work outdoors.
I found the to-do list in the picture above recently on a visit home. It's from about 20 years ago, and who knows how it's survived all this time. But as you can see, at one time, Mom was going to school, caring for three young children, sewing, cleaning and doing the laundry. That said, my dad has never been one to sit in front of the television when there's work to be done; he'll be right beside my mother, soapy hands plunged into hot water.
Many households aren't so balanced.
This is not only a stereotype issue, but a deeper and more damaging one about equality, and even health and wellness. Laundry is not just a mother's job. Yard work is not just a father's. These kinds of stereotypes may be subconsciously trained into our children, setting them up for a lifetime of undue stress and obligation. As we know, stress can lead to a whole host of other health issues.
Is who does the laundry really that big of a deal?
Absolutely.
Below is the most powerful video I've seen on this topic. In just over two minutes, it captures many parents' reality and the not-so-obvious harm that inequality in the household can cause. While the video focuses on mothers, the same inequality often faces dads too. #sharetheload
–
–
Author: Kristen Bagwill

Editor: Caitlin Oriel

Image: Courtesy of Author