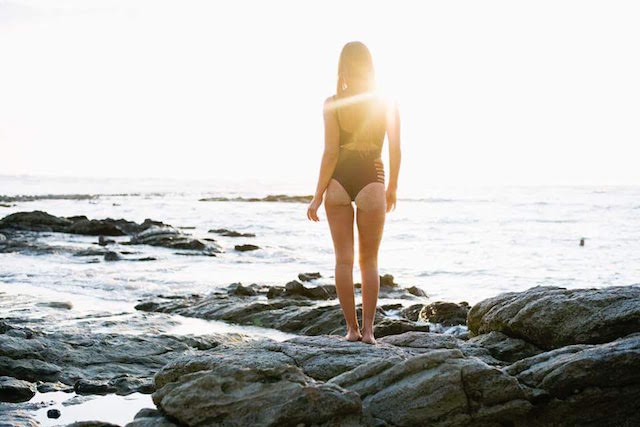 I've chased the wrong men my entire life.
You know the type.
The ones who fall in love with my fantasy and head for the hills as soon as reality sets in. The ones with girlfriends. Wives. The ones who don't really want me, for longer than a few months of fun. The ones who sleep around and shift their eyes to hide the world of lies I could only scratch the surface of if I tried. The ones who treat me just bad enough for me to stick around. The ones who love their addictions more than they'll ever be able to love a woman like me.
I think we're all guilty of chasing the wrong men at least once in our lives.
I chased the wrong men to cities where I'd never want to live. On holidays I couldn't afford to dream-like destinations in the sweltering tropics of my inevitable discontent. I chased them to the core of my cyclical self-abuse disguised as unconditional love for men who will never deserve me and all that I have to offer.
Not because they're monsters.
It's not their fault.
I chased the wrong men to run away from me and the formidable power of everything I was born to be.
And if we're honest with ourselves, I imagine I'm not alone.
This year, the year I turned 30, I walked away from an unhealthy, on-again-off-again long-term relationship in which I was the 'other woman' for more than seven years. Between broken promises and painfully addictive bouts of hope and hopelessness, I got a grip on my life. I gained some perspective, took full responsibility for my reality and by the grace of something bigger than myself, found strength enough inside me to walk away.
I stopped chasing men. Instead, I wrote a manifesto in honor of everything I want in a man, promising myself I would never again stand for anything less than exactly what I deserve. This manifesto is a self-love revolution, with both power and consequences. I now focus on becoming the person I want to love, rather than looking for a man to fill the holes in me.
Welcome to an exploration of empowerment, a complete shift in our entire approach to men. Where desperation turns to desire and we are free to manifest everything we want, everything we are, everything we dare to be.
Yes, I want a man. From the deepest corners of my heart, I want a man.
But, I don't need a man.
Let me make that perfectly clear. That difference—between wanting and needing—is power. I know that now. And rather than searching, chasing, we can spend our energy being, becoming, creating, desiring, manifesting.
And from the depths of what we want, we begin the journey of living and loving everything that's meant for us. And walking away from anything that doesn't make us feel absolutely free.
I want a man.
I want a man with a heart as big as the stand-up barrelling waves he wakes up to surf each morning and goes to sleep dreaming of, every night.
I want a man who plays big, who overcomes the temptation to use addiction as self-sabotage, recognizing his own innate power as Spirit working through him and honoring all he is born to give.
I want a man with a revolutionary warrior spirit who knows the greatest resistance is writing new stories to make unjust systems irrelevant, who lives his life building bright futures humanity and Mother Earth can both be proud of.
I want a man who looks at me like I'm magic, who enters me knowing I'm a goddess incarnate in communion with the sacred feminine. A man unafraid of the trembling power in my infinite climax, who prides himself in my complete, unbridled ecstacy as his divine privilege, toward a vital energy that only our souls in bodies are able to create together, the impossible majesty of which neither of us will ever fully understand.
I want a man who dives head first into his own darkness, emerging victorious into the light he is meant to shine on the world, sharing his special gifts as unique contributions aligned with soul purpose and human passion for collective benefit here on Earth.
I want a man who knows that loving me from the depths is all I need in a man, that this requires removing all the barriers to loving himself, flaws and all, first and foremost. Because anything less would be doing a disservice to us both.
I want a man who isn't intimidated by me at my formidable best, who can handle me at my absolutely unforgivable worst, who sees me for everything that I am, who loves me good and bad with the patience and exaltation of a moonbeam, starlit soul just here playing human for a little while.
I want a man who falls in love with my fantasy and sticks around for my reality.
I want a man who wants me, not because he needs me, not because he's scared to lose me, but because he wakes up, complete in himself and chooses me, in spite of me. Every. Single. Day.
I want a man who can be all I want and everything he is, all at the same time, with me.
And when he finds me, I promise to be everything he needs and all that I am, all at once, for him.
Until then, I'll be here, wild and free as I can possibly be, because nothing less than exactly what I want, could ever be better than me doing me.
~
Author: Tara Ruttenberg
Editor: Sarah Kolkka
Image: Taya Photography/@tayaphotography