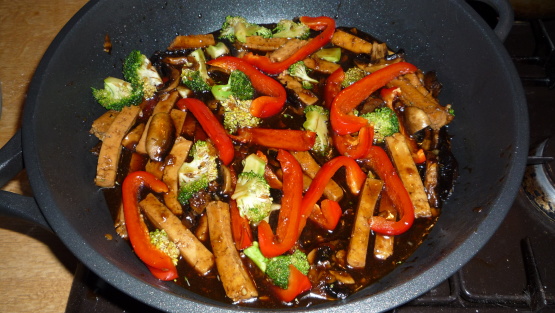 There's a huge misconception that, by choosing a plant-based diet, flavor and excitement in the kitchen will be sacrificed.
Not so!
PF Chang's Mongolian Beef was one of my favorites as an omnivore, and with some creativity, I've taken out the meat but left all of the fantastic flavor. This recipe is sure to make everyone at the table smile, veggies or not, and I guarantee it will be gone faster than you can imagine!
Ingredients
3 T sesame oil
2 tsp minced fresh ginger
2 T garlic, chopped or minced
1 c. low sodium soy sauce
1 c. water
1 ¼ c. dark brown sugar
2 (14-oz.) containers firm or sprouted tofu
2 T. cornstarch
6 green onions, chopped into 1" lengths
10 oz. mushrooms, quartered
1 large red bell pepper, cut into strips (optional)
Directions
Remove tofu from water and thoroughly squeeze and pat with paper towels to dry.
Slice tofu in half lengthwise, then quarter it by cutting it in half along the narrow sides, making four rectangles. Keep them together, then begin slicing 1/4″ slices from the narrow end. You should end up with lots of pieces that measure just over 1″ long and about 1/2″ wide.
Put these pieces on a plate, sandwiched between paper towels, and press them dry to remove excess liquid.
Heat sesame oil in a deep skillet over low/medium heat.
Add ginger and garlic to the pan and lightly sautee for about 30 seconds. Do not scorch the garlic.
Add soy sauce and water.
Dissolve brown sugar in the liquid, then raise the heat to medium high and boil sauce for about three minutes. It will thicken slightly.
Remove from heat and cool slightly.
Put tofu strips inside of sauce and marinate them for 30-60 minutes. You can start your rice during this step, if you plan to use brown rice.
Use a colander to gently strain the liquid from the tofu. Keep the liquid in a bowl for the next step.
Add cornstarch to liquid and dissolve.
Gently place the tofu back into the skillet (or in a wok, if you'd like) and brown it on medium. Don't turn it too often, or it will break. You can add a small amount of sesame oil to help it along.
Add green onions, peppers and mushrooms to the skillet or wok.
Pour sauce into the veggie mixture and heat, just until it's nice and hot.
Serve over brown rice or pad Thai noodles.
Author: Amanda Christmann
Editor: Catherine Monkman
Image: Courtesy of Author