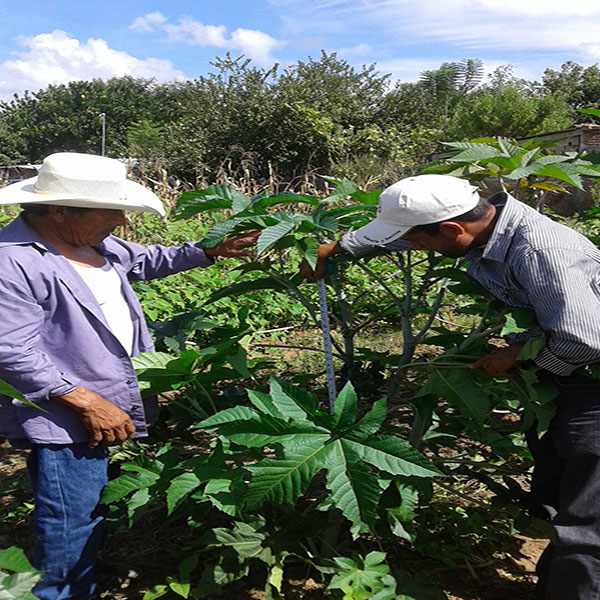 When Jonatan Hernández Díaz was a child, he used to help his grandfather on the farm in Puebla, Mexico, for one peso a week (less than six cents).
One day, Díaz's grandfather asked him to promise two things: first, he would study hard, and second, he would never come back to work on the farm or any farm at all.
Díaz only kept one of these promises.
Whether it was selling homework answers in elementary school, running a street corner tamale stand in secondary school, or pushing a snack cart around campus to pay for university, Díaz has always exhibited a penchant for entrepreneurship.
During his first year studying chemical engineering, he got interested in biodiesel production. After just three years of research and a shelf full of prizes from business competitions, he developed a catalyst that dramatically reduced the production costs of this alternative fuel.
While Díaz kept his grandfather's promise to study, he broke the second one and returned to the farm several years later. Only this time, he wasn't looking for work. Instead, he wanted to find the raw material that would fuel his future company.
Founded in the state of Oaxaca in 2013, DerTek is dedicated to the production and commercialization of biofuels from raw materials that aren't used as food sources and would otherwise go to waste.
While searching on his grandfather's farm, he discovered the perfect raw material—the castor oil plant. In Mexico, the castor plant, or higuerilla, is considered a useless scrub—a weed to be cut and discarded. For over 500 years, Mexicans have burned it because no one saw its value.
Díaz realized if he could harness the wasted productivity from this seemingly worthless plant, he could support the environment by developing clean, renewable energy—important when, since the late 1980s, Mexico has battled poor air quality.
Decades of anti-pollution polices have significantly cut greenhouse gas emissions and smog levels, but the number of vehicles in Mexico almost tripled in that time. In 2013 alone, approximately 1,700 deaths in Mexico City were attributed to pollution. Even though in March, Mexico became the first developing nation to formally pledge to cut greenhouse gas emissions 25 percent by 2030, plenty of work remains.
In addition to improving the environment, Díaz also knew he could provide thousands of jobs to Mexican farm workers by building a plantation and growing large amounts of the castor plant alongside other crops like beans and corn.
At first, the local farmers thought Díaz was crazy for suggesting they actively grow castor instead of remove it. But when he purchased 700 hectares (one hectare is comparable to the size of a standardized football or soccer field) of land in Oaxaca to start building his company, the farmers saw that Díaz was serious and that castor could be a real opportunity.
"In Oaxaca, we employ almost 300 people who don't have to go risk their lives crossing the border into the U.S. to find work," said Díaz. These workers stay because DerTek pioneered this kind of intercropping with the castor plant—a process that lasts for 10 months out of the year, nearly eliminating the need to seek work elsewhere.
For years, Mexicans have fled home to find work abroad. Of the estimated one million hired farm workers currently in the United States, 75 percent were born in Mexico.
"People here in Oaxaca don't have the same opportunities as they do in Mexico City or other states in the country that have more money," said Díaz. "There's a lot of poverty and not a lot of opportunity. What inspires me is helping these people achieve more."
In total, according to Díaz, DerTek employs 6,000 workers with plans to expand significantly. After two years of seeking financial support from the government, Díaz finally secured a grant of around 1.5 million USD to establish over 2,000 hectares of land, build a factory in Oaxaca and scale production.
As the company accelerates its capacity to transform castor into clean energy, DerTek expects to create up to 18,000 jobs on the farm and in the factory over the next three years.
Currently, DerTek sells its biodiesel, Biodinox, to a wide range of companies in Mexico, which choose to purchase it because of the lower cost—$3 USD/gallon compared to $3.16 USD/gallon for traditional diesel fuel. DerTek also licenses its technology for biofuel production, charging companies a price that changes depending on their production capacity. With the new factory now in construction, Díaz envisions a wide variety of future uses for the castor plant.
Two years from now, DerTek aims to incorporate a technology that uses his catalyst to turn organic solid waste into biofuel. By working with municipalities to divert garbage from both landfills and open space to his company, DerTek will reduce pollution and contamination, as well as save the government money.
But Díaz doesn't plan to settle with improving the environment and the energy industry in Mexico or employing thousands of people. Once his factory is in operation for a year, he plans to allocate 20 percent of all revenue back to DerTek's farmers so they can create their own community projects in coordination with local foundations, with the goal of lifting their families out of poverty entirely.
"Some kids working on farms don't have the resources to go to school, but they might have the potential to find the cure for cancer or AIDS," said Díaz. "How many people are like that? They just don't have opportunities to fulfill that potential and impact other people in Mexico and around world. Changing that is the most important thing for me."
A version of this post originally appeared on Unreasonable.is
Author: Brittany Lane
Editor: Catherine Monkman
Images: via Dertek with permissions