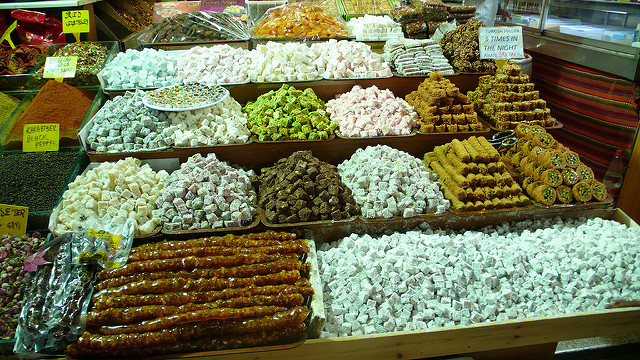 It's my birthday, and I know what cake I'm making.
We all remember the Turkish Delight temptation scene in Narnia, right? Well, ever since I read that as a child, Turkish Delight had an allure for me.
Indulging in my favorite foods with treats like cheesecake—without consuming unhealthy, processed ingredients—makes me a happy girl.
I won't lie, as a vegan, I miss cheesecake. I do. So, when I found this recipe I was beyond stoked.
Next time you need to quiet down the commentary on what you get to eat as a vegan, or Paleo or gluten-free person, give them this pie in the face. (Pun intended).
Enjoy!
Ingredients:
Crust/Base:
8 fresh pitted dates
1 1/2  cup macadamia nuts
1/4 cup raw cacao powder
pinch of sea salt
4 tbsp coconut oil
Filling:
2 cups raw cashews, soaked in water for 6 to 8 hours and rinsed
1/2 cup coconut butter/paste
1/3 cup coconut nectar or preferred sweetener
1 tsp vanilla powder (or scrape a vanilla pod)
20 ml pure rose water
1/4 cup fresh lemon juice
2 tbsp lucuma powder
1/2 cup pink dragonfruit or raspberries
1 tsp beetroot powder (optional)
 Topping:
1/2 cup  raw cacao powder
1/2 cup of coconut oil or 110g cacao butter* (or a combo of both)
pinch of sea salt
1 tsp vanilla powder (optional)
desired amount of coconut nectar (this will vary depending on how sweet you like it) or preferred sweetener
Instructions: 
1. Blitz the macadamias in a food processor until crumbly (I used my Ninja).
2. Add the dates, cacao, oil and salt.
3. Blitz until doughy and sticky.
4. Press the mixture into the base of your cake tin (I used a springform tin), and freeze until firm.
5. Blend all filling ingredients until smooth and creamy.
6. Spread onto base and freeze until firm.
7. Melt cacao butter or coconut oil in a bowl over low heat.
8.  Whisk in remaining ingredients until smooth (sea salt, vanilla, coconut nectar or sweetener).
9. Once filling is set, pour over topping and chill or freeze again
10.Top with fresh pistachios, figs or rose to make it extra magic!
Bon Appetit.
~
Author: Lindsay Carricarte
Editor: Toby Israel
Image: Christopher/Flickr
~