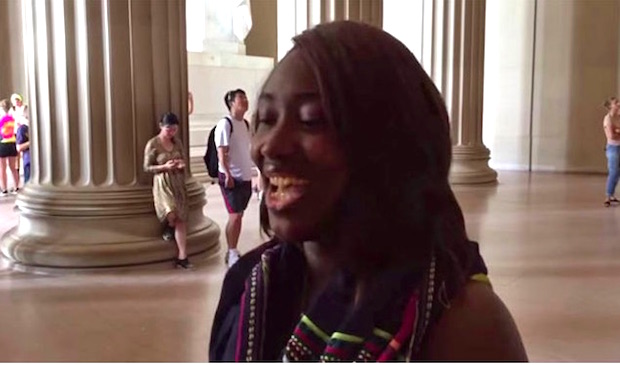 Even in the face of all that has been brought against her people
Even in the face of the dangers
of being hung
of being enslaved
of being ignored
of being not-ignored and being whipped and beaten instead
of being stopped and frisked
Even in the face of
not enough books in school
not enough heat in the classrooms
not enough attention
paid to the mind,
to the heart,
to the soul
of all of her brothers,
and sisters
Even in the face of Black lives (don't) Matter
and in the face of a young man dying in the back of a police van,
and in the face of a young man walking down the street with his hands up,
or with his hands around a toy gun
or in the face of a not-so-young man being killed for selling
one. single. cigarette.
Even in the face of all that
of all that has been handed to her
and all that has been refused to her.
She stands right there
and sings
Right there.
In front of Abraham Lincoln,
A white man
who understood.
She stands there
and sings about
The land of the free.
She rises above it all,
closes her eyes
lifts her voice
and joyously sings
Our National Anthem.
Star Swain Spontaneously Singing the National Anthem.
Singing starts at 0:42.
Author: Carmelene Siani
Image: video still
Editors: Ashleigh Hitchcock; Emily Bartran