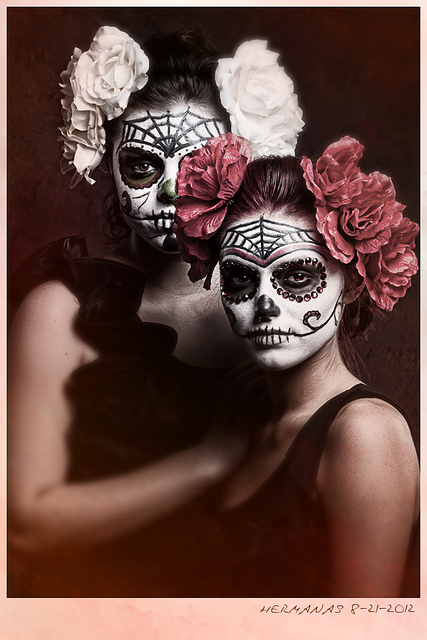 The Day of the Dead has become more widely known in the United States over the last few years.
Day of the Dead legend says that every year on the nights of November 1st and 2nd, the gates dividing the land of the living from the land of the dead (Mictlán in the Aztec mythology) open up.
The first night the children visit and the second night is for the adults. The dead come to be with those who still remember them. They have a feast, wear their old clothes, drink, dance, listen to music and celebrate the intersection of death and life.
It is a fascinating tradition and my favorite holiday. Ever since I was a little kid in Mexico, I remember looking forward to the day we would start building the Day of the Dead altars. In Mexico, every school builds its altar and there are contests between schools. Altar building is special, as each element represents a different aspect of Mexican tradition.
After I graduated from school, I continued building my own little altars at home—this time for people I had known (my grandparents) and admired (John Lennon, Gandhi, Mandela, Cortázar and Frida Kahlo to name a few).
This celebration evokes the idea of not fearing dead, but respecting them. The pre-Columbian cultures did not fear death, it was just another step in their journey. Death was part of a duality. For them, everything works in duality—beginning-end, rain-drought, night-day and life-death.
When someone died in a pre-Colombian culture, they would start on a journey to one of the lands of Mictlán. There were nine lands where they would face the gods of death and start their life in the land of the dead. For this journey they needed to be prepared, so they would be buried with many tools that might come in handy: gold, jewelry (they had to pay for a boat to cross the river of the dead), incense, masks, dogs, knives, ceramics, cotton and whatever they could think of, then they would bring food and water to them for days until they thought they had safely passed to the other side. All of these items have been found under the pyramids where the tombs of ancient people reside. We also accept this as truth because it has been passed to us through word of mouth.
Time changed tradition. When the Spanish arrived and brought Christian beliefs to Mexico, they had to find a way of making some kind of religious syncretism in order to appeal to the people they were conquering. That's how we ended up with these specific celebrations of death on the calendar and with the death survival kit—including crosses, rosaries and holy water to survive the journey of crossing over.
Today, altars are raised a couple of days before the celebration, cempazuchitl flowers, candy, liquor, candles, bread of the dead and carefully decorated sugar skulls are some of the most famous symbols that represent this tradition.
Another big part of the celebration are also the literary skulls (calaveras literarias); they are a humorous obituary that can be written by anyone for people who are still alive. They can be directed to friends, family, politicians or celebrities. They are short and written in rhyme, similar to a haiku.
Maria was decorating her pumpkin
She was ready to celebrate Halloween
La Catrina punched her in the chin
"Don't you know what being Mexican means?"
"Yes sorry my calaca, I apologize"
With a lot of regret Maria said,
"That's better" la flaca advises
"Or tomorrow you'll be so dead!"
Today you can find references online on how to build your own altar, you can even find some of the elements in stores like Target or Michaels. You can search online for recipes for bread of the dead and candy skulls. There is probably a Mexican or Latin market in your hometown that will carry most of what you need. You can go to places in the United States like the Hollywood Forever Cemetery and enjoy a night of some of the most well crafted altars and walk around surrounded by incredibly put together catrinas and catrines. You can watch the beautiful animation film The Book of Life by the Mexican director and animator Jorge Gutierrez; or maybe even take a trip to Patzcuaro in Mexico and enjoy a once in a life experience where you will definitely feel like stepping into a little piece of Mictlán on Earth.
~
Author: Montse Leon
Image: Jordan Chan/Flickr
Editor: Caitlin Oriel