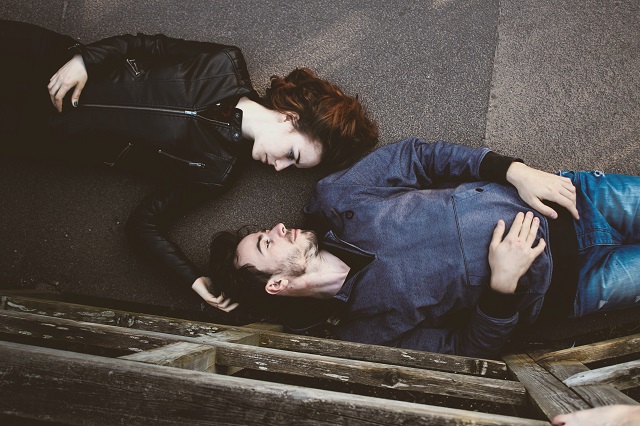 **Warning: a few F-bombs ahead!
"He's not perfect. You aren't either, and the two of you will never be perfect. But if he can make you laugh at least once, causes you to think twice, and if he admits to being human and making mistakes, hold onto him and give him the most you can. He isn't going to quote poetry, he's not thinking about you every moment, but he will give you a part of him that he knows you could break. Don't hurt him. Don't change him, and don't expect more than he can give. Don't analyze. Smile when he makes you happy, yell when he makes you mad, and miss him when he's not there. Love hard when there is love to be had. Because perfect guys don't exist, but there's always one guy that is perfect for you. ~ Bob Marley
.
She wants only you.
She knows that perhaps you want to give her the world, because it's what you think she deserves, but the truth is she doesn't want it—all she wants is you.
She isn't after fast-moving men who are so smooth they seem to slip into confusion at the first mention of her unfathomable depths. She doesn't care what they offer her or how they throw around their money like confetti, hoping to catch her eye long enough so that they may stake a claim on her heart.
Because she's learned the difference between the men who value her and those who only see what they want to when they gaze upon her copper-blonde hair, with eyes more hungry than a shark.
She has tried on other men for size—yet no one ever seems to fit the way that you always did.
Like her favorite sweater holding her close during the first chilly nights of autumn, the aubergine threads pulling and unraveling around the sleeves, reminding her of the way you always seem to undo even her best intended plans of "normality."
And so, maybe there are mountains that still need to be moved, and skeletons that need to be unpacked, but the thing is, she doesn't want anyone but you.
Fuck perfect.
Her eyes are open, and the reality is that she sees you—perhaps more truly than any other woman ever has.
She doesn't care how far you think you still have to go, because for her, it's not about where you end up but how you make the journey count.
It doesn't matter to her if you're where you want to be, because she's already seen how far you've come.
The only thing she wants right now is to have you just as you are. She wants to be a part of your story, not just to join you at the end, when everyone finally comprehends how amazing she knew you always were.
You wear your scars—your history—as beautiful marks of honor, those badges of tarnished silver and gold that make you the man that you are.  You have fought to stand here, in this reverence of being the man that she chose to be the one by her side, and she just hopes you know that there is no mistake that about it.
She didn't accidentally choose you—you weren't a consolation prize. And she never felt like you were the choice of a life she should lead. Instead, she chose you because it was impossible not to.
You set her on fire with the way that you could swim with her through the caverns of her mind, waking up a desire so deep she never knew it existed. You hold the title of the only man to ever reach her heart through her unrivaled intelligence, letting yourself drip in an abundance of ecstasy so sweet it always seems to stain your lips.
She chose you because you don't ever ask her to be anything other than who she is—natural, beautiful and a bit chaotic—to her, there just isn't anyone else.
But that's been her journey, in order to stand here in this place, and say that regardless of what realities are waiting around the next corner, she wants you to be the one holding her hand through it all.
She doesn't pay any mind to the superficial, and hopes you realize that no matter how delicious she may be, she is far from perfect. But it's never been a question of if you, because whether she is perfect or not—you're perfect for each other.
There is a vibration between you, one that rings on a note of ease and passion. Perhaps at one time or another, both of you tried to douse the flame that always seems to spring up in your atmosphere. Yet somehow, something so hot became a constant that stayed just long enough to challenge you both out of your comfort zones.
So, fuck perfect—fuck waiting for life to be perfect, and fuck waiting for the perfect time.
There is no such thing; it's all an illusion of our own limited perceptions.
There are much better things to do than wait around to become the person you think you have to be, when all the while, she already loves you for the man you are in this moment.
So, she is asking to put off waiting—and instead choose this moment together, here and now, in the brilliance of what waits beyond reason and the skeptical.
She is asking if you could leave the door open a crack this time—maybe not enough to fully enter, but far enough to let her see some of the secrets you're so concerned with hiding.
Because this time, she is hoping you will let her love you, just as you are.
~
Author: Kate Rose
Image:  Unsplash/Toa Heftiba
Editor: Yoli Ramazzina