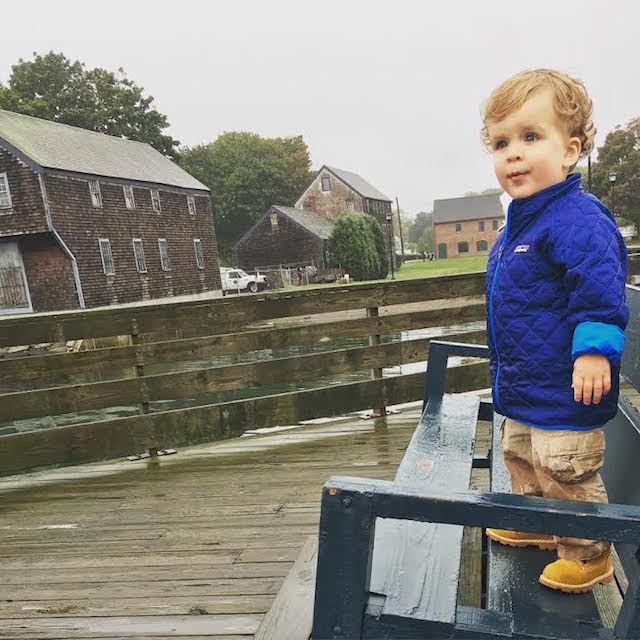 I recently had the opportunity to explore Boston for a work trip. My husband and I decided to make a family vacation out of the event, packing up our 22-month-old son and toting him along. I'm a relatively new mother, and this strange world often feels foreign—and very alone.
Motherhood was never a planned event in my mind. Graduating college I told my friends, "I'm never getting married, and if I do, it'll be when I'm 40. I'm going to travel, be independent, and not worry about men."
I met the man for me immediately upon my return from college. We got married at 24. It felt completely natural; I enjoyed the progression from courtship to engagement without resistance. We made the conscious decision to enjoy five years of marriage before diving head-first into the world of pack-n-plays and midnight cries. Throughout this time, we traveled, got to know each other, and focused our efforts on completing graduate school and enjoying young adulthood.
From the moment I sat on a toilet in the wee hours of the morning, staring at the pregnancy test that nearly caused me to pass out, it's been a wild ride.
Pregnancy was a slow physical realization that my body, mind, and spirit would no longer independently belong to me. I had selfish thoughts—anger that I could not exercise quite the way I used to, or annoyance that everyone around me was enjoying alcoholic drinks on a family vacation when I could not. I felt sheer surprise at the weird physical changes that accompany our bodies as they work to form a new human.
Please do not interpret these feelings as a lack of gratitude for this gift. I sadly realize there are many women who struggle painfully with infertility and these comments may seem insensitive. They are, however, real.
I also had many tender moments with my pregnancy. The most precious part of each day was lying next to my husband, watching my belly excitedly for movement and feeling those precious hiccups. Observing his growth as the time to meet him drew near, we prepared his nursery, where he would spend his first months of life.
Now he is here, almost two years old. He is running, talking, and testing every boundary. As we walked the streets of Boston, mature parents remarked,
"Enjoy this time. Don't blink. It's over before you know it."
They shared this wisdom with such nostalgia—wistfully, sadly. Their faces revealed a longing for the time with their children that slipped out of their hands. I attempted a promise that yes, we would do our best to soak it in. Then, quickly distracted by my son's attempt to dart across Newbury Street traffic, my mind shifted to a familiar mixed emotion of consternation and fear.
~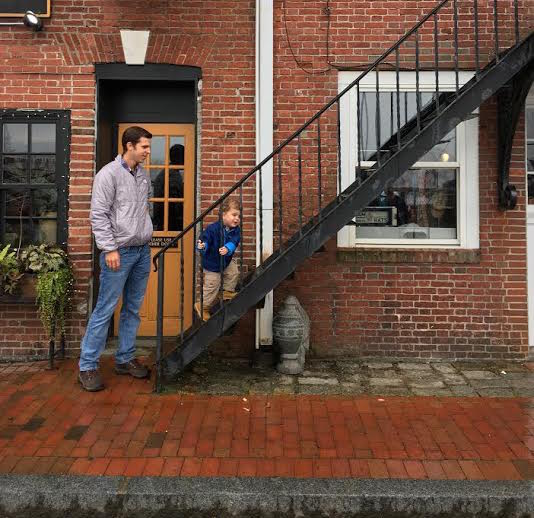 One day, I meet the boys for a quick lunch in between conference sessions. It's a beautiful fall day with a gentle breeze and clear skies. We sit at a table against the window.
Restaurants are a terribly frightening place for me in this season of life. Our current strategy is to distract the child as much as possible, then strap him into a highchair when the food comes. We then eat as quickly as possible, dodging flailing arms and food. Hopefully, we have consumed enough calories by the time his patience runs low.
Not a few bites into our food, he starts whining.
Oh no. Here we go.
He cries, refusing bites of either of our meals. He finally takes one…too spicy (woe to you, Italian meatball!). He tightens his fist and screams in pain. I offer his milk to him, and he throws it back at me. More crying. Kicking. Screaming. I start to feel heated, both from the perception of critical eyes upon me and from my own frustration.
I see myself at another table, five years earlier. I'm rolling my eyes and flipping my hair, remarking to my friend,
"Control your child!"
Dismissing this misbehavior, I return to my warm, organized food that has remained nicely within the perimeter of my plate. Such entitled, confident judgement. That younger me goes back to discussing my plans for the day, including the necessary afternoon nap.
The current me is lost, unsure how to climb this new mountain, unsure if I want to. Sure that however I decide to proceed, it will be wrong. We leave the restaurant. I'm feeling like a failure, defeated, exhausted.
My son is unscathed. He happily climbs back into his father's baby hiking apparatus and begins remarking on the city transportation. "A bu(s), a bu(s)!!" I feel drained, as if I have just come back from war. My son is laughing at a raindrop on his head. I don't understand it, this parenting thing. I do know I'm messing it up—that much seems sure.
My husband senses that I'm shaken, and we talk. He tells me I'm too hard on myself—a fair assessment. He tells me that most parents have probably felt this way. "Every day?" I ask, and we smile with a unified understanding that this is only the beginning.
He then says something that catches my attention, which is tough to do whenever in the presence of my child.
"You know, if anyone else said the things you are saying about yourself as a mother, I'd punch them in the face!"
~
I sought multiple confirmations regarding the behavior of my toddler, by the way. That is one way I make myself feel better. The general consensus is: You cannot reason with a two-year-old. I'll go with that.
Whoa, I thought. My husband is one of the most gentle and patient men I know. I've never heard a statement like that come out of his mouth. Taking time to reflect on it, I realized how important him telling me that was. I am too hard on myself, and I stink at remaining mindful of it.
Why is it so dang hard for us—as mothers, as women—to just cut ourselves some slack? To relish when we do something right and stop judging ourselves when we do something wrong?
Perhaps it's because we want so much for our kids. We want them to grow up to be loving souls who are compassionate to others' needs. We want them to find out what it is that lights them up inside, then chase that dream fervently. We want them to be a part of the good in this world, and fight courageously against the bad. Perhaps we worry too damn much about what other people think—particularly other women. Did her child just sign the alphabet? Crap. Half of our "ABCs" pages are ripped out.
Maybe we want them to be their own being, but we also secretly want them to be better versions of ourselves. A reflection of our countless hours of parenting sweat and tears. So that night, I chose to forgive myself.
The next time my son shrieks so loud it rattles my eardrums, I'll choose to take a deep breath. I'll choose to remain calm in my responses to him, realizing that he is soaking in so much of what I model every day.
I'll choose to forgive myself if I do lose my cool. I'll choose to forgive the eye rollers of this world, for their time may also come. When it does, I hope that I am able to recognize their trepidation, their difficulties, their fear, and welcome them (and their children) with open arms.
~
Author: Bethany Bell 
Images: Author's Own // Pexels

Editor: Toby Israel
~