Vote for Continuing the County Fracking Moratorium.
The Boulder County Commissioners will be voting on whether to extend the moratorium on oil and gas fracking operations in the County this coming Tuesday, November 15.
This letter is an urgent gesture in support of extending the fracking moratorium.
Several neighborhoods in the county are already faced with the looming threat of such a facility in our backyards. The circa 1980s single family and townhouse developments south and east of Centaurus High School in Lafayette are currently under consideration for a nearby oil and gas fracking well.
Awareness of the health and environmental impacts of fracking is strong in this community and no doubt a high level of awareness is prevalent in the county at large. Residents along the now open agricultural area proposed for the fracking well site have lined their fences with signs in opposition.
Although existing State "so-called" environmental protections require 500-foot setbacks from the wells, such setbacks do not include underground infrastructure, access roads and other associated facilities including storage tanks.
Preliminary siting of the facility in question appears to strategically locate the well just beyond 500 feet of nearby homes. The land proposed for the well has historically been used for crops and is one of the few remaining buffers between Lafayette and Louisville.
Just outside the 500-foot radius of the well site and within an approximately 1,000 foot radius there are over 35 single family residences, over 40 townhouses, the Coal Creek trail system, Coal Creek and it's floodplains, Centaurus High School, Ryan Elementary School, the Louisville wastewater and biosolids treatment plant, and the Laskota Open Space. Just outside of this area lies Louisville recreational ball fields, an organic garden and Main Street Old Town Louisville less than a mile to the west.
There are many similar community areas within Boulder County susceptible to such an oil and gas well siting scenario, and County Open Space is not immune from fracking development. Before the moratorium, the most recent permitted well was located on Open Space land.
Existing state requirements have not been sufficient to protect similar areas along the Front Range. The record shows that no permits have been refused for effects on communities and that despite the public hearing process and promises of mitigation, access roads and large facilities have been placed in close proximity to a residence.
The health and environmental ramifications of fracking include potential groundwater pollution, potential spills that could be released to waterways, natural gas vapors in soils and local air, and introduction of proprietary fracking chemicals into the environment. Those most susceptible to health affects including cancer and asthma are oil and gas workers and children. Recent studies indicate that even a slight increase in benzene vapor results in a significant increase in cancer rates for local areas.
In addition, fracking operations are confirmed to induce earthquakes. This last week, the city of Cushing, Oklahoma was hit with a fracking earthquake that impacted the city's historic buildings. The State of Oklahoma subsequently required the temporary shut down of nearby fracking injection wells. It is noted that Oklahoma did not have any significant earthquake activity prior to the huge influx of fracking development.
The Louisville-Lafayette area has a history of coal mining and much of the urban development that has taken place is directly over abandoned underground mines. The proposed fracking well site in the area of Centaurus High School is located immediately adjacent to an abandoned underground room and pillar mine.
What are the effects of fracking in these areas? Could fracking cause the collapse of old mines? Could fracking vapors collect in old mines and pose explosion and fire risks? There do not appear to be sufficient regulatory protections in place to address these questions.
Even more importantly. Who is held responsible for the potential long-term environmental and health damages, that will only be evident long after the oil and gas fracking well has been abandoned?
The County Commissioners will be advised by the County attorney that the State could sue the County if they vote to extend the moratorium.
Commissioners: make the call for our communities, our children and beautiful Boulder County. This is the fight worth fighting!
The County Commissioner meeting regarding the fracking moratorium will be held at the County Courthouse (1325 Pearl Street in Boulder) Tuesday, November 15 from 12 p.m. to 2 p.m.
Citizens can sign-up to speak at the meeting online or sign-up at the Courthouse. Comments can also be submitted via email.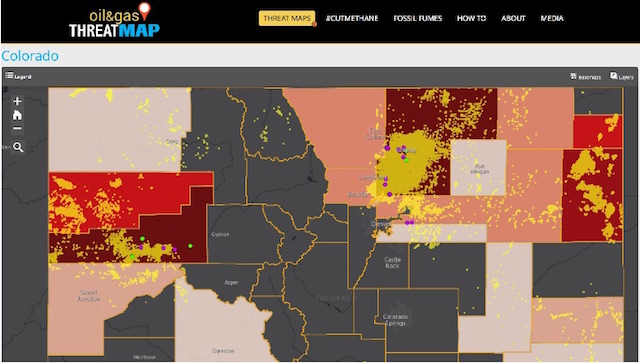 ~
~
Author: Rachel Miller
Image: courtesy of the author
Editor: Ashleigh Hitchcock