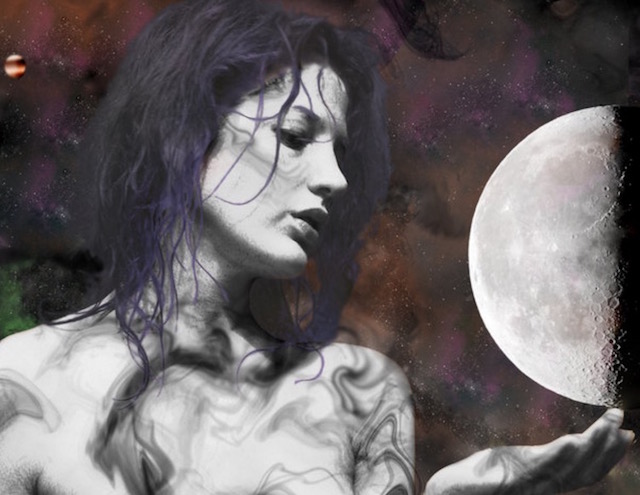 The sun sees our body. The moon sees our soul.
It's the morning after "the supermoon" arrives. The moon that appeared bigger and brighter than it has in 68 years.
I'm not going to sit here and tell you I felt some big energy shift or magical feeling. To be honest, I'd just been feeling super irritable and somewhat depressed. How un-spiritual of me.
After sitting down for only two minutes in my favorite café, I decided to change my order to takeaway, as every corner of my body and mind felt restless and extra sensitive to the noise. I could barely force a smile as my head pounded to the sound of cups chatting to saucers and cutlery to plates. I took my tea to the park.
Sitting heavily against a tree, I allowed the breeze to soothe my warm skin. I breathed in the smell of eucalyptus and pine trees and sipped my earthy-sweet matcha. I closed my eyes and grounded myself, blocking out the shouting in my head.
I thought back to the night before.
The kookaburras narrated the polished coin rising from the trees, yet I felt somewhat underwhelmed by the moon. The sun had shone a lot brighter than the moon, and it had affected me a lot more than the moon seemed to.
I had spent the day beating myself up over how none of my summer clothes fit anymore, how my cellulite meant I couldn't wear a bikini to the beach. How if I had been running all winter I wouldn't be feeling this way. Allowing both my ego and social expectations to tell me that I wasn't beautiful. And listening. The sun seemed to intensify my irritability, magnifying all that I wasn't at peace with. All that I was hiding over the winter was now revealed, and I felt a severe discomfort. Anxiety and distress brewed within me.
As the moon continued to climb the sky, I felt an uncomfortable vulnerability begin to emerge. I realized that part of her is always hidden away, as with me. All this negativity takes up so much room, leaving little space for my authenticity, shining ever so gently like the moon, but hidden away under all the destructive thoughts that I can't hear her quiet whispers. Not intense like the sun.
The light stripped away my surface and lit up the deepest crevices of my soul. It reminded me of all that is not healed—and all that is. It was reminding me where beauty truly resides—and where it doesn't.
A big heart shines brighter than appearance ever will. Our mind needs to be still and at peace with our body to block out the shouts of the sun and hear that quiet whisper of the moon.
It's human nature to have expectations about everything. To want what we don't have. But to over-analyze and overthink everything creates so much suffering within ourselves. The more we doubt ourselves, the more we hate ourselves into depression and the less love we receive. We become our doubts, our fears, our self-hate. It fills every part of us, leaving no room for the good things.
And it is under the moon that we begin to see all that is beautiful and all that is not. That we feel a discomfort and unease at our souls—not our bodies—being on display.
As I opened my eyes, a quiet reminder grabbed me in the near distance. A girl my age with down syndrome dancing in the sunshine—exuding happiness. Headphones in, she had no care in the world. Her dyed pink hair blew across her face in the wind. I caught her gaze and smiled. So much contentment rested in her eyes. She was beautiful.
The seemingly obvious hit me: I needed to nourish my soul instead of dissecting my appearance—to fill my body with love, not force feed it with poison.
Once we can recognize our inner strength and stop trying to conform to social norms, once we can confront and conquer our fears and end destructive thought patterns, we can become vulnerable. And vulnerability helps us work toward a state of self-acceptance and soul-level beauty.
There is nothing more attractive than a beautiful soul. One who makes us feel something. One who goes so much further than the surface. One who gives off an energy that pulls people like the moon does the ocean.
The world is a mirror. Until we see the beauty in every ordinary experience, in the ordinary gifts of life, we see nothing. This, I realized, is where inner peace is waiting for me.
So shine more gently. See souls—not bodies. Be more like the moon.
When you do things from your soul
You feel a river moving through you.
A joy.
~ Rumi
~
Author: Briana Johnson
Image: Deviantart/Osaki-Kun
Editor: Toby Israel
~