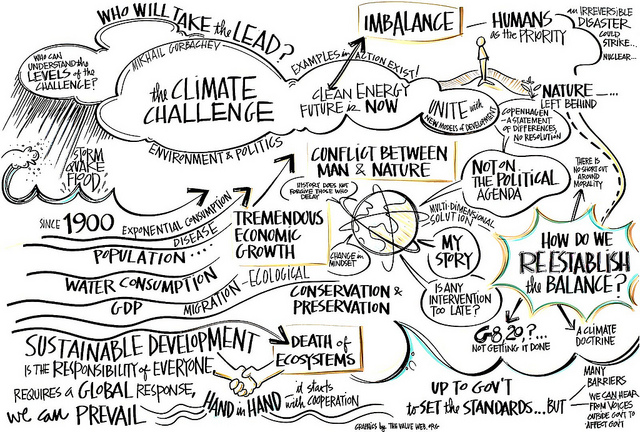 This election year is unlike any other in modern history, in that the presidential race is more about the ethics and likability of candidates than about the very real issues that affect the United States.
While the entire country is busy arguing over emails and sex scandals, important issues stand in the balance.
One of those issues is climate change. Worldwide, climate scientists have come to the nearly unanimous conclusion that global climate change in the last century has been primarily human-caused. An advisory board of the top American scientists came to the same conclusion.
Yet many of our elected lawmakers—many of whom receive campaign funding by the oil and coal industries or corporations that stand to lose profits if they are held accountable for cleaning up their pollution—have openly denied that climate change is human-caused.
In fact, against the logic of science and reason, the vast majority of Republicans (49 in total) in the U.S. Senate cast votes last year claiming exactly the opposite: that climate change is not human-caused.
Surely they know better, because our elected officials have a long history of calling for the testimony of professionals for nearly every other bill ever considered. Why suddenly a tremendous body of collaborative research by the most intelligent, analytical minds on the planet would be irrelevant or inconclusive on their part can only be left to speculation.
The likely real issue behind their vote is that so long as they deny human involvement, they are absolved from the responsibility of holding their corporate allies accountable. Or they are being paid to say it and vote that way.
What can't be left to guess is how we will respond. This year's elections are about more than just the presidential race. Our state and local representatives matter too.
Climate change cannot be ignored. Our oceans are rising, our water sources are shrinking, our deserts are growing, and our climate is shifting into violent patterns of adjustment like we have never seen before.
This is just one issue that will be affected by the November 8th election, but it is one that is vital to our survival on Earth. Until those who are paid off (or willfully ignorant) are voted out of office, the time bomb of climate change will continue to tick.
Here is a list of the 49 U.S. Senators who voted "No" on an amendment declaring that climate change is heavily influenced by human activity. If they represent you, perhaps it is time for change.
Alabama: Sessions, Jeff (R) and Shelby, Richard C. (R)
Alaska: Murkowski, Lisa (R) and Sullivan, Daniel (R)
Arizona: Flake, Jeff (R) and McCain, John (R)
Arkansas: Boozman, John (R) and Cotton, Tom (R)
Colorado: Gardner, Cory (R)
Florida: Rubio, Marco (R)
Georgia: Isakson, Johnny (R) and Perdue, David (R)
Idaho: Crapo, Mike (R) and Risch, James E. (R)
Indiana: Coats, Daniel (R)
Iowa: Ernst, Joni (R) and Grassley, Chuck (R)
Kansas: Moran, Jerry (R) and Roberts, Pat (R)
Kentucky: McConnell, Mitch (R) and Paul, Rand (R)
Louisiana: Cassidy, Bill (R) and Vitter, David (R)
Mississippi: Cochran, Thad (R) and Wicker, Roger F. (R)
Missouri: Blunt, Roy (R)
Montana: Daines, Steve (R)
Nebraska: Fischer, Deb (R) and Sasse, Ben (R)
Nevada: Heller, Dean (R)
North Carolina: Burr, Richard (R) and Tillis, Thom (R)
North Dakota: Hoeven, John (R)
Ohio: Portman, Rob (R)
Oklahoma: Inhofe, James M. (R) and Lankford, James (R)
Pennsylvania:  Toomey, Patrick J. (R)
South Carolina: Scott, Tim (R)
South Dakota: Rounds, Mike (R) and Thune, John (R)
Tennessee: Corker, Bob (R)
Texas: Cornyn, John (R) and Cruz, Ted  (R)
Utah: Hatch, Orrin G. (R) and Lee, Mike (R)
West Virginia: Capito, Shelley Moore (R)
Wisconsin: Johnson, Ron (R)
Wyoming: Barrasso, John (R) and Enzi, Michael B. (R)
.
A few Republicans did shed their partisan alliances and agreed that humans largely influence climate change. Tennessee's Lamar Alexander, Maine's Susan M. Collins, Lindsey Graham of South Carolina and Mark Kirk of Illinois were among the affirmative votes. And, of course, Independent Bernie Sanders of Vermont also voted in favor of the amendment, agreeing with every Democrat in the Senate that we all have responsibility in global climate change.
~
Author: Amanda Christmann
Image: Flickr/The Value Web
Editor: Yoli Ramazzina