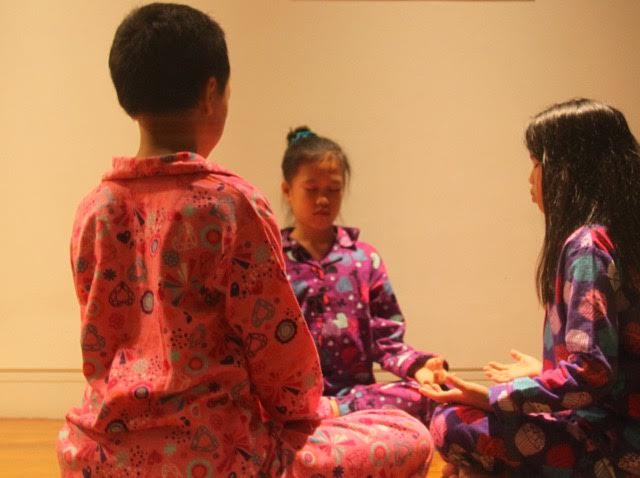 At 8 o'clock in the evening, I can be seen herding my three children up the stairs to their bedroom with enough enthusiasm to match a team of bouncy cheerleaders on the sidelines of a premiership game: "C'mon girls! Let's Go! Go! Go!"
We race up the stairs together—"Last one to the room has to turn off the lights!" Squealing and screaming as we sprint, I rush them through their bedtime routine.
They have barely climbed into bed when I hurriedly peck their cheeks and tuck their wriggling bodies in. I rudely interrupt them midsentence, as they begin to share a story with me, assuring them that I will definitely make time to hear their exciting recollection tomorrow.
I close the door a little too loudly, and holler through it, "No more talking. Lights are out. See you tomorrow. Sweet dreams! Oh—and say your prayers!" 
Once in the safety of my own bedroom, breathless from the bedtime-routine-triathlon of "run, tuck-in and kiss," I often collapse in a heap, exhausted from the day's activities. In the meantime, right upstairs, I am sure, there are three little hearts still pounding from being scurried into bed while their voices are deliberately stifled, afraid to be heard. While they do eventually fall asleep, it really isn't the most ideal preface to a peaceful night's rest.
So, inspired to create a more peaceful bedtime routine, and harboring a desire to introduce mindfulness to my children, I began leading meditation to my captive group of three young pajama-clad participants each night.
I approached this meditation practice with modest expectations. I wanted to create the space for us to enjoy the present moment for just 10 minutes each day. To enjoy calming our mind, body and spirit, so as to encourage self-awareness and connection with the inner-being.
After experimenting with various practices, I found guided meditation and visualization journeys to be the most effective for children and young beginners. It allows them to be freely and individually creative, to create images in their mind while focusing attention within themselves. Adding an affirmation or a positive statement at the end of each 5 to 10-minute sitting helps nurture their sense of self and emphasize positive ideas or feelings, such as: I am special. I am loved.
While I found resources in books and online, revising these scripts allowed me to personalize the experience to my family, and it felt more natural for me as I spoke the words and guided these sessions. Having my own scripts gave me the opportunity to reinforce our family values through affirmations and create a unique shared experience.
The most wonderful and unexpected result of mindfulness in our family has been the discovery of an alternative way to connect, one which is authentic and emotional. Hearing a calmer version of my voice, just 10-minutes every day has resurrected a part of me that was for many years demoted by the shouts of a drill-sergeant, anxious to keep her regiment in order, high-performing and on schedule. We have uncovered a gentler balance.
To my children, I am now more approachable. Our communication is refreshing, offering deeper insights. The words exchanged are no longer of events recounted like transactional stories, but ones which recognize emotions, empathy and tempered reaction. We laugh more. The children fall asleep more easily and have fewer nightmares. We now end our days with a calmer version of ourselves. It feels much better; it feels like unconditional love.
A practical start to unlock the magic.
For those of you who are keen to embark on meditation with your children, this is one our favourite scripts, and I share some tips below on how to get started. While we have a meditation routine in the bedroom at the end of each day, we have also practiced meditation in the car and outdoors at the park. It is not difficult to find a quiet space to spend a few minutes connecting with your child, so that they begin this journey of connecting with themselves.
Let the children find a comfortable posture for themselves. They will fidget and move. They will not remain completely silent even for these short minutes. They will interrupt, but be forgiving. Be encouraging. Stay calm and centered.
Invite them to gently close their eyes, settle themselves and take a few deep breaths audibly together. If they want to keep their eyes open, that's okay too.
Remain silent, in spite of their movement and sounds. When the space feels ready, open your eyes and read gently and deliberately with a slow, calm and engaging voice.
If you like, you can read the script below.
With your eyes closed, bring up a picture of you into your mind. Can you see yourself? Keeping your eyes closed, just smile a little. Are you smiling back in your mind? Take a deep breath in. And gently breathe out.
Stay with closed eyes, slowly lift one finger in front of you. Quietly with this finger, draw a big, round circle around this picture of You. Notice how you are right in its center. Take your time. Look around, and make sure your entire body is inside this circle.
As you take a deep breath in and gently breathe out, notice that within this circle, you feel loved, safe and relaxed. 
If you could fill this circle with a color, a feeling, some sparkles—what would you fill it with? Do that now. Wow. Beautiful. Take a deep breath in and gently out, and take your time to experience this moment. This circle of love. 
Now imagine drawing a circle of love around other things. Try drawing a circle around your family, a friend, your favourite toy. Put your home in a circle, or your school or how about our entire planet.
This circle of love and protection lets in positive experiences and protects you from any negative or bad feelings. At any time, you need, you can draw this circle around yourself. Stay with this feeling for as long as you like. And slowly say these words to yourself: I am loved. 
Consider creating the time and space for 10 minutes a day to stop "doing," and just "be" with your child. Perhaps as a result, you may experience inner peace and cultivate self-awareness together. As with any new routines, begin with clear and pure intentions as this will be your constant motivation. Keep it simple and light-hearted, and persist with loving-kindness. Stay open, and let the magic unfold.
~
Author: Zerlina Sim
Image: Author's own
Editor: Yoli Ramazzina