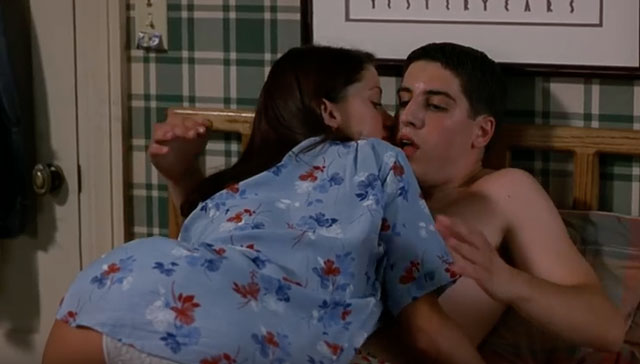 The weeks following my knee reconstruction surgery were littered with sleepless nights.
I was practically immobile—a leg brace appropriate for a 6-foot man restricted my every move—so my mom set me up in the main floor bedroom of our summer lake house. Though the mattress and bedding were plush, sleep wasn't an easy feat. I was frustrated, emotionally and physically.
So by 3 a.m., hours after my parents finally retired to their upstairs bedroom, I'd lay awake, the active moon illuminating my room even through closed blinds. I'd channel surf for hours, pissed off at every infomercial that had replaced movie reruns.
But then one night, I stumbled across "after hours" HBO. I no longer cared about my romantic comedies.
I watched a woman undressing in front of a man, who was reclined, his eyes telling her that she was his. Soap opera music played in the background, dialogue was sparse. She took him in her mouth, and did all the things of which my sexually inexperienced 18-year-old self knew very little.
As she moaned progressively louder, I turned the volume of the TV progressively quieter. With my eyes glued to the screen, I intently listened for footsteps on the staircase from my parents' bedroom.
I saw him, the part of a man I had never really seen. I saw the way he grabbed her hips and breasts. I noticed my breathing deepen and quicken, my hips involuntarily grinding the air.
This was porn.
Something I had never watched. Something that was off limits. Like the backroom of Blockbuster that was separated by a beaded curtain where, years ago, my friends, sisters, and I would run in and out, playing our childish games, knowing the contents inside were forbidden.
It became my nightly ritual, something to look forward to, something I discussed with no one. I wondered if my dad would scrutinize the cable bill and see an influx in late-night HBO watching and find out my secret.
But as soon as I was more mobile, my desire for my new show dissipated.
By high school graduation, I had only just kissed a boy a couple months before. But slowly I became more sexually experienced. Kissing a few more boys, doing a bit more here or there. And I realized nothing compared to physical affection and touch.
Watching a video that was staged and fake—the way the women moaned, whimpering, the way the men never pleasured them, the way there was no romance—I wasn't into it after I got a taste of the real thing.
So here I am, 30 years old, in bed with a man I met months ago when I first moved to San Diego, and he can't get hard.
Today is the fourth time he's been over. I quickly use the bathroom to pee and when I return, he announces, with phone in hand: "I think I have a problem. I watch so much porn that I can't get off when I'm with a real woman."
He's laying on his side, sifting through porno sites, looking for just the right video. I sit next to him, speechless, unsure what to say. I rarely get embarrassed, but right now I feel myself recoil inward. I try to act as understanding and nonchalant as possible, while also realizing this is an opportunity to experience something new.
He narrates what each video offers: two women f*cking and blowing the same guy, a young Asian woman in the shower cleaning herself off before she uses a foot-long dildo, two black men performing anal sex on two white women after removing anal plugs.
I stare at him for 10 minutes while he strokes himself, anxiously waiting for each video to load, trying to decide which one will do the job. At first he chooses the young Asian woman, and her fake boobs and apparent 16-year-old body make me even more uncomfortable. I think, If this is what turns him on, why the hell is he in my bedroom? He finally settles on the foursome anal sex escapade.
I sit back, watch him do his thing, and grab a napkin to wipe it up. I say things like, "no problem," "nothing to feel uncomfortable about," "watch whatever you need"—just so I don't feel anymore awkward than I already do.
I realized years ago how fake pornography can be, but in this moment it hits me as hard as the man's hand who slapped the woman's ass in the foursome video.
The man on my bed has become completely desensitized because of these videos. He isn't excited by my naked, fit body and sex without the visual aid isn't pleasurable enough.
For many, pornography is a visual aid, and because men are visual creatures, it seems like using it could be a great additive. But that's the problem. It's supposed to be an "aid", not a replacement.
Our overuse of pornography is just one more way we are disconnecting from human connection.
There is nothing worse than laying next to someone and feeling alone.
It's like scrolling through Instagram and seeing all the women, perfectly posed, flawless, and believing that is truth. That women don't have emotions and don't have physical flaws and don't breakout and don't want to be romanced and satisfied. Women are here just for visual pleasure—inanimate objects.
When the man on my bed admits, "I think I have a problem," I wanna say, yeah , you're addicted to pornography. The real thing is not enough.
In those moments, we could all wonder: how much sexier, how much more fit, how much better do we need to be to compete with the women in these videos? We could wonder what was wrong with us, why are we not good enough? Instead, it's on us to feel secure in our bodies and recognize how incredibly sexy and worthy we are–no matter shape, size, race, skin color, imperfection.
It's on us to recognize that those who need pornography to feel something are not the right ones for us. 
~
Author: Sabrina Must
Image: American Pie 2/YouTube
Editor: Katarina Tavčar