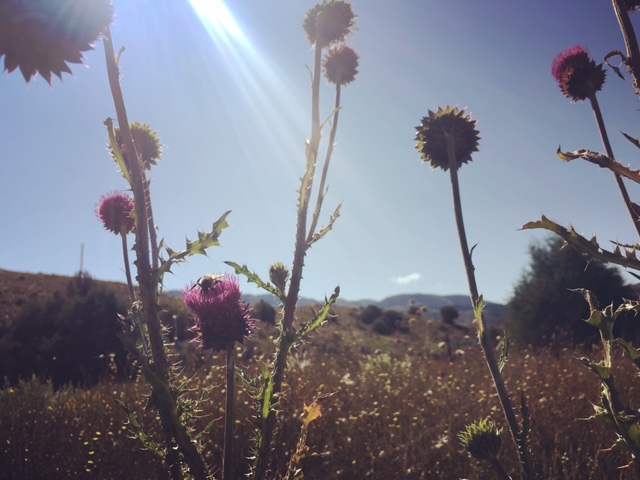 Sometimes my I feels so distant from my self. 
It's as if there is no way to reach through the clutter of thoughts, feelings, experiences, memories, dreams and anxieties that come along with being a human in this world. What's worse is when the internal clutter piles so high and so thick that I can't hardly hear myself at all. I sit down to write but can't tell who is talking or why.
It is no surprise: we are raised to arm whatever parts of us feel most vulnerable. To shield ourselves from ourselves. To treat messy feelings with wine or Xanax. Numb out. Distract with TV, scroll Facebook obsessively looking for any kind of Band-Aid or diversion from what it really feels like to be alive.
Despite my being a poet and a creative writing teacher, I still struggle—some days more than others—to wade through my own layers of bullsh*t. Searching for my rawest state of being means emptying. Means injecting space into. Takes pumping out cascades of (sometimes nonsensical) language, takes physical movement, takes turning myself literally and metaphorically upside down. Head first until the blood does a lap around my body.
This—to me—is the purpose of writing, which has become nearly inextricable from my yoga practice. Because poetry is exactly that: a practice. A means of self-distillation. Like yoga, it is a vehicle for continual refinement (as Andrew Schelling says)—a means of expanding consciousness, of creating space rather than a particular shape or product. 
My experience studying creative writing & poetics at Naropa has felt like an enormous—sometimes very dark—process of self-sifting. But as we show up to the yoga mat, we show up each day to the desk. Sit to greet honestly and affectionately whatever is there oozing out, which often isn't beautiful and is sometimes hardly worded at all. But the virtue in it is: we show up anyway. We confront what is surging through the body, what is swimming through the currents of the mind, which is usually intensity. Which is usually pain. And we don't shy away but breathe through it: inhale after exhale like a feather brushing skin, it starts. To get easier. To be here. And nothing needs to lessen or fade. It is enough just to acknowledge what is there today. It is enough just to feel it directly.
Certainly there have been times over the course of the past two years that I questioned what the hell I am doing, devoting my life to such intangible interior labor. In the darkest times I've suspected poetry was perfectly superfluous. Worried yoga was a luxury—a privilege—rather than "real" work.
In the aftermath of this election, however, all doubts of this manner have overturned. A purpose arose for all poets, artists, yogis, thinkers, healers, whole-hearted humans who are hurting in the wake: the time for poetry is no different from the time for yoga, as stated in the sutras: now. In the face of cruelty and uncertainty. In the rise of terror and hatred: we show up to our mats, to our desks, to ourselves. And we feel it all.
For more information about writing programs at Naropa University, please click here.
~
Author: Gabrielle Lessans
Image: Courtesy of Naropa University, Feaured Image   
Editor: Travis May