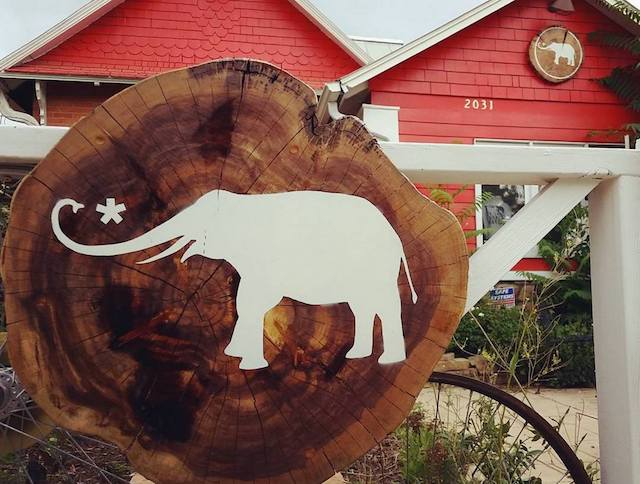 "Writing isn't about making money, getting famous, getting dates, getting laid, or making friends. In the end, it's about enriching the lives of those who will read your work, and enriching your own life, as well. It's about getting up, getting well, and getting over. Getting happy, okay? Getting happy." ~ Stephen King 
~
This fall I participated in elephant journal's apprentice program.
Besides learning the ins and outs of social media and finding a diverse and vibrant community of writers, connecting with others to be of benefit is the biggest thing I gained from this experience.
Access to amazing new writers that I would never have discovered otherwise makes elephant journal a wonderful treasure trove of online material. I like to think of it as a giant high-end sorting warehouse of information from all over the world where the public can wander around, exploring.
Since it would literally take months of just reading elephant journal to discover all of the different writers and articles, I wanted to help others learn about some of the most inspiring writers I've found here.
Here are five of my favorite elephant journal writers and why I love them:
For me, with a smattering of Buddhist knowledge from random books and equally random visits to Buddhist meditation meetings, stumbling upon Scharpenburg's large body of work on elephant was like an epiphany.
Having purposefully stretched myself by volunteering to curate elephant journal's Buddhadharma page on Facebook during my apprenticeship with a limited background in Buddhism, but a curiosity waiting to be quenched, Scharpenburg's writing laid a wonderful foundation for me.
His writing is engaging, thoughtful and, best of all, taught me about Buddhism in a way that I could use in my life and not just as an article that I could to post for others to see. Whether he is covering the Six Perfections or giving tips on improving meditation, each of his articles left me grateful I had found it.
Singer is a new voice to elephant and inspiring to read. With less than 10 articles on elephant, but continuing to write more, her style is unfolding as we watch. Her work is brave, as she steps into who she is as a writer, revealing bits and pieces of herself to anyone willing to tune in. Reading her work is a bit like stepping into the lobby of a high rise that immediately captivates you and leaves you wondering about the other 30 floors still to go.
She is a beautiful example of someone who has used elephant journal's apprenticeship to delve deeper into writing, finding her voice and evolving as a writer. Her latest piece is poignant and compelling as she writes about the journey of loving herself later in life. Love can be experienced during any age, and Singer helps us discover the different pieces of ourselves that deserve love as she uncovers these in herself.
Whether commenting on events happening in the world, coming up with a DIY project or sharing a tasty meat-free recipe, Carroll's articles are ones I click on again and again. Perhaps it is because she gives me a peek into her life in Ireland or because she writes about world events in a way that makes me truly see the people these things are happening to. Either way, her pieces on elephant are tasty morsels that could only get better if I could get an audio of her reading them instead. I've always loved an Irish accent.
Fischer first caught my eye with one of her book reviews on elephant. I love reading book reviews almost as much as I love books. Luckily for me, she has several. She kept me reading when I realized she has a diverse portfolio that includes vegan recipes, commentary on videos that are fun to watch and quite a few articles that touch on deep issues that still manage to make me laugh out loud.
One of my favorite articles by her is a photo series of a young boy with Down syndrome. Her five-step plan to avoiding getting a cold gave me the perfect idea on how to use hydrogen peroxide (that my whole family now uses).
Panic about writing. A goodbye ode to an astronaut. The Dalai Lama. Gay Marriage. Hot yoga. Prejudice. Human rights. These are just a few of the topics Lemieux has covered. If it seems like she writes about anything and everything, it is because she does. She also manages to do it in a style that connects me to each of these topics no matter how little I thought I related to them before reading her article. She makes me feel what she is feeling. That is a pretty miraculous gift. Her articles draw me in on the first sentence and keep me reading until the end. An excellent example of this is an article she wrote about a nine-year-old boy standing up for his rights in Chicago. Her works inspire me and make me feel like the world does have heroes that are around us at all times.
The writers I have found via elephant journal share themselves with the world wholeheartedly. They explore themselves, make people laugh, teach others, acknowledge their wounds so others can do the same, make drool-worthy food and provide a commentary on all areas of life including political, intimate, spiritual, artistic and DIY.
I am grateful to be a part of this tribe.
~
~
~
Author: Nicole Marchant
Image: elephant archives
Editor: Travis May