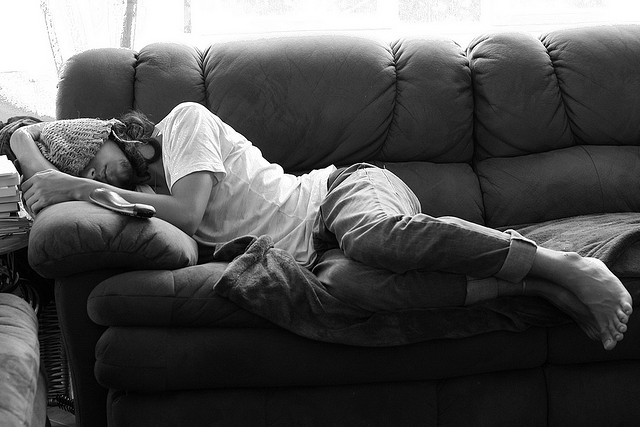 *Warning: Strong language ahead!
~
It's

noon

on a Monday, and I'm couch-bound in a stale, thinning onesie, my hair pinned in a greasy bun and my gaze divided between LinkedIn and Judge Judy…
What am I doing with my life?
The first few weeks of "funemployment" were liberating.
Sleeping in until 9:00 a.m., easing into a morning exercise routine, coffee dates with friends, even a few cheeky cocktails at lunch just because I could.
I created a vision board. I started meditating. I was on fire with ambition.
By around week seven, the flames started to dim. I stayed in bed a little later, outings involved the dog park and curbing the trash. Ambition meant putting jeans on before my roommates returned home from their nine-to-fives.
Ten weeks in, things got dark. In fact, I was afraid of the light. I became the spawn of Count Dracula and Mama from What's Eating Gilbert Grape. It had been days since I left the house; the fear of bumping into someone I knew and facing the dreaded, "So, what have you been up to?" was too risky.
On the bright side, I learned how to tolerate Live with Kelly, and was the first to respond to a status update on Facebook.
Having worked on contracts for most of my career, I've drifted into unemployment's dark abyss enough times to trust that there is light at the end of the tunnel.
Here are a few tricks to keep the light turned on.
1. Brush off rejection.
"Thank you for applying, but unfortunately we have selected another candidate." Ouch. Allocate an hour to feeling sorry for yourself—any longer and the pity party can quickly spiral into a raw cookie dough eating contest for one, and it usually involves wearing a bathrobe.
Instead, try funneling your energy toward new opportunities. Fire out some resumes, RSVP for that job fair, and keep moving forward. There's something better for you in the works.
2. Patience.
Just like "you can't hurry love," you can't hurry job. I used to hit refresh 45 times an hour hoping to find an offer sitting at the top of my inbox. It can be maddening. But if there's any privilege with unemployment, it's having more time. Embrace the freedom. Now you can actually make that popsicle stick Rudolph from Pinterest.
3. Until the job is yours, stay hush about the interview.
Finally, you've landed an interview and you want to shout it from the rooftops. Your outfit is steamed, nails are freshly manicured, company core values are memorized—you've got this, girl!
Somewhere between "Walk us through your resume—" and "Tell us about a time when—" things derail and you start responding like Miss South Carolina 2007, "Such as South African maps and such as."
Post-interview, you're cotton-mouthed and unraveling like Jack from The Shining—talking to yourself and painfully reliving the flashbacks of your dignity being slowly massacred.
And worst of all, you receive a text message from your older brother and 10 other friends, "So, how'd it go?!!!"
4. Gratitude.
Credit cards are over limit, rent is past due, and there are zero job prospects on the horizon. The glass is miraculously looking half empty and half full of shit. Even if it seems impossible, making a gratitude list can help soften your breath and provide a simple reminder that things could be worse.
5. Volunteer.
Volunteering is a great way to build new skills, network, and stay connected to your community. It's especially rewarding when you find a local organization that speaks to your genuine interests.
6. Take on a new challenge.
Whether it's paint by numbers, running a 10K or joining Toastmasters, it will serve as a confidence booster and conversation shifter when "so, what do you do?" comes up at the dinner party.
7. Sweat it out.
Serotonin, heart health, energy, weight loss, blood flow—we get it, there are tons of reasons to exercise.
Alternatively, there are many reasons not to: Netflix marathons, swimming in a bath of coconut oil, and redeeming a two-for-one coupon for triple cheese pizzas at Dominos, just to name a few. By the way, these don't have to be mutually exclusive activities.
Hey, if you're already wearing sweat pants, you may as well grab a water bottle and get outside. Bike, run, hike, yoga, swim—only 30 minutes of fresh air can exponentially lift your spirits.
8. Be your own best friend.
Most importantly, be kind to yourself and always expect good news. Soon enough you'll be complaining about Pam's smelly lunches and Insta-tagging your friends in TGIF memes.
~
Author: Jeni Riddell
Image: DieselDemon/Flickr
Volunteer Editor: Josie Myers; Editor: Toby Israel
~