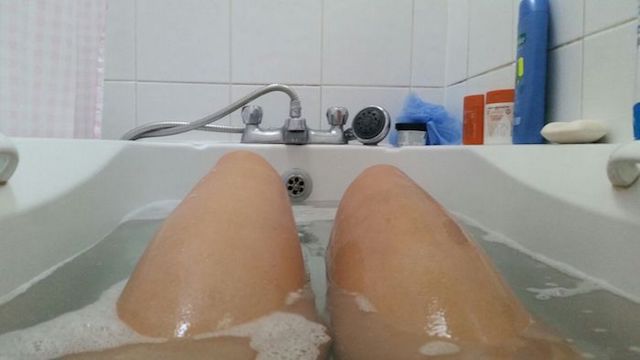 Yesterday I sent my fiancé a picture of myself in the bathtub.
Two years ago, I would have never dared consider an act of such bare vulnerability. I was ashamed of my body. Never would I have taken a nude photo, let alone sent it to anyone.

I've grown up in a generation where nude pictures are a semi-normal part of life. Though they are not necessarily publicly spoken of, they signify a silent contract between two lovers, that in effect says:

"Here, I trust you with a picture of my naked body, and I trust that you won't show anyone."
Despite being semi-normal for my generation, nude pictures come with one hell of a stigma. I have confidence that my fiancé will keep that picture private, but in many cases, when a woman's naked picture is shared, her life changes for the worse. I've seen it happen.

When I was in high school, a girl sent a photo of her breasts to a guy, and within a few days it was shared with half the school. She was publicly shamed as a slut, with people staring and whispering at her. I can only applaud her for keeping her head held high because I know I would not have been that brave.

I also have a friend who was in a committed, exclusive relationship for two years. Her mum accidentally saw personal photos on her phone which she had taken for her boyfriend. This caused a heavy and entirely unnecessary strain on their mother-daughter relationship. She was attacked for being naïve, while her boyfriend was believed to be manipulating her into sending these photos. All the time she stood her ground, choosing to believe that what happens between two consensual adults should not be the concern of other people.

This sparked a conversation between my mum and I, mainly because I wanted to know where she stood on the matter. I had by that point already dabbled in the art of nude photography, but until then it had never crossed my mind that my mum would a) ever see them, and b) have an opinion on it.
I was wrong. Though luckily my mum has never see my personal photographs, she did have an opinion, much like that of my friend's mother: nude photographs were shameful, and people who take them are naïve and ignorant.

Most people assume that nudes are sexual images. Personally, I feel that in a committed relationship, especially where there is distance involved, they are a way to keep the people in the relationship connected, and they bring a new aspect of excitement into the "bedroom" when a couple cannot physically enter it together.

Stereotypically, these photographs are sent to tease or sent on request, but I remember asking a few male friends at work a few years ago whether they would ask their partners for nude photographs, and all of them said no, because if they asked, they would be "that guy." And nobody wants to be "that guy."
So if most guys don't ask, why do women send them? Contrastingly, my female friends have said that in a relationship, men do not seem to have qualms about asking for nude photographs, which correlates with the view that nudes are more expected in a relationship. That being said, considering that my co-workers had told me they would not ask for them, nude photographs are evidently still not quite socially acceptable.

Like most things related to sex, society attaches a stigma to nude photographs of women. Typically, the view is that men want them and women will send them. Anything "overly sexual" about a woman makes her "easy" or "slutty," while a man is usually praised as a "lad" for proving and reinforcing his masculinity through sex—and that includes asking for or collecting nude photographs.
When the primary function of breasts is to feed a child, it is saddening to see that breasts are so hyper-sexualised by society that you can't be bare breasted without criticism. We need to consider, as a society, the mental health issues that can result from this. It is bullying and emotionally traumatising.
But if we take away the sexual connotations and accept that photographing a naked body is not something shameful, that it is simply natural, then we take away the negative connotations. I would go even further and suggest that if we as a society can accept that nude photographs can be taken for personal reasons, for example confidence building, then perhaps we can begin to revolutionise the way people think about their bodies too.

Nude photographs do not need to be branded as shameful, and neither does sex. Often they are sexual, and often they are not. But taking a nude photograph is more than erotic. It can inspire confidence and empowerment—it can make you appreciate your body in a new way: and that is beautiful. Many of us will look in a mirror and point out things that we want to change: that little bit of flab on our belly, the stretch marks on our thighs, or that weird birthmark that we don't want anyone to see. But then we end up only being comfortable getting naked around our lover in the dark. But these are the things that make us unique.

Personally, this has been a journey of discovery for me. I was a very body conscious teenager, but over the last five years—through self love and a healthy dose of nude photography—I have learned that if we allow ourselves to take out a camera and capture ourselves in our most bare and vulnerable state, we can begin to see that all the little bits of us that we call flaws are actually all the bits that make us who we are.
~
~
~
Author: Rohana Dewfall
Image: Author's Own
Editor: Travis May