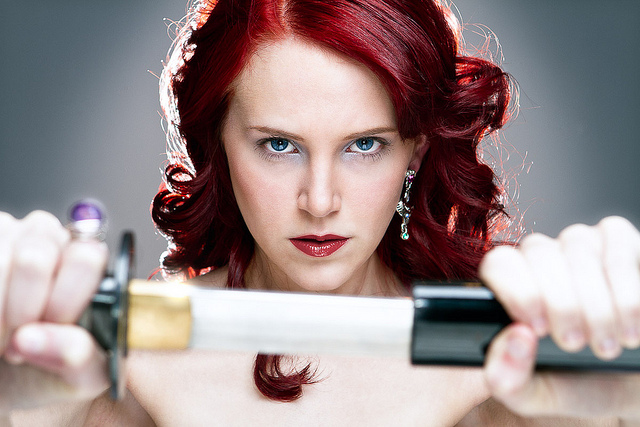 Lately, I've been cursing the struggle that I've been going through this year.
But then I realized that, taken as a whole, this has been one amazing journey!
I've learned so much about myself over the last several months, and I've grown so much more than I would have, had everything been simple or easy. The truth is that we don't often take these leaps forward in our personal growth without a push from the universe.
The struggle itself is what creates the change.
We can choose to let these struggles hinder our growth or twist us into directions that we never wanted to grow, or we can choose to grow stronger and make ourselves better because of it.
There's a great lyric by The Killers that has played in my head for the past few weeks: "It started out with a kiss. How did it end up like this?"
Isn't that how life works?
Something so simple can begin a chain reaction we never saw coming. For me, it started out with a cup of coffee. I only wanted one pleasant date. My expectations were that simple. My post-divorce foray into dating prior to that point had been a crash course in what is wrong with this world and men of my generation—replete with dating no-shows, unsolicited dick pics, inappropriate midnight messages from total strangers and just generally the worst type of dating nonsense. I was discouraged, and I just really needed one, you know, starter date. I didn't want anything serious. I just wanted a nice date.
And it was—very nice. But within a few short weeks, everything changed. I was sunk. I was head over heels, as in (badly) singing Frank Sinatra standards while getting my kids ready each morning and starting to dream about a future that never would be. I didn't mention these feelings because I felt like it was far too early to do so, but it didn't matter anyway. Shortly after I realized that I was in love with him, he pulled the rug out from under me so completely that I was rocked by it, even if it wasn't noticeable from the outside looking in; I was dating again within a couple of weeks.
I managed to get up each day and do all of the things that made up my life, but at night, I found myself hanging on to a tiny corner of my bed haunted by an absence that felt stronger than his presence had been. This was just the start of one of the more challenging years I've faced. Over the next few months, I feel like I took one personal hit after another, and not just in the dating world.
Now that the end of the year is approaching, I've taken the time to look back at everything that's happened. At first, all I could feel was resentment and anger that I have struggled so much. Then I began to look at how much I've grown and how personally liberated and empowered I feel now. Every gain has come as a result of the struggle, and every loss hasn't been much of a loss at all in the grand scheme of things. I've been filled up with my own dreams and the vision of the life I want for my children—not later, not in the future, but now and every day.
The thing is that I know now that I have the capacity to love. And I have the capacity to let go. And I have the capacity to feel like my chest is going to cave in from the pain and still get up and do everything that needs to be done, to push myself to be stronger, to become even more of the person I want to be. And I have the capacity to face duplicity and unkindness with steel in my spine and truth in my heart. I have the capacity to stand up for myself and to advocate for the changes I want to see in the world. I have the capacity to hone my strengths and to accept and honor my personal darkness as a part of who I am.
When we struggle, it feels like heartache and sorrow and disappointment. But what we're really hearing is the soft whisper of the universe saying, "Not this. But this."
We're being guided to where we need to be, and it rarely feels gentle. Or welcome. In fact, it often feels the opposite.
It's only with a little time and perspective that we may be able to find our gratitude for that struggle. All of these challenges have created exactly who we are right now, and hopefully we love who we are. If we don't, it's still not too late to take a new direction.
I said recently that nothing in my life has come easy. Every single thing I've ever gotten has been hard fought and hard won. And that's true. And yet…I am looking at that today with a sense of gratitude that the universe directed me beyond what wasn't for me.
It gives me hope that even as we sit in struggle now, we're actually being guided to the life that we need. To become the people we're meant to be, we need those obstacles to present themselves.
Take your average story. Choose any fable or parable or fairy tale. In any given story, the protagonist has to face a challenge in order to make a change or accomplish a goal. What kind of story would it be if nothing difficult ever happened? It would be boring. So deadly boring, in fact, that none of us would bother to read it. The challenges are what make the story. It's how we determine the character of that protagonist—hero, anti-hero, villain or something else entirely. How they respond to their struggle tells us a lot about them, and it also gives rise to how the story will end. There are so many choices that we can make at any given point in time, and each choice leads to an outcome.
We need our dragons to slay, or our mountains to climb, to learn how to be the hero of our own stories.
I come to the end of the year filled with gratitude instead of anger that this particular year's journey was so tough. I'm turning the pages of this year in my mind and silently thanking all of the people who brought me those lessons, however distasteful they were at the time. Even the ones who won't think kindly of me now or even think of me at all have only made me stronger and pushed me closer to the person I need to be.
When we realize that these people are essential to our journey, we can begin to detach from feelings of judgment about the encounters we have with them, and instead become deeply grateful for what we've learned about life, about ourselves and about what we truly desire from our lives.
Our lives can change so quickly, and I would never have realized that something as innocuous as a cup of coffee could be the harbinger of that change.
The one thing that we can rely on is the fact that challenges are coming. Difficulties will arise. We can choose to meet them bravely as teachers or we can shrink back in fear at the upheaval they'll bring. Regardless of the choice we make, the changes are still coming.
I hope we can be brave enough to be grateful even in our struggle for the lessons they bring us.
Author: Crystal Jackson
Image: Bo Boswell/Flickr
Editor: Catherine Monkman